Head coach Don Vaughan prepared himself last season. He had 10 freshmen and six sophomores, and the year didn't start very well. The Raiders went 3-11 before gaining an overtime win at Iona the first weekend of January. Then, things started to turn around. After losing twice to Cornell, the Raiders went on a 6-0-2 run, and went into the final weekend of the ECAC season in a position for home ice. Unfortunately for Vaughan, two losses put the Raiders on the road, and the season ended at Dartmouth.
But Vaughan had all those young guys in the lineup.
"We're excited about our team," he said. "Last year with such a young team we were able to give a lot of young kids a chance to play. They gained some valuable experience. We were playing eight or nine freshmen a night and in all different situations.
"The biggest positive is that they gained more experience that they otherwise might not have had. Most places don't play eight or nine guys that young, but we had no choice, and we're going to be better for it this year."
Because the Raiders are so young, it's easy to overlook the 17 returnees that they bring, including their top eight scorers. That's a lot, but also remember that the Raiders only scored 90 goals last season, an average of 2.65 per game.
"That is sort of the question mark," said Vaughan of goal-scoring. "Last year we had trouble scoring goals and that set us back. I'm not sure we have the one guy in the program that will get us 20 or 25; we'll have to rely on eight or nine guys to get 10 or 12. I do believe that is there.
"P.J. Yedon and Scooter Smith have proven that. Now that Smith is healthy from his nagging injuries and some personal problems, I think we're going to see what he can really do. So we're looking for some good things from him. But it's going to be the guys like (Adam) Mitchell, (Dave) Thomas and (Dmitry) Yashin who will chip in more offensively if we're to have success. I believe that they can do that."
Kyle Doyle, the team's second-leading scorer, and Brad D'Arco will also be back up front. Add to that mix Zac Tataryn, Kyle Wilson, Jon Smyth and Ryan Smyth, and it could mean more scoring.
"Up front we have two forwards in Wilson and Tataryn that have great offensive instincts," said Vaughan. "Jon and Ryan Smyth are two players who can play both ends of the ice. They are very tough and will create offense by going hard to the net."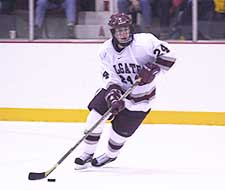 They'll hope to get a defense that will do better than the 3.56 goals against per game of last season.
"It's still our strength," said Vaughan. "Guys like (Rob) Brown and (Steve) Silversides have experience back there, and even (Joey) Mormina, who played a lot for us last year as a freshman, and (Matt) Nicholson.
"Then there's David Cann, who played the bulk of last season for us in goal — he'll be pushed by Silverthorn. I'm excited about our goaltending situation. I think it will be very competitive, and if one of them can run with it, that's great, but we're prepared to go with a tandem."
One of the traditional strengths of the Raiders has been excellent special-teams play. Last season the combined special-teams success rate was just 13%, but showed signs of coming together as the season ended.
"The second half our power play started to gel," said Vaughan. "We've got all the guys back that played on it last year and that's exciting. When you put the same five guys back out there you can start to do some things creatively. We have the basic blueprint and we allow them to work it. There's some talent there and smart players; we'll allow them to think for themselves and be creative. With all five guys back on the power play, it may put us a little ahead of the game."
The Raiders will have another season to come together. It may not come this year, but the Colgate is headed up.