The Big Red came oh-so-close to advancing to the Frozen Four last season. A furious comeback against New Hampshire fell just short, but this season brings the same determination.
The team that went to the quarterfinals returns 14 players, including its top five scorers. That brings expectations to Mike Schafer's squad this season.
"We had the same kind of expectations a year ago at this time," said Schafer. "So from our standpoint from within the program, the expectation is that they have the same expectations, and that's good. We kind of fulfilled them last year and we're looking forward to this year.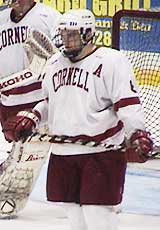 "It's a long time between games. Our guys are looking forward to starting again."
Leading the charge will be Hobey Baker finalist and co-captain Doug Murray. The senior will lead a defense that allowed a mere 1.80 goals per game, second in the nation, and just 1.55 goals per game within the ECAC.
"We return five of our defensemen and Doug Murray will have a huge impact," said Schafer. "He affects the game in more ways than any other Hobey Baker candidate, [not to mention] Mark McRae being one of the most underrated defensemen in our league."
Joining Murray and McRae on the backline will be Charlie Cook, Travis Bell, Ben Wallace and Jeremy Downs. One freshman, Jon Gleed, will vie for time.
That solid group will patrol in front of David LeNeveu. LeNeveu posted an 11-2-1 record last season, a 1.50 GAA and a .936 save percentage in splitting time with Matt Underhill. This year, he's going to be the man.
"There's no question," said Schafer his confidence in LeNeveu. "Technically, he's the best goaltender I've ever coached. We're looking forward to him having a great year."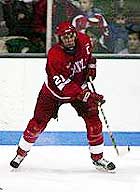 Sam Paolini, the Big Red's leading scorer a year ago, will be expected to anchor a team that returns 78 of 118 goals.
"Ryan Vesce, Stephen Baby and Sam Paolini, those guys stayed to get trained and will be ready. With the freshmen coming in, we expect some contributions from those guys," said Schafer. "We have a lot of guys that I think have improved from last year."
Matt McRae, Kelly Hughes, Shane Palahicky, Greg Hornby, Mike Knoepfli and Mike Iggulden return to add offensive power. The Big Red will also look to freshmen Shane Hynes and Matt Moulson. Hynes had 74 points last season, Moulson 102.
"We do have some guys to fit in," said Schafer. "We're going to need a big impact from our freshmen. If we want to get where we want to, our freshmen will have to step in. They need to make contributions –they can't ride on the coattails of the upperclassmen. So there will be adjustment for those guys. We're going to need strong contributions from our freshmen like we did last year with guys like Cook, LeNeveu and Downs."
The Big Red are the team to beat in the ECAC this season, according to the polls. On paper, there is no doubt that this team will make an impact, not only in the ECAC, but also on the NCAA level. This could be one special season in Ithaca.