If you're a glass-empty BU fan, you bemoan the graduation of Mike Pandolfo and Jack Baker, the only two players who scored more than 26 points last year, and also point to the losses of offensively-gifted defensemen Chris Dyment and Pat Aufiero. Where is the offense going to come from? The matchups with Hemingway-Collins-Gare (UNH), Rask-Fregoe-DiSalvatore (PC), Shields-Kariya-Liscak (Maine), Eaves-Voce (BC) and Ryan-Guerriero (NU) do not look favorable.
But if you're glass-full fan, you'll instead look at the depth up front and figure that the seven freshmen and sophomores who scored double-digit points — led by Brian McConnell (11-15–26) and Frantisek Skladany (13-13–26), respectively — will continue to progress. Then factor in freshmen Brad Zancanaro and John Laliberte, who are both expected to contribute right away, and you can see the depth that should counteract the lack of all-stars.
"It's going to be difficult figuring out who the first line is going to be on our team," says coach Jack Parker. "We're going to have a lot of guys [do] what we had expected for last year: for the most part, offense by committee. We do believe that there are any number of guys who could step up and get 15 or 20 goals for us, but our only two goalscorers in that range last year have graduated in Baker and Pandolfo.
"There's no question in my mind that we have more than enough talent to put the puck in the net. It may just be with the top four lines instead of two."
Contributing to the offense and also playing some of the best defense in the league is a talented group of blueliners, led by senior captain Freddie Meyer and sophomores Ryan Whitney and Bryan Miller. Seniors Mike Bussoli and John Cronin aren't flashy, but are solid. With newcomers Jekabs Redlihs and Dan Spang added to the mix, this group should again be one of Hockey East's best.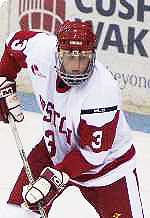 "Losing Aufiero and Dyment [cost us] the quality, size and character that are important to any team, but we had to get by without Aufiero the last third of the year anyway because he missed [it with injury]," says Parker. "So we've got a lot of experience coming back in three senior defensemen and two sophomore defensemen.
"We've also added some pretty talented freshman defensemen as well so we think that we're going to be in pretty good shape there. Even though we lost two real good guys, our other guys have gotten more experience and we think we'll be as good, if not better, as we were at the end of last year."
Goaltender Sean Fields made important strides forward last year and will be joined by freshman Stephen Siwiec. If Fields can move from the league's middle-of-the-pack netminders into the elite group, the Terriers could make a run at their first Frozen Four since 1997.
"We have an experienced, talented guy in Fields and inexperience after that," says Parker. "Stephen Siwiec is the incoming freshman who we think has a lot of talent, but obviously hasn't played a college game yet and Andrew Warren is a senior goaltender who has only played one game in his career.
"So we don't have a lot of experience behind Sean, but he played most of the games last year and we think that he'll probably get the nod most of them this year."
Adding up the potential strengths and weaknesses leaves a dramatic range of possible outcomes. The Terriers could be making travel arrangements for Buffalo next spring or could also be travelling to an opponent's arena for the Hockey East playoffs.
"I think we're going to be a better team on paper than we were last year, but it remains to be seen if we can win as many games because the league is going to be tougher," says Parker. "Chemistry and attitude have an awful lot to do with how you're doing and not just talent. But I do believe that we're going to be a strong team in all three areas of the game and in all three zones.
"We'd better be because this league is going to be so tough. There are five or maybe even six teams who could win this league outright. There's no clear cut team to beat with everyone else playing for second place. Everybody is playing for the top four spots."