If you're a college hockey coach and your only significant question mark is your backup goaltender, then life is good. For UNH coach Dick Umile, life is indeed very good. In this writer's eyes, New Hampshire enters the season as the number one team in the country.
Depth and skill abound on the roster. It'll be a shocker if the Wildcats aren't one of the league's top offensive and defensive teams.
The only position without established depth is between the pipes. Michael Ayers earned second-team All-Hockey East honors last year, setting a Hockey East record with a .938 save percentage in league games. Other than a poor outing to begin and another to end the season — the latter, regrettably for UNH, in the Frozen Four — Ayers was astonishingly consistent, going 12-1-1 and posting shutouts or allowing only one goal in nine of the contests.
The only question is how much freshman Jeff Pietrasiak will contribute as Ayers' backup following Matt Carney's graduation.
"We're thrilled to have Michael Ayers back," says Umile. "He proved he's a top goaltender in Division I college hockey. I expect Michael to play the majority of the games. We expect Jeff Pietrasiak to get a start here and there. We'll try to do that early on and see how he does. That will determine how many games he'll play."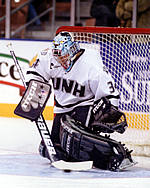 If not for the loss of Garrett Stafford for the first semester due to academic ineligibility, UNH would return its entire blue line, not to mention add a couple freshmen for a little more depth and competition. Stafford will certainly be missed, but the defense will survive in his absence, barring a rash of injuries.
"We feel that we're going to be as solid back there on defense as anyone even with the semester loss of Stafford," says Umile. "That was disappointing and he brings a lot to our defense, especially offensively, but we do have six defensemen who we can put out there who got a lot of experience last season."
Stafford's quarterbacking role on the power play could be assumed by either another blueliner or a forward. Umile's man-advantage units have often employed forwards at the point.
As for the scoring, Darren Haydar, David Busch and Ed Caron must be replaced up front, but the Wildcats still would have finished third in league scoring last year even without that trio. Colin Hemingway (33-33–66) leads a strong group of senior forwards along with last year's Hockey East Rookie of the Year, Sean Collins (20-25–45).
"We're excited about the returning forwards," says Umile. "We have to replace Darren Haydar, obviously, and I don't think people realize everything he did. He not only put up points, but he made great plays at great times. He was a terrific player.
"What we have is a couple sophomores who were freshmen last year who I feel can pick up those numbers. It may take two of them, but who knows? Maybe one of them can come close to putting up the numbers that Darren put up when he was a sophomore. I think Justin Aikins and Preston Callander are two players who weren't in the lineup regularly who can do that.
"I think we can put up the numbers but it may take a couple of guys. But I'm very confident that we've got a couple of guys that can do that."
Putting it all together, you have a team that, at least on paper, looks like one of the best in the country.
"I believe us to be a top three team in Hockey East, wherever we fall [there]," says Umile. "If you can be a top tier team in our league, you're going to be a solid team in the country."