Patience will be the watchword for Massachusetts fans this year. With 26 of the 31 rostered players being freshmen or sophomores, instant gratification will be in short supply. The key will be long-term improvement and maintaining a positive outlook.
"We're still a work in progress," says coach Don Cahoon. "We've got two years under our belt here and we think we've made some great gains in terms of personnel and we've established a culture that we're starting to become a little more comfortable with. It's more accepted than it's ever been before. All of that, hopefully, will take hold in the not too distant future and will reflect in the way that we play."
No team succeeds without strong goaltending and that holds especially true for young, building programs. All of which makes the UMass crease a position to watch. In limited action last year, Tim Warner (5.16 GAA, .856 Sv%) showed raw talent, but had his struggles, too, especially in terms of rebound control. He was a highly regarded recruit and will need to take a big step forward this season.
"There's going to be real good competition amongst three very young goaltenders," says Cahoon. "We've got Gabe Winer, who is considered a top prep school prospect, as Timmy Warner was the previous year. And we have Mike Waidlich, who is a capable kid himself. The three of them are really battling.
"Each day you see them, you notice something different. You notice one of them making some gains or one of them going into some type of a struggle. So that's going to be what will represent the first month or couple of months in that competition. It really is an unknown. These guys need game experience and they need maybe a little success and in some instances some luck to get off to a good start so they'll have a foundation to build off of.
"I think what will affect their play more than anything else is how well we play in front of them defensively. We're young in every area so it's going to be a task to get these guys to play consistently well and be reliable and dependable. Any team that has had success in this league has always had creditable defensive play. And that comes from the goaltender and the team defense unified."
The veterans on the blue line are Nick Kuiper and Kelly Sickavish, who'll be leading a group otherwise comprised of freshmen and sophomores.
"Kuiper has a year and a half under his belt, but really made substantial gains last year," says Cahoon. "He physically got much stronger and became more confident and logged many more minutes than in the 13 games he played as a freshman. Kelly is a big, strong kid. If he keeps it simple and plays within himself, he'll play a significant role for us.
"We had three freshmen last year — [Jeff Lang, Dusty Demianiuk and Sean Regan] — who got enough ice time so they have a good understanding of what it takes to be successful at this level. It remains to be seen how much they've improved over the summer going into their sophomore year. They've got a year under their belt, so we expect them to be a little steadier and more poised as a result of that. But they still have a way to go to become significant players in this league and they know that.
"Then we have two freshman defensemen that we recruited. Marvin Degon, who has a great skill level. He should be able to contribute from the get-go, but he's still a freshman. And there's Matty Fetzer, who is an offensive type who has a great head for the game. Both are going to be good power-play guys into the future. They both have good puck skills and athleticism. We're looking to develop them in that regard as well."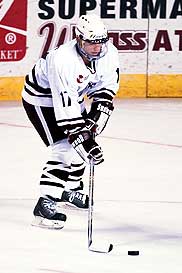 Up front, senior Tim Turner (11-9–20) has been a mainstay since his arrival and sophomore Greg Mauldin (12-12–24) impressed in a big way during his inaugural season. But the scoring from the other forward positions needs to improve significantly.
"We broke our own record for poor offensive production," says Cahoon, whose Minutemen averaged only 1.88 goals per league game. "The year before we broke the league record and last year we re-broke it. So it's clear to say that we've got to generate more offense.
"Although we're very young, I think our skill level is going to be improved. We're going to be a quicker team, a faster team, with some of the kids we've brought in. So we're hoping we can generate some offense just off our ability to get through the middle of the ice and be able to put other teams on their heels more than we have in the past. That remains to be seen, but that's the expectation.
"Along with Mauldin and Turner, we need Tommy Pock [to produce]. At times, he has been a very good player for us, but he suffered through a very difficult year last year, having an injury that took him out during the [middle of the season] and then he left for the Olympic games, where he played for the Austrians. Tommy has a real good skill level. He needs to bring his game to another level in order for us to have that kind of leadership from our forwards.
"I think Timmy will consistently be competitive as he always has been and get his points. We're looking for Mauldin to keep growing as a player. We think that his potential is terrific. Those will be the three older, mature players. Then we have a host of sophomores and a host of freshmen to choose from to complement that group."
Of the host of freshmen, at least two appear ready to contribute immediately: Stephen Werner, who played on the U.S. national team last year, and Chris Capraro, who Cahoon likens to former BU star and fellow Medford native David Sacco.
As part of his overhaul of the program, Cahoon brings some definite expectations to the table that transcend wins and losses.
"Our primary concern is to keep a positive frame of mind in place all the time so that it's a good learning environment so that we, for the first time since I've been here, show that we're getting better as the season goes along," he says. "In the previous two years, we've gotten off to decent starts, but just fizzled once the New Year came.
"A lot of that was belief systems not being in place, doubting yourself, maybe having some guys who'd had a lot of bad experiences so when we started to struggle and [encountered] adversity, it spiraled downward rather than guys being able to deal with adversity and work their way through it to make it a productive situation.
"Turn a negative into a positive. We weren't able to do that. We didn't have the makeup to do that. Although we're young, we have a new opportunity with all these players to instill that behavior and we're working real hard to do just that."