Adding depth is the name of the game this year for Hobart. The Statesmen played all of last season with only 14 forwards and six defensemen. Luckily for Hobart, the team didn't suffer a lot of injuries during the season, and made it through without the bench shrinking too much. Head coach Mark Taylor is trying to fix that this season by bringing in another large class of recruits.
"We only had 14 forwards last year, so we were down numbers," said Taylor. "Some day I hope we will be at a short list of recruits. This year will be a competitive year as far as bidding for playing time. We're trying to add depth and improve total depth."
Hobart got into this situation several years ago, when disciplinary problems led former coach Bill Greer to clean house. He brought in a huge class of 21 freshmen in a single season and basically rebuilt the team from the ground up. A year ago at this time, Taylor found himself with the remnants of that class graduating and brought in 16 rookies to fill the spots. Even though he only lost one player from last year's team to graduation, he brought in another large class of freshmen this year to get out of that four-year cycle.
"When you replace 16 seniors, you don't want to get into that vicious cycle again," said Taylor. "So we have been trying to get a good number of new faces here last year, and there will be a good number of new faces here this year. And next year we will hopefully start the traditional class of six or seven kids every year."
New Faces
Taylor is looking for his new recruits to build around his core group of players right from the start.
"We have a good group of forwards coming in that will improve us, as well as the guys coming back taking a step," said Taylor. "And the same thing on defense. We'll have the guys who were the core part of our defense back, and we will need the size and strength of our defensive recruits."
Four of the new forwards jump off the page of new players. Lee Carrier (Northwood Prep) is a big kid, 6-5, 220 lbs., who was on the Central Scouting preliminary report last fall.
Carrier isn't the only freshmen that will add size to the Hobart lineup of forwards. Matt Garman (Bridgewater) also is hefty at 6-0, 200 lbs., and he knows how to use that size to grind in the corners and go to the net.
Taylor didn't just add size to the forwards, he added some smaller freshmen also to help in the speed department. Taylor describes Andy Poirier (Taber) as a "kind of dynamic little player." Brian Keane (St. Sebastian Prep) will also be looked to for his speed and quickness.
After a year of getting some recruits from Canada and other nontraditional places, Hobart has returned to looking at eastern prep schools for its incoming players.
"Due to the type of school we are, we are going to have success recruiting at Prep schools," said Taylor. "I think our level of kids coming from there is going to be better and better."
Hobart was also lacking a little size on defense last season. To fix that, Taylor recruited some big kids that will be able to standup opposing players at the blue line, or just bury them in the corners.
Will Bowdine (6-4, 210 lbs.), Matt Windhol (6-2, 210 lbs.), and Wes Scott (6-3, 195 lbs.) will all beef up the Statessan defense this season.
Help In Goal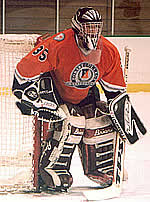 If there was one player on last year's team who Hobart relied on every game, every week, it was rookie phenom Adam Lavelle. Lavelle played almost 1,400 minutes last year, amassing an .891 save percentage and a 4.17 goals against average. He single-handedly at times kept Hobart in games and played several games hurt.
One of Taylor's glaring needs this season was to find a reliable backup for Lavelle, someone who could give him a rest at times or replace him if injuries hit again.
"There are two other freshman goalies coming in, John Murphy and Tom Keller from Rochester," said Taylor. "Hopefully one of those guys will step to the plate and help spell Lavelle some."
The other thing that would help take some of the pressure off of Lavelle is if Hobart can improve the play in front of him.
"The other side is that we will be a much improved team," said Taylor. "In our league, there is no question, we can get better but we still will have a challenge out there. I'm looking at playing better and more competitive hockey, and we may not have a drastically better record. We can have better games and still come up short, or have better games and have a 'W.' Our league is competitive, no question. We have three teams that are viable national tournament teams. We improved as a group again, and it will still be a wait and see to see who materializes."
Schedule
Hobart's schedule is a little easier this year, not necessarily because of whom they play. All of the same teams are on the schedule with the exception of MCLA. The difference in this year's schedule is January.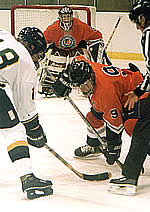 Last season, Hobart played a grueling eight-game road trip the entire month of January. Taylor made that schedule on purpose, thinking that since the school was on break anyway the team might as well play on the road. Unfortunately for the Statesmen, the plan backfired and Hobart went 1-7 during that stretch, with the only win coming against Neumann.
"That January trip wasn't supposed to look that bad," said Taylor. "During January, we're not in school. So that was designed to be a more successful trip."
This year, Hobart has a more traditional schedule, with a sprinkling of home and away games throughout the season. Hobart opens up with one of its toughest games when Potsdam visits the Geneva Recreation Center on October 30.
Taylor is taking a wait-and-see attitude towards the new ECAC West travel partner system.
"I think that is fine," said Taylor. "I think it will be a good thing. All of the coaches in the league are trying to find a way that is more practical and supportive of the league. It is worth a step and we will see where it goes. I don't really think it changes things a ton."
Other Tidbits
Taylor's former assistant, Jason Lammers, left Hobart last spring for a similar position at Division I Clarkson. Taylor looked around Division III hockey for a new assistant coach and through some old contacts found Matt Lindsay. Lindsay was an assistant coach at Utica last season for Gary Heenan.
"My goal here is to get good guys in here and to help them move up in the coaching ranks in a year or two," said Taylor. "Would I want a good guy here for more than two years? Yeah, but that's not what the position is designed for financially. And for their professional development, they need to get into a spot where they are in Division I. Our motto here is that we will go after being the best that we can be. If that means winning a championship, great. If that means some of us moving up the ladder and going different places in hockey, then that is what we are trying to do."
Hobart's outlook on the season is simple: build some depth, increase its level of play, and make the playoffs at the end of the season. In other words, be the best that it can be.
"Our goal is to be a deeper, stronger team," said Taylor. "We're going to go after it the same way we have been going after it. We have a little bit better idea of where we can go than we did last year. We need to find a way to come up with some more wins this year. We'll be playing a lot of the same teams. Everyone else will be just as good and getting better that we play. I don't really see anybody who has really dropped down. We will be better as well. We have to find, or make, a way to come up with a few more 'W's."