This year is when life gets interesting for the Manhattanville hockey team, its coach Keith Levinthal, and its fans.
Manhattanville's fourth recruiting class enters this year as freshmen. Over the past three years, the team has had a taste of some success and some frustrations. The Valiants reached the ECAC West championship game once (2000), and made the playoffs all three years. However, inconsistent play has plagued the Valiants, causing them to lose games they perhaps should have won.
While building rapidly, the team has been riding the "new program" label, becoming the model for other new teams. However, with four full classes in the rink, Manhattanville is moving out of the that phase and into the established category of teams. These next few years will give the team the ability to earn a reputation either as a perennial contender, or as a plateaued, middle-of-the-road team.
"I think we have always put pressure on ourselves to win, and we have always felt from the very beginning that that is good," said Levinthal. "We dealt with expectations to win a lot, but that is where we want to be. It is really easy to lose perspective on things, but the reality is we've been significantly better every year. We played 27 times last year and only lost seven times. This is without a doubt our most talented team we have had here, probably our fastest team, maybe even our biggest team. If we work hard and play smart, we're going to be good."
The Fourth Class
Manhattanville brought in eight players this year; four forwards, three defensemen, and a goalie. Long known for having big bruisers on his team, Levinthal has been recruiting more and more skilled players for balance. This recruiting class includes a smattering of junior league all-stars, MVP's, and team-leading scorers.
"We think this is our most skilled class yet," said Levinthal. "It will change the style of our team a little bit. The biggest change is from a flat-out skills standpoint. We have been slowly heading in this direction, but keep pushing to move in that direction. On defense, we have some guys who can move the puck. That was one of the needs we looked at from last year. Our forwards were good, but we had a hard time getting them the puck."
"For the forwards, three of the four kids are just damn good offensive players," said Levinthal. "The fourth is a much more rounded player."
Two of the new forwards come from the same Winkler Flyers team in the MJHL. Ross Oldcorn was an MJHL second team All-Star and finalist for the league MVP award, scoring 100 points in 61 games.
Billy Foulds, also from Winkler, is that "much more rounded player."
"He's a gritty, hard-nosed, real good in the corner kind of guy," said Levinthal.
Joining Foulds and Oldcorn up front will be Dan Law (Trail Smoke Eaters, BCHL) and Tyler Resch (St. Albert Saints, AJHL).
On defense, Levinthal recruited two players he hopes will help to get the breakout going, and a third who fits the classic Manhattanville mold.
Galloway Carroll (Ft. MacMurray Oil Barrons, AJHL) was a defensive All-Star in the Alberta Junior league the last two seasons. "He'll be one of those guys who can give us some more offense from back there," said Levinthal.
Scott Hoffart (Notre Dame Hounds, SJHL) will also be looked at to create some offense from the defensive side of the puck.
Then there is Miles Fee (Dauphin Kings, MJHL), a monster defender at 6-5, 225 pounds who will ensure that no opposing player stands in front of the Valiant net for long. "He has some good skills for a big guy," said Levinthal. "He will be real tough to play against in our new rink."
Losses
Manhattanville didn't escape unscathed during the offseason. The Valiants lost two of their stars from last year's team. Goaltender Jon Peczka, who played in 18 games last season, returned to campus but will not be rejoining the team.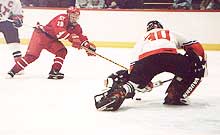 With Peczka out of the picture, the starting goaltender position is open. Senior Jeremy Hill, junior Chad Killam, and freshman Jay Chrapala all have a shot at earning the position.
Also missing from the team this year is freshman standout Lee Stubbs. Stubbs was a speedy little forward, and was tied for third in scoring last season, tallying 11 goals and 18 assists. But he didn't return to campus this fall for the start of classes.
Home Early, Away Late
Manhattanville's schedule this season is one of extremes. The Valiants open up with four of their first five games on the road, including a tough early-season pair of league games at RIT and Hobart.
"The weekend you can't help but see is that RIT/Hobart weekend right off the bat," said Levinthal.
Then Manhattanville gets to enjoy the cozy confines of its new home rink (more on that shortly) for seven straight games before the Christmas break.
"Part of that, with the ECAC West, is that we don't have a lot of flexibility to get home games," said Levinthal. "I do like the idea of playing home games early in the year and getting off to a good start, though."
The Valiants pay for that long pre-holiday homestand late in the season. After the holidays, Manhattanville begins the second half of the season at the Plattsburgh tournament and then stays on the road for seven of its remaining 12 games.
"We have New England College in the first game of the Plattsburgh tournament, and it will be a tough game," said Levinthal. "We've never been up [to Plattsburgh], and as we try to upgrade our schedule it is a good opportunity for us"
Levinthal hasn't been a big proponent in the past of the new ECAC West travel partner system. "We have had discussions about playing each other three times per season, which I kind of prefer," said Levinthal. "But we're OK with the travel partner system."
New Home
After playing the last three seasons at Skate Nation Arena at New Roc City, Manhattanville moved a few miles northeast to Playland Ice Casino in Rye, N.Y. The new home of the Valiants is closer to campus, and has superior amenities for the team. Playland has been the practice facility for the New York Rangers since 1979.
"The Rangers built their own facility, so we moved into where they were," said Levinthal. "It has a very different kind of feel from New Roc. We moved into the Rangers locker room, which will be the envy of most D-III teams. The rink is painted in Manhattanville colors, and they have done a lot of things to make it feel like home for us. The ice size is a little different, at 208'x77′. It will be a real tough place for people to play."
Long and narrow, with an immense neutral zone, the rink at Playland will most definitely give Manhattanville a home-ice advantage.