It has been five long years since the Soaring Eagles have been invited to the NCAA tournament. Elmira's last trip to the Big Dance was in the '96-'97 season, when they lost a two game series to St. Johns in the quarterfinals. That ties the longest such stretch in school history, which first occurred back in the early '80s.
The Soaring Eagles came oh-so-close last season, twice. RIT scored the game winner in the closing seconds in a regular-season meeting. And then Elmira tallied what would have been a tying goal in the ECAC West championship game less than a second after time had expired.
"You know, I just spent all off season getting that out of my mind," said Elmira coach Tim Ceglarski. "Those three games that we played against RIT last year are some of the best games that any of our programs have seen in many years."
Last season was a learning experience for coaches and players. "I think we made some great strides last year," said Ceglarski. "We played very well against ranked opponents. We had a couple of hiccups along the season, but I think our guys learned how to come and play and get pumped up for the better teams."
But enough of last year. This is a new season down at the Thunderdomes.
"I don't know if we want to look back and see the way we did last year, because the makeup of our team is so entirely different," said Ceglarski. "We need to face each game as we are coming to it, and try to build off the momentum. We will come to play against the best teams in the country, but we need to come to play every single night. We have a relatively young team, and we will need to see how well they react to a tough schedule."
In The Back Office
The key for Elmira this year is in its own defensive zone. Elmira lost two steady goaltenders and three top defensemen to graduation. The only holdover in net is junior goaltender Ben Sadler (.837 save%, 3.14 GAA) who played in only three games last season.
Competing with Sadler for the starting job are two freshmen; Bill Owczarczak and Greg Fargo.
"Billy O," as he is called out of necessity, hails from West Seneca, N.Y. He is an athletic goaltender with a reputation for handling the puck well.
Fargo comes from the junior hockey ranks of Kingston, Ontario, as a big, tall, stand-up goaltender. He plays his angles well.
"The puck just seems to hit him," Ceglarski said.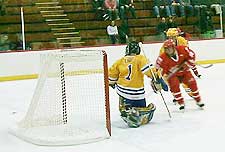 "We are very green back there [in net], not a lot of game experience at this level," added Ceglarski. "That just means we need to buckle down and play good defense around them and give them a chance to get their feet wet before we get into the meat of the schedule in league play."
With the goaltending position up for grabs, the Soaring Eagle defense will need to carry a lot more weight this season. The good news for Elmira fans is that the Soaring Eagles return three solid players to form the nucleus of the new defensive unit.
"We think we return three of the better defensemen in the league in Mike Clarke (7-19-26), Chris Mann (5-11-16), and Lawne Snyder (3-15-18)," said Ceglarski. "That is three pretty good veteran defensemen."
Two standout recruits both come from the Ontario Provincial Junior League. Andrew Morris is a 6-3, 225-pound defenseman who played for Couchiching. "He can move the puck very well, and plays very physically," said Ceglarski.
The other freshman that Ceglarski will rely on is Ashton McLean, from the Wexford Raiders, whom Ceglarski described as a "stay-at-home defensive defenseman who likes to play physical. Positionally, he is tremendous in his own zone."
"Without taking anything away from the group of six we had last year, we think our group of six defensemen will be much better than any group we have had over the last five to six years," Ceglarski concluded.
In The Front Office
Up front, the theme stays the same for Elmira this season: everything starts from the defensive zone.
"The idea for the forwards we brought in this year was to bring in some guys that can play both ends of the ice," said Ceglarski. "We know we are going to be young on D and young in net, but will also have some offensive abilities as well."
Ceglarski lost First-Team ECAC West All-Star Steve Kaye after the season. Not only was Kaye tied for second in goals last season, he was the leader of the team on and off the ice for his entire four-year career at Elmira.
"Obviously, you can't replace a Steve Kaye," said Ceglarski. "Steve brought a lot to the table with his play. Probably one of the best penalty killers in D-III hockey, and was the heart and soul of our team. So we had to try and find a way not to replace him, but to bring some other attributes to the table."
The other attributes Ceglarski was looking for were speed and ability to play both ends of the ice. He brought in four highly-touted freshmen to try and fill the void:
Those four: Brandon Rose — "Very skilled, play making forward, plays both ends of the ice very well. Would rather pass than shoot." Andrew Hawke — "a great two-way hockey player who can put up points but is also very strong in our defensive zone." Randy Campolini — "a very fast offensive forward." Scott Brady — "a smaller forward, very speedy and can move the puck to score some goals."
Those four will have some big shoes to fill, indeed.
The Schedule
Elmira once again faces a tough schedule, playing many teams expected to be in the top 15 in the national polls all season long.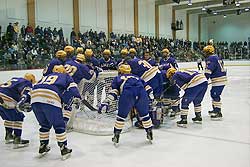 The Soaring Eagles open up on the road against perennial western power St. Norbert's. "A couple of these games are still held over from the past regime," said Ceglarski. "Our guys are real excited about going out to St. Norbert's. That should be a real eye-opener for our younger guys."
Unlike past seasons, Elmira has a nice mix of home and away games this year, never having more than four of either in a row. "We tried to get away from being away from our place more than three games in a row," said Ceglarski. "We were able to try to get away from playing weekday games as well."
Another change is that the annual Thanksgiving weekend tournament hosted by Elmira appears to be no more. This was a highlight tournament, pitting top teams from the eastern and western conferences. Unfortunately, with the NCAA frowning on out-of-region play, the tournament had outlived its usefulness.
"We got rid of [the tournament] for a number of different reasons," said Ceglarski. "The out-of-region games, the NCAA doesn't look too highly towards. It was a nice idea for a tournament, with the western teams, but it didn't grow with the rest of college hockey."
Another new idea this season is the introduction of a travel partner system within the ECAC West. Elmira is paired up with Utica. "I think it is great," said Ceglarski. "I think that is the way we need to go as a league. However, with six teams it is very difficult. I would like to see us have eight teams, it would be a heck of a lot easier. Right now, with six teams we have to do whatever is best for our league."
Elmira will experiment this season, playing its December 15 game against Johnson & Wales at the Coach USA Arena in downtown Elmira.
"There are rumors that we bought the building or are moving down there permanently, so there is a lot of buzz about this," said Ceglarski. "This is really a lot about promoting hockey in Elmira. We are happy to bring our product down to a group of people who have never seen us play."
Only a One Year Interruption
Alumni Weekend has always been a spectacle at Elmira. Not only do former players come back to the Thunderdomes to reunite, play some hockey, and reminisce, but it also marks the annual war when the Soaring Eagles host RIT. Elmira and RIT have met on Alumni weekend for at least the last 20 years.
But this year, due to a scheduling snafu, Elmira will face off against Manhattanville on Alumni Weekend.
Ceglarski explained it this way. "We have played RIT on our alumni weekend for as long as anyone can remember. This year, the reason it got changed was because of the Empire 8 men's and women's schedules. Our scheduled alumni weekend had both basketball teams playing away.
"So we had to change our alumni weekend, which was after RIT's and our schedules were already complete. So there was no way that RIT could change their schedule. [RIT coach] Wayne [Wilson] has committed to be back on our alumni weekend schedule next year. We are happy to have Manhattanville on our schedule this year, which has turned into a great rivalry."