Last year [nl]Merrimack coach Chris Serino would say, "Write about the team. I don't want to be a distraction. I don't want to be the focus. Write about the kids."
After he made his full-time return to the bench in Saturday's season opener against Union, he reiterated the theme. "Let's not make this about me."
When the score reads Good Guys 1, Cancer 0, however, the request must be respectfully declined.
A year ago, doctors stunned Serino with the news that he had throat cancer. He informed his team with characteristic wit, saying, "I have bad news and good news. The bad news is I have cancer in my throat. The good news is I can't yell at you that much anymore."
Had anyone been in a joking mood, the punchlines would have been countless.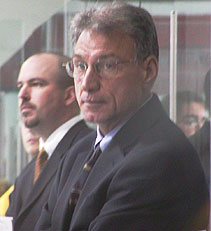 Chris Serino without his voice was like Jay Leno without his chin. Chris Serino without his voice was like Mick Jagger without his lips. Chris Serino without his voice was like Pamela Anderson without her…
But no one was joking. Maine coach Shawn Walsh was already fighting for his life in a battle with cancer that within weeks he would lose.
Serino's plight was horrifying news. He might bellow at his players or a referee, but he also was a man with a big heart and an affable personality.
Despite undergoing aggressive chemotherapy and radiation treatments for the malignant tumor, Serino continued to coach until he finally stepped down at the beginning of November.
"I'm frustrated because I've had to make a decision that really hurts me," Serino said at the time. "But I know it's the right decision to make. I looked at myself the other day [on a game tape] and said, 'You've got to be asinine to be doing this.' Sunday I was having trouble just talking."
Other than a brief return for two games at the end of December and then again in March for Senior Night, Serino remained on the sidelines, putting his energies into beating the cancer.
Eventually, his doctors gave him a clean bill of health and in May he was feted at a fundraiser that was attended seemingly by everyone who was anyone in Eastern college hockey. The outpouring of support was indicative of not only the tightly-knit nature of the sport's community, but also the esteem with which Serino was held.
The season opener might be five months away, but it was something to savor after all he'd been through.
For his players, his return sank in much earlier.
"It's the greatest thing for our program to have him back. Just having him there as a regular coach — never mind what he's been through — is an inspiration."
— Merrimack captain Joe Exter, on Chris Serino's return
"We've been going at it for about a month now," said senior captain Joe Exter after the game. "It was more of an issue back then. Now he's right back into a groove and it's like he never was gone…. It's the greatest thing for our program to have him back. Just having him there as a regular coach — never mind what he's been through — is an inspiration."
For Serino, though, his first official game back held a special significance.
"Even last year when I was sick, the three or four games when I was behind the bench was the only time when I felt like myself," he said.
As a result, Serino felt the anticipation mount as the dropping of the first puck grew closer.
"You know at Christmas time, the day before Christmas when it's leading up to it and it's kind of more exciting than when you're actually opening the presents?" he asked. "That's kind of what it felt like for me.
"The things that really hit me were getting ready for the game, getting prepared to get there and go on the ice and all the things that go with the pregame part of it, being in the building, walking around and seeing people.
"It's exciting. It's like when you coach your first game. It's like when you don't know if you're ever going to be [behind the bench] and then you get there and you feel like your old self.
"We could have been playing the North Andover Pee Wees and it would have been exciting."
Once he was behind the bench, though, the sense of anticipation was gone. Back in his realm, he was all business.
"Once the game starts, those thoughts don't go in your mind anymore," Serino said. It's 'Go get the game. Win the game. Do what you have to do to win the game.'"
Which characteristic self-deprecation, he then added, "Or in my case, maybe get out of the way and don't bother anybody."
Not surprisingly, the experience of fighting cancer has left its mark.
"It's different," he said. "I'm not going to tell you it isn't different. It's very different because [your] perspective is a lot different. When something goes wrong now, I just think of where I was last year at this time and it ain't so bad."
Which is not to say that he's suddenly become a stoic behind the bench.
"I'm never going to be a guy that just sits there and does nothing," Serino said. "That's not me. I could be in a wheelchair and I'd [be active]. I think this whole thing helped me as a coach. Emotionally, I can keep my emotions better under attack and appreciate what's going on out there."
A Hollywood ending called for an emotional Warriors squad coming out firing on all cylinders and winning the game for their returning coach. They did, indeed, come out firing on all cylinders, grabbing a 3-0 lead by the 11:27 mark of the first period. The Hollywood ending, however, was marred by a Union extra-skater goal with 50 seconds remaining that forced Merrimack to settle for a 4-4 tie.
Nonetheless, Serino remained upbeat after the tie-that-felt-like-a-loss, looking at the big picture and saying, "We've got some good young kids who work hard and are skilled… This will be a great year because what I love to do is teach."
The coach is back behind the bench. The teacher is again teaching. Tie or no tie, at Merrimack life is good.
---
Thanks to Kevin Conway, whose special reports last year to USCHO on Serino's health provided the quote about his decision to step down.