Each game at Boston University's Walter [nl]Brown Arena begins the same way.
And with the same voice.
"Ladies and gentlemen, this is Hockey East," starts longtime public address announcer Jim Prior as the fans settle in. "The teams are ready … soooooooo let's play hockey!"
The statement is simple, but the delivery is as unique as Prior himself.
"It's funny that people recognize me," said Prior, who began announcing at BU in 1986 after working at high school games for eight years. "They'll look at me and say, 'Hey, aren't you the announcer from BU?' I just laugh about it.
"They say they know the voice."
Small wonder. Boston area hockey fans probably hear Prior in their sleep. After all, he is currently the regular PA announcer for five schools — BU, Wentworth, Salem State, Arlington High School and Arlington Catholic.
"He's more or less a legend," said BU assistant captain John Sabo. "All of the guys on the team know him, and he knows more people in hockey than any of us. He's just great to have around the team."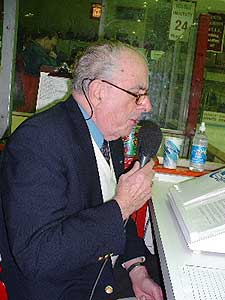 "He's an icon now, since he's been around so long," said BU coach Jack Parker. "He's our guy. He's been our announcer of record, so to speak, for a really long time, and all of the other announcing he does reflects on his professionalism and enthusiasm."
Prior appears regularly at the FleetCenter, announcing the annual Beanpot and Hockey East tournaments and occasionally filling in at Boston Bruins games. He's also worked NCAA regionals and the 1998 Frozen Four.
Prior has substituted at all but one of the Hockey East schools, as well, but never with the Terriers as the visiting team.
"I'll never announce against BU," Prior said. "I just wouldn't feel comfortable doing it. I'll do it when they're playing at neutral sites like the Beanpot, the Hockey East tournament or the NCAAs, but just not at another rink."
Amazingly, he finds time to work the Super Eight and MIAA high school championships at the Fleet, in addition to Hockey Night in Boston, which brings some of the nation's best high school talent to town each August.
Prior says he averages four games a week and at least 100 overall — numbers that put the NHL regular season to shame.
After all, do the teams schedule home games around him?
"I don't know," said Prior, who works full-time for the Eastern Junior Hockey League. "It just seems to work out."
As much time as Prior spends at rinks now, it's surprising to learn that his involvement in the sport didn't begin until his son Dennis, a 1985 Malden Catholic graduate, began to play.
After running the clock at a few rinks, Prior began announcing for Arlington High School and Arlington Catholic in 1978.
Interestingly enough, Prior kept announcing in Arlington while Dennis played at Malden Catholic — even when his team and his son's team played one another.
"When Malden Catholic came to play at Arlington Catholic, [Arlington Catholic coach] Dan Shine told me, 'Remember, you're my announcer,'" Prior recalled, smiling. "It was just a thrill for me to announce my son."
Around that time, Prior began his 'Let's play hockey!' introduction, which has since become his announcing trademark.
"I wanted to add a little bit more to the games, for the kids," Prior said. "Once the official checks that the goal lights are working, that's when I start. It's all on queue.
"But sometimes the refs don't drop the puck on time," Prior lamented. "I'll say that the teams are ready, but then the ref backs away and leaves me hanging."
It took some luck for Prior to bring his unique introduction to BU. He was announcing a high school game at Walter [nl]Brown in 1986 when he heard the BU announcer needed a substitute for one game while he was on vacation.
Prior snapped up the chance. The rest is history.
"I guess I was in the right place at the right time," he said.
He gladly accepted a full-time offer later that year.
"Ben Smith, who was my assistant coach at the time, really pushed me to hire him," Parker said. "He told me that [Prior] would really get the crowd going, and he has. He's a great announcer."
Prior has missed just one BU game since he began.
"It was the season my son got married — 1993-1994," Prior recalled. "He had just gotten engaged [that summer], so I was thinking that the wedding would be in May or June. But then he said it would be October 17th. I said, 'October 17th? I can't go! That's BU's home opener.' And I got up and walked out of the room.
"But then I thought my wife was going to have a cardiac," Prior said, laughing. "So, needless to say, I went to the wedding."
Prior said that Chicky, his wife of 38 years, doesn't hear him announce too many games. She does, however, keep close track of when he's at the rinks.
"If she wants to go to dinner and she knows I don't have a game," Prior said with a smile, "then we go out to dinner."
But, then again, anything that requires Jim Prior's schedule to be free of a hockey game couldn't happen too often.