When talk rolls around to the top goalies in the country, little seems to be said about Minnesota State junior Shari Vogt.
Even within the WCHA, the names of Wisconsin's Jackie MacMillan, UMD's Patricia Sautter and Minnesota's Jody Horak will come up before anyone gets around to mentioning Vogt.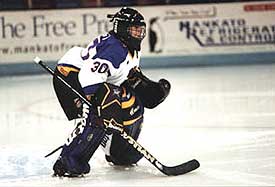 In fact, Vogt's numbers compare favorably with MacMillan, who has played more games and minutes than any other goalie in the short history of the WCHA.
Despite having played nearly 2,300 more career minutes than Vogt, MacMillan has just 88 more saves. Vogt, who has faced an average of 15 shots per game more than MacMillan, has a .908 save percentage compared to .909 for the Badger senior.
MacMillan has twice earned All-WCHA honors while Vogt, the league's defensive player of the week this week, has not earned similar honors.
Vogt has toiled in relative obscurity at Minnesota State, which has posted a 9-66-4 overall record during her tenure. Her career record is 7-46-3, a paltry .152 winning percentage.
Playing in obscurity is nothing new for Vogt, however. She played high school hockey for the River Lake Stars, a combination of high schools. The team fared poorly despite Vogt's best efforts, which once included a 94-save effort in a 1-0 loss, a feat which earned her a mention by former Los Angeles Kings head coach Barry Melrose on ESPN2's NHL 2Night.
Still, it was Minnesota State men's head coach Troy Jutting's prompting which led to her recruitment by former coach Todd Carroll. Jutting had Vogt and her sister, Paula, who played collegiately at Minnesota before transferring to St. Benedict's, at summer hockey camp and noted not only her goaltending skills, but her overall athletic ability.
A three-sport athlete at Cold Spring-Rocori High School, Vogt excelled in softball, earning all-state honors as a third baseman. She competed on the diving team, and golfs as well.
"I think she's a great athlete," said MSU head coach Jeff Vizenor. "Her athleticism and desire to compete are what make her a great player."
The fact that she doesn't receive the recognition or accolades of some of her contemporaries helps drive her to be better.
"One thing about Shari is she loves a challenge," Vizenor said. "She doesn't want to be given anything. She works harder than anyone on our team — in the weight room, running, biking, on the ice — she's an incredible worker. She takes those things in stride and uses [them] as motivation to get better."
The numbers bear out the fact that she has gotten better. Despite seeing 41 shots per game this season, she has posted a .923 save percentage and a 3.12 goals against average, both marks bettering her career averages.
"The stats speak loudly for her," Vizenor said. "When she's on, she's one of the best out there. We depend on her to win games. She put us in position on Saturday and we didn't finish."
After posting the Mavericks' first-ever WCHA shutout Friday, a 43-save effort in a 6-0 win, Vogt stopped 45 shots the next day, singlehandedly keeping her team in a game which it lost 1-0.
Minnesota State, which has four points in league play, matching its total of the last two seasons combined, is on pace for its best conference finish. To do that, the youthful Mavericks will rely heavily on the goaltending of their unassuming, but certainly not underappreciated, netminder.
Olympian Wall Leads Group Of WCHA Signees
Minnesota landed a prize recruit in the form of 2002 U.S. Olympic Team member Lyndsay Wall, who leads a group of four players to sign with the Gophers.
Minnesota landed a prize recruit in the form of 2002 U.S. Olympic Team member Lyndsay Wall (Churchville, N.Y.), who leads a group of four players to sign with the Gophers during the early signing period, which started Nov. 13.
Wisconsin is the only other league member, to date, to have signed any recruits, landing three players, including a pair of home-grown players.
Wall registered an assist and was a team-best +11 in five games at the Salt Lake Olympic Games. Her addition to the Gopher blue line will be crucial next season as they lose seniors Winny Brodt and Ronda Curtin.
"Lyndsay is a special player, and someone we considered to be the top American defenseman in this year's recruiting class," Halldorson said. "She has the combination of size, skill, and composure that you don't often see at her age. We are fortunate to add such a talented player to our program."
The first player to sign with Minnesota this season was fellow blueliner Danielle Ashley (Burlington, Ont.) of the Beatrice Senior Aeros of the National Women's Hockey League. In April, 2000, Ashley became the youngest member of the Canadian National Team as a 14-year old.
Joining the duo for the Gophers will be forwards Andrea Nichols (Mountain Iron, Minn.) and Becky Wacker (York, Maine).
Nichols has led Minnesota in scoring each of the past two years while playing at Hibbing High School. She is in her fifth season with the Bluejackets varsity squad and has racked up 201 goals and 332 points in her first four years.
Wacker played on the 2000 and 2001 national championship Assabet Valley teams. In addition, she captained the York High School boys varsity team last season, earning team MVP honors.
The Badgers' signees are led by Wisconsin natives Kristen Witting (Beloit, Wis.) and forward Heidi Kletzien (Manitowoc, Wis.). The duo is currently playing for the Madison Capitols.
A three-sport varsity athlete at Beloit Memorial High School, Witting was named rookie of the year for school's boys varsity team in 2001. Last year, she led Team Wisconsin to the national high school championship.
Kletzien was a member of the championship team at Hockey Night in Boston in 2000 and was named the tournament's outstanding forward in 2001.
Monteleone scored 44 goals and 80 points for the Ohio Flames, which she is currently captaining, last season. She was the leading scorer at the Under-19 national championship in 2002 with 13 points.
WCHA "House"Hold Hints
The slowest weekend of the season, aside from teams' holiday break, is upon the WCHA this weekend … Only four games, involving three league teams, are slated for the weekend … Bemidji State freshman goalie Jill Luebke earned her first collegiate victory, after posting ties in her first two appearances, with a 30-save effort in a 5-3 win over North Dakota … The Beavers have a two-week break surrounding Thanksgiving and don't return to action until Dec. 6-7 … Minnesota was outshot 35-16 in Sunday's 4-3 win over current No. 2 Harvard … UMD's streak of 79 consecutive successful penalty kills came to an end Saturday when Harvard's Jen Botterill notched a power-play goal … The Bulldogs still have a streak of 50 consecutive penalty kills, dating back to last season, in conference play … Minnesota State's 6-0 win over St. Cloud State was its first-ever shutout in WCHA play … Junior forward Amanda Osborn tied a school record with four goals in the game … Ohio State sophomore Jennifer Desson scored her first two goals of the season Saturday in the Buckeyes' 4-2 loss to No. 9 Providence … St. Cloud State freshman Ashley Stewart scored her first collegiate goal Saturday … The shorthanded effort was the only goal scored in the Huskies' 1-0 win … Karen Rickard's shorthander Sunday in Wisconsin's 4-2 win over No. 10 Mercyhurst was the team's first since Meghan Hunter's shorthanded effort, Feb. 1, 2001.
WCHA Awards
Offensive Player of the Week–Natalie Darwitz, Fr., F, Minnesota
Defensive Player of the Week–Shari Vogt, Jr., G, Minnesota State
Rookie of the Week–Krissy Wendell, Fr., F, Minnesota
Coming Up
No. 1 Minnesota at No. 5 St. Lawrence (Friday-Saturday)
Minnesota, with a 4-0-1 record, has never lost to St. Lawrence … The Gophers and Saints are the last remaining unbeaten teams in the country … This weekend's series will be the first meeting of the teams in Canton, N.Y. … Seven of the Gophers' nine games in November are against ranked opponents … Junior forward La Toya Clarke, who saw limited ice time over the weekend due to a sprained ankle, is expected to see more this weekend … She did not see action on Minnesota's special teams in wins over Brown and Harvard, and may be held off the those units again … Freshman forward Natalie Darwitz's game-winning goal Sunday extended her point-scoring streak to 10 games … Both she and fellow rookie Krissy Wendell have scored in each of the 10 games they have played this season … St. Lawrence sophomore forward Rebecca Russell has scored the game-winning goal in three of the Saints' six wins … St. Lawrence freshman forward Tracy Muzerall is the half-sister of Minnesota's all-time leading scorer, Nadine Muzerall.
Ohio State at No. 7 Wisconsin (Friday-Saturday)
Wisconsin leads the all-time series 8-1-4 … Badger sophomore forward Amy Vermeulen may be back in the lineup this weekend after completing the fall season with Wisconsin's soccer team … She was second on the team with 22 points while leading the Badgers to the NCAA's second round … Wisconsin has posted shutouts in three of its last four meetings with the Buckeyes … … Badger senior goalie Jackie MacMillan, who has played every minute in goal during Wisconsin's first 12 games this season, has played in 98 career games and is expected to reach 100 Saturday … Despite a 4-3-1 record against ranked opponents, the Badgers are 1-4-1 and last in the WCHA … Ohio State is 0-7-1 against ranked opponents this season … Five different players have scored at least two power-play goals for the Buckeyes.