When Michigan Tech took the ice this season, WMPL radio brought Houghton all the play-by-play action for the 33rd straight season. Unlike the previous 32, however, Bob Olson was not behind the microphone.
That would be interesting enough, but it doesn't begin to explain Olson's contribution to Michigan Tech hockey, or all of college hockey, for that matter. A warm, engaging, deeply religious, and — even into his 70s — highly-energetic man, Olson was an innovator until the day he retired.
Picture the Stone Ages, six long years ago, before the Internet was in its heyday … before USCHO was born. A mere 35 percent of the nation had a personal computer, and less than 10 percent were online. The lifeline between coaches, parents, sports information directors, and the rest of hockey was WMPL's score service.
When the score service began at Olson-owned WMPL in 1970, it was to college hockey then what USCHO was in 1996; not necessarily the best place for that kind of information, but the only place.
In reality, most people in college hockey never knew Bob Olson. They knew Edda, his wife, even if not by name. When you called that famous number, Edda was likely on the other end. When Edda died two years ago, so did the scoreline.
Without his wife, without the scoreline, and with younger voices itching for an opportunity, Olson knew it was time to get out. He sold the station, and retired from broadcasting after 55 years.
"At the station, we had a young guy that was doing high school hockey," says Olson. "It was time for the young guys to get in there, and the station wanted to have their own guy. And then Tech said they wanted the farewell tour [for me]. So the doors were just kind of closing."
Though retired from broadcasting, Olson hasn't just sat back, moved to Florida and hit golf balls. Today, he's still innovating and building, working as a missionary in Ohio for Presentation Ministries, building communities that Olson describes as a "monastery for lay people."
"It's not like I'm looking for stuff to do, it just kind of finds me," Olson says. "I always like to do exciting things. I've still got a lot of energy."
Humble Roots
His evangelism for the sport of hockey did not begin right away. Growing up in Superior, Wis., where hockey had yet to take off in popularity, Olson had an interest in the theater. That led to an interest in radio, a radio school in Minneapolis, and finally his first radio job in Ironwood, Mich.
"I don't think I had a big desire to go on and be an actor, but I knew I wanted to do something like that," says Olson. "In the first grade in Superior, we had a big station there and I sang a French song on the radio. So maybe that's where I got the bug."
But first the army came calling, in 1951, during the Korean War.
"I never had any combat and I didn't get out in the field much," says Olson. "I was in the public information office doing radio work. When they found out I was a radio man, they put me in the morse code thing for a while.
"[John MacInnes] knew we had a good reputation, but we were basketball people, and we wanted to keep doing the basketball. We said we'd do the hockey too, but we had a knock-down drag-out session for four hours one night."
— Bob Olson
"The guys who flunked out of the morse code, they wound up in Korea. That's what they did with the guys who flunked out. So I wasn't gonna flunk out."
Serendipitously, he was stationed at Fort Carson in Colorado Springs, home of the Broadmoor Arena, which hosted the first 10 NCAA championships from 1948-57. The seeds of his love for college hockey were born.
It was high school football, however, that got him out of the army six months early.
"If you had a seasonal job, like a farmer, and the planting season was coming up, you could get out early," says Olson. "I got out because football season was coming up. … It was legitimate, it was a thing they had going in the army. We stretched things a little bit, but the [radio station] had to say, 'We need him to come back and do football.'"
So through the 1950s and '60s, Bob Olson was broadcasting high school football and basketball at a station in the remote town of Ironwood, Michigan, located on the Upper Peninsula on the [nl]Wisconsin/Michigan border, halfway between Houghton, Mich. and Duluth, Minn.
And true to his character, if it was going to be high school sports, Olson made sure his station was the most devoted, forward-thinking high school sports station there was.
"We were doing three to four games a night. We were switching, and we were going from one game back to another throughout the whole area," Olson says. "So we were really doing a lot of innovative things like that. And, in fact, we had some women broadcasters. Before women were even on the radio, we had them doing sports.
"The only hockey I did then … North Dakota couldn't send their broadcaster up to Michigan Tech. So I went up there to do a couple games on the weekend. That was in the '60s, before I went up to Houghton."
Of course, when doing high school sportscasting, even today, being innovative is often a necessity.
"Once I was doing a football game on the ground from the 35-yard line and every time they got down to the end zone, the players would stand up and I couldn't see anything," says Olson.
"One time, a guy I had working for me, he had a tournament basketball game. They forgot to put the telephone line in. He had to do the game from the hall in the phone booth, and he could see one basket. And he put a mirror up on the door so he could see the other basket."
Hello, Houghton
All the while, Michigan Tech, at that time a powerhouse program with two national championships under its belt, never had radio coverage. But legendary Tech coach John MacInnes had heard a lot about this station down in Ironwood doing a great job covering prep sports in the Upper Peninsula. And Olson's crew had just bought the station in Michigan Tech's hometown of Houghton.
MacInnes called Olson for a meeting, one that didn't begin too smoothly.
"He knew we had a good reputation," says Olson, "but we were basketball people, and we wanted to keep doing the basketball. We said we'd do the hockey too, but we had a knock-down drag-out session for four hours one night.
"He says, 'If you're going to do the hockey, you're going to do the hockey exclusively.'"
MacInnes was a forceful personality, but Olson nevertheless resisted at first, "until we realized, this is Division I hockey, and if we wanted to be the top sports station, we better do it.
"We wanted to do it, but we wanted to do it on our terms, and John was pretty adamant about it. When we did get it, he insisted that the sports information director or an assistant coach was the color man, because he didn't trust us until later."
Olson still wasn't all that interested in broadcasting Michigan Tech hockey full time, so he picked an employee to do the play-by-play, someone who also happened to be president of the local amateur hockey organization, the Portage Lake Flyers.
"John wasn't happy about that because he considered them competition," says Olson. "When we first made the deal, I said the only way we would broadcast the games was if one of my guys was one of the broadcasters … because I didn't want to build up this thing up for three years then have them pull the thing and put it on another station. But then John felt he was competition, and he said 'You're gonna have to get somebody else.'
"I was the only other guy, so I kind of got it by necessity. I didn't really have a big desire to do it."
The rest, as they say, is history.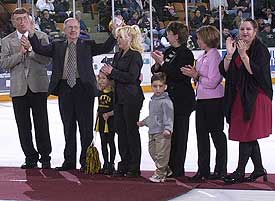 Olson grew to love it, especially as Tech continued to put out powerhouse teams, highlighted by three straight NCAA title game meetings with Minnesota and the 1975 national championship. Soon, MacInnes would retire and the program would slowly decline, going through multiple coaches in Olson's last 20 years. But by that time, he loved the sport and the program so much, he couldn't think to leave.
"The first 12 Great Lakes tournaments, I never broadcast a consolation game," says Olson. "And then for the [most part], I guess I never broadcast a championship game. That's the way things work."
Despite the cantankerous start between two sturdy personalities, in reality, there couldn't have been a more perfect match. MacInnes, always a forward-thinker himself, knew WMPL was the place for Michigan Tech hockey.
"He knew we had the promotional ability to do the games, not so much our expertise on the play-by-play, but more to bring in the crowd and the fans," says Olson.
The marriage of Bob Olson and WMPL, with John MacInnes and Michigan Tech hockey, would not be complete, however, without a marriage of the much more conventional sort; the one between Olson and his loyal cohort and partner, his wife, Edda. In fact, for people in hockey, it's impossible to think of Bob without thinking of Edda too.
"She was a big sports fan because she had brothers," says Olson, who met Edda at a church spaghetti dinner in Ironwood before getting married in the mid-'50s, "and she always used to have to listen to Harry Heilman on the [Detroit] Tigers games, because her brothers were working, and she had to listen to the games so she could tell them what happened when they got home.
"She was the original recorder."
When they bought the station in Houghton, Edda began helping out. Combine that with Bob's dedication and desire to go the extra mile, and it led to the two projects that put tiny WMPL at the center of the college hockey map for the next 30 years.
For the Good of College Hockey
The WMPL media poll was started right away.
"At that time, the AP and UPI had football and basketball [polls]. There was no hockey," Olson says. "Jack Vivian, who was the new coach at Bowling Green when they were emerging, he liked it. A lot of those emerging programs liked it, because when teams came into town, people had a better idea of who the competition was, by their ranking. There wasn't the publicity then."
The score service was born because Olson couldn't stand the hole in coverage. Just like the state-wide coverage of high school basketball, it wasn't enough for him to just have a myopic view of the sport. Having all the scores accessible, allowed everyone some perspective on the big picture.
"It took a while, but people were really looking for a place to get the scores," says Olson. "We used to get the mothers of the players in North Dakota calling, and [late Maine coach] Shawn Walsh's dad was calling. And the scouts would all come up and say, 'You still got the same number eh? 482-37-hundred?' I said, 'Yeah, that's it.'
"One time Dave McNab called me from Czechoslovakia about 6 o'clock in the morning. He said, 'Hey, this is Dave calling from Czechoslovakia, everybody here wants to know who won the games last night.'
"I felt we were doing it for hockey.
"I got that from John, too. MacInnes was always the first guy to play these emerging teams. He was the first guy to play Northern Michigan, Wisconsin, Maine, Bowling Green … He always said for the good of college hockey, we need more teams, and that was our whole philosophy."
All the while, Edda was there. While Bob was busy running the station or calling the games, Edda was calling the coaches, compiling the poll, recording the scores. It was that way right up until she passed away before the 2000-01 season. The poll and score line were retired, and soon Bob Olson was too.
Along the way, Olson was duly honored. He's one of just two media members to have received the WCHA Distinguished Service Award; he's in the Michigan Tech Sports Hall of Fame; and he's received the American Hockey Coaches Association Jim Fullerton Award for someone "who gave as much as he received and never stopped caring about the direction in which our game was heading."
As a sendoff before his final season, Olson received more high recognition when Tech named the press box at MacInnes Arena after him.
Michigan Tech sports information director Dave Fischer genuinely reveres Olson, and has helped Olson get the recognition he came to deserve. Fischer is particularly fond of remembering Olson's penchant toward going the extra mile for the program.
"Bob was always up to help us in any way," says Fischer, someone Olson calls his personal publicity man. "One year we were home for Halloween and had a costume contest. The Halloween game was on Saturday and I asked Bob on Friday if he'd do a preview and dress up as a goaltender. He agreed. He broadcasted the whole game in a goalie's full uniform.
"During the first intermission, we had him stand up on the counter in the press box, put the spotlights on him, and read a script to promote the next night's Halloween Costume Contest. I was worried he was going to fall forward right off the front of the counter and into the stands.
"Our athletic director Rick Yeo wrote a song to the tune of 'Take Me Out To The Ballgame' one year, called 'Take Me Out To the Ice Rink,' and Bob was our Harry Caray. We sent it up to him in the press box and he led the crowd in 'Take Me Out To the Ice Rink' on several occasions over the years."
All of which made Olson a beloved figure in Houghton, but his reach didn't end there.
"One year, I drove to Madison with him," Fischer says. "We pulled up to the parking attendant and I was kind of anxious because I didn't arrange for parking. Bob had told me earlier not to worry about it. So, we pull up, Bob rolls down the window, and the guy at the parking booth says, 'Hi Bob. How are you. Great to see you. There's a spot right up near the door for you.'"
All his friends in hockey — from the coaches to fellow broadcasters, ex-players and parking attendance — are what Olson says he'll miss most. And it's clear the feeling is mutual.
"Bob's love for the game and understanding of the key role Michigan Tech played in the development of the NCAA Division I game is an integral pillar in its very foundation," says longtime Colorado College broadcaster Jeff Thomas.
"For years, with the WMPL Poll and the WMPL hotline, he served as the forerunner of U.S. College Hockey Online. He defined the game's importance, which has helped lead to the growth in teams and leagues. And he did it without an ounce of self-gratification. For him it was a labor of love for which he had an overabundance to give."
You get the sense that Olson could have gone on forever. But in the mean time, he sold WMPL. He could have still done the play-by-play, but felt it was time to step aside.
"I wasn't necessarily ready to quit broadcasting," Olson says. "I had so many friends all over the place. You love to go every place and see all the friends.
"It wasn't the only thing I could do, so … I had a busy life, because I was doing the ministry work all that last year. I was travelling all over the U.P. there. I had six inner healing groups that I was doing, so it wasn't like I was just sitting around."
The Next Chapter
Olson has climbed Pike's Peak, has run the Boston Marathon seven times, starting in the 1970s, and a number of other marathons. And don't for a minute think he's done.
"I'm going to try in Cincinnati this year," he says. "It's called the Flying Pig and I've never run that one."
And lest you think he was just meandering along, Olson says he used to run the marathon in 2 hours, 45 minutes, which, at the time, was only about a half hour off the world record.
"Now if I do under four hours, I'm doing good," Olson says. "I'm not training though. I don't have the desire to train anymore. I'll train so I can finish, but that's it."
With his life now devoted to ministry work, Olson figured his radio career was over. But again, Olson couldn't resist some creative thinking to enhance his new pioneering efforts.
"The priest I was working with died of cancer after I got here, so now I'm recycling all his old radio shows so we can continue," Olson says. "I never thought I'd get back into radio."
Olson continues to touch lives just as he influenced college hockey for 32 years.
"He's influenced me in many ways — faith, kindness of heart, and passion — to name a few," says Fischer. "He's a neat man, someone I'm thankful to call my friend. I feel very blessed that I had the opportunity to work with him for 15 years."
College hockey was blessed as well.