Glenn Crane, a junior forward for Holy Cross, died on Monday, December 23, after a long bout with Hodgkin's disease. He was 21.
Crane entered Holy Cross in September of 2000 but played in just four games before being diagnosed with the disease. He underwent treatment and was believed to be in remission entering 2001-02 but, after playing in just one regular-season contest against Air Force, was sidelined again when the cancer returned.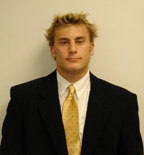 Head coach Paul Pearl said that in late November the team was informed that the cancer had become terminal. Pearl noted that Crane, a native of Sterling Heights, Mich., met the team after Thanksgiving when they played a weekend series at nearby Findlay.
"He was pretty sick at that point," said Pearl. "They were really trying a lot of different things and I just know he was really fighting it around that time."
Pearl described Crane as "positive" and "influential" to his team. Last year, after Crane's cancer returned, the entire Holy Cross team shaved their heads for a weekend series at Mercyhurst and Canisius in tribute to their teammate's chemotherapy treatments.
"He was the most positive human being I've ever met in my life," said Pearl. "He's had cancer since he was a freshman here and he never ever stopped being positive and making people around him feel better.
"His attitude was always 'It's fine, Coach, I'll be back in the lineup next week.'"
Crane's playing career included time with the Cranbrook School and the Hill School (Penn.), as well as junior hockey for the Little Caesar's organization. He is survived by his parents Glenn and Deborah Crane, sister Brooke Acre, and his grandparents Francis Hetsko and Harry and Marie Crane.
Memorial services for Crane will be held on Saturday morning, December 28, at 11:00 A.M. at [nl]St. Michael's Church in Michigan.
The entire Holy Cross team will make the trip to Michigan, according to Pearl, as the team remains idle this weekend.
Recognizing the pain involved, Pearl hopes that his team can grow from the influence Crane and his illness had on the players' lives.
"It's just a tough situation for all involved," said Pearl. "It pains you to see how it affects his family and the kids on your team.
"Hopefully down the road you can see the great things and the positives we learned from him."
Cancer has had a major impact on college hockey of late. Legendary Maine head coach Shawn Walsh died in September of 2001 after a year-long battle with the disease. Merrimack head coach Chris Serino recently returned to the bench after taking a leave of absence last season to battle throat cancer. He was given a clean bill of health this summer. And Wayne State goaltender Marc Carlson battled and survived testicular cancer through the 2001 season, returning to the lineup this past September.