Back in the 1920s, when the Cornell football team was challenging for a national championship, the line was led by a pair of "Big Swedes," Swede Hanson and Frank Sundstrom. These "hunks" not only did their job on defense, but they played offense also.
Today, one of the top players on the No. 4-ranked Big Red is also a two-way Swede, and he certainly would be able to hold his own on the gridiron. Senior defenseman Doug Murray hails from Bromma, Sweden, via Long Island, N.Y, and despite his distinction as a Hobey Baker Award finalist last season, he's about as well known nationally as those two former Cornell football players.
Murray, at 6-foot-3, 240 pounds, is one of the Red's finest two-way players.
Cornell coach Mike Schafer said, "What makes him so special is that he can turn a game around in any area of the game, offense, defense or special teams. He can be a force in the game without scoring a single point."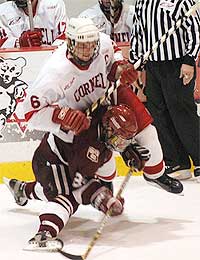 Just take a look at last year to fortify the above comment. Murray tied wings Stephen Baby and Sam Paolini for the point's leadership (32), which ranked him seventh in the country amongst defensemen. His 21 points in the league topped all ECAC blueliners.
At the other end of the ice, he led a defense that ranked second nationally, allowing just 1.80 goals a game. Special teams? Known for a slap shot that clocks in around 95 mph, seven of his 11 goals were of the power-play variety on a unit that was fourth nationally. He also anchored a penalty-killing team that was fifth best in the college ranks.
The honors came his way, with Murray being named All-America first team, Cornell's first defenseman to receive that honor since Dan Ratushny in 1991. He was first-team All-ECAC and All-Ivy, and was named Ivy League Player of the Year. The Big Red's MVP was named to the ECAC and NCAA all-tournament teams. He is one of two Hobey finalists back this season. But even with all these honors, Murray was not satisfied with the 2001-02 campaign.
"Last year we won the league regular season," he said, "but we had chances in both of the playoffs to finish it off twice, but both times we let up. I want to win it straight out."
Murray wows crowds with impressive hits, but that doesn't always mean you're playing good defense.
When asked if he felt his role with the team was to be the enforcer, he said, "I don't think the word enforcer really fits in college hockey. There are some guys, 5-8, skating around sticking you with their sticks everywhere. I guess I fit that enforcer role a little bit more in my freshman and sophomore years. I try to stay more controlled these days and just play the game. I'll let [forward Greg] Hornby take care of the enforcement responsibilities and running around hitting people.
"I now pick my spots of when to hit guys."
The Big Red's co-captain likes to be a goal scorer as well as crash an opponent into the boards. His hitting ability is inherited. His grandfather, Lars Bjorn, was a legendary defenseman who played in two Olympics Games and two World championships. He was also captain of the Swedish National Team.
"My grandfather has seen me play games since I was a little kid, and he felt that I never hit enough," he said.
Cornell's recruiting budget doesn't allow for journeys to Sweden, but trips to Long Island are okay, as witnessed by the presence of center Ryan Vesce (Lloyd Harbor) and Murray on the current roster.
After playing his first organized hockey in Sweden as a 6-year-old in a 7-year-older's league, Doug's yearning for competitive hockey increased with leaps and bounds.
"In Sweden, if you want to continue competitive hockey, you pretty much have to give up school when you become 18 or 19," said Murray. "It's very hard to get a university degree and play competitively at the same time in my country."
At the same time as Murray was finishing his junior high school year in Sweden, The Portledge School, located in Locust Valley, N.Y., began a hockey program. Living on Long Island was Mr. and Mrs. Richard Schlanger, and Mrs. Schlanger's brother happened to be married to Doug's aunt.
"The Schlangers heard about me through the relatives, and when their oldest son went off to college, they asked me to come over to be company for the youngest son," said Murray. "And of course play hockey."
Murray came to the United States for a 10-day visit when he was 16. The result was that he was going to come over for one year to The Portledge School to learn English, and experience hockey and school in the States. This was a popular choice for many of Murray's friends, who either came to the U.S. or England.
"Learning English was very important," he said. "We took English in school in Sweden, but you don't take it seriously as a 6- or 7-year-old, and you don't speak it fluently."
The Portledge School insisted that Doug enroll as a junior and he started playing with the New York Apple Core, the junior team in the Eastern Junior Hockey League. He drew much interest from U.S. college recruiters in his first year so he decided to do an extra year at Portledge and graduate. Murray became an all-star in the EJHL.
"[Former assistant coach] Matt Carlin saw him play," said Schafer, "and he was pretty sure that with his hockey sense and shot, that he would have a huge impact on our power play and he certainly has. You always hope for a type of impact like this from recruits and Doug has delivered."
Hockey isn't expected to end for Murray with his graduation from Cornell. The San Jose Sharks selected him in the eighth round of the 1999 NHL draft. Last summer he attended the Sharks developmental camp, which was low key according to Murray.
"They didn't put any pressure on you to play well. You just came there and they tried to make you a better hockey player," Murray said.
Coach Schafer feels that Murray has a shot to play professional hockey because of his size, strength and competitiveness.
Taking first things first, Murray is concentrating on the Big Red season.
"We have many returning players who know what it takes to win," said Murray. "We've had good seasons in the past, but these guys know what it really takes to be outstanding.
"Last year when we went to the NCAAs, we didn't have one guy who had been there before, so we didn't know what to expect, or the distractions. Now, we have guys who have been there, done it, and want to move on to the next level."
And you can bet that the "Big Swede" will be leading the way.