North Dakota junior defenseman David Hale doesn't expect to play for the Fighting Sioux again until their Feb. 14-15 series in Denver against the Pioneers.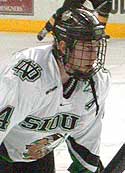 After being struck with illness shortly after the Sioux arrived in Colorado Springs on Jan. 30, Hale missed all of UND's series against Colorado College and won't play this weekend against Michigan Tech. UND was swept by the Tigers, losing 6-3 and 4-1.
Hale, a Sioux assistant captain and a first-round draft choice of the NHL's New Jersey Devils, has been touted as an All-American candidate by UND coach Dean Blais.
The Colorado Springs native didn't return with the team following the CC series. Instead, he stayed behind to undergo tests and recover at his parents' home until he was well enough to travel. He is expected to return to Grand Forks on Thursday.
Following the 2000-2001 season, Hale was hospitalized for two weeks and diagnosed with a kidney disorder called IgA nephropathy. Protein deposits that interfere with the kidney's primary function of filtering bodily wastes cause the condition.
Although the problem bothered Hale throughout last season and forced him to miss some games, he told USCHO in a recent interview that it hadn't been a factor this season.
However, not long after the Sioux arrived in Colorado Springs last week, Hale said he experienced flu-like symptoms. He was taken to a local hospital after he began vomiting and his temperature shot up to 104 degrees.
Over the next two days, Hale was twice given fluids intravenously at the hospital and was placed on antibiotics and anti-nausea medication. Listed on the Sioux roster as 6-2, 220 pounds, he said he lost 10 pounds as a result of the illness.
"It's really frustrating because it puts me out for so long," Hale said. "It derails me personally from my conditioning. I'll have to work my way back up into game shape again."
Because of concern about his IgA nephropathy, earlier this week he underwent a CAT scan to determine whether his kidneys were infected. He said the results were negative.
Despite that, Hale said the kidney disorder has not been ruled out as the cause of his illness. He expects that after he returns to Grand Forks, more tests will be conducted to determine why he became ill.