What a wild weekend in the ECAC. Union and Dartmouth swept on the road to gain the upper hand, but it's still a jumble. What's the best way to attack this weekend's action?
By opening up the mailbag once again.
What has happened to Union? Is this run for real?
Believe it, folks, Union could gain a first-round bye. The Dutchmen are getting great goaltending from freshman Kris Mayotte, and they also are getting scoring.
The Dutchmen have one of the best top lines in the league with Nathan Gillies, Jordan Webb and Joel Beal. Webb is second in overall scoring, Beal tied for third and Gillies tied for ninth. The second line features Kris Goodjohn, one of the most underrated players in the league.
Add into that a great coaching job by Kevin Sneddon and his staff of Andrew Will and Greg Klym, and this team is full of confidence. A win over Brown this weekend will give Union the driver's seat heading into the last three weekends of the regular season.
Thinking of the news that Fairfield has dropped its men's ice hockey program, what ECAC team would be the first to drop its?
Like this is ever going to happen.
Wow, how about Hugh Jessiman? He's the real deal, isn't he?
You better believe it. He's come on strong recently and now leads the league in scoring — as a freshman.
He's got 10 points on Kevin Croxton of Rensselaer in the race among freshmen — in six fewer games.
A powerful, strong skater and a great scoring touch, he's the real deal, running away with the Rookie of the Year honors. And if you ask the many scouts in attendance each night at a Dartmouth game, he's a high pick in this year's draft too.
Although the Iron Columnists don't typically include excerpts from other writers, we thought that this was pretty relevant. This blurb was taken from a recent Red Line Report, written by USA Today's Kyle Woodlief, and it gives a scout's perspective. (By the way, the Red Line Report is a good read for any college hockey fan.)
Dartmouth man-child Hugh Jessiman may be a favorite of Red Line Report, but even we admit he's really raw and has an incredible amount to learn about the game — for instance, who his defensive responsibility is in his own zone. We watched him again back-to-back at Clarkson and St. Lawrence in mid-January, and his complete and utter lack of defensive knowledge is just glaring.

In fairness, it's not that he doesn't want to work hard in the defensive zone, though. The kid is not lazy, he just has no clue. He played at a brutally low level of prep school in Connecticut the last few years, and his team only played about 20 games per season. Plus, he was so much better than everyone else that he always had the puck, so playing defense never even occurred to him.

This is an intelligent, hard-working, extremely coachable kid we're talking about, so eventually he'll pick it up. But right now he can be painful to watch when he doesn't have the puck. Of course, watching the 6-5/207-pound offensive whiz when he does get the biscuit more than makes up for it.
Is the Beanpot overrated?
Absolutely not. If you don't believe in the history of the event, please check out the Beanpot video that was released this year. Those not living on the East Coast probably don't understand the excitement surrounding this event (remember the outrage over the lack of comparable coverage of the Cold War in Michigan back in 2001?), but it's the real deal. It's all about a critical element of sports and competition — pride! It's been around for 51 years now, and we hope that it's around for another 51 and more.
They're down to two now. Are your picks for Trista and Evan still holding?
You betcha. Charlie is in for Trista and Zora is in for Evan. Does anyone remember the first episode of The Bachelorette when they showed Ryan crying in the limo? Trista was hooked the moment Charlie stepped out of the limo, so this whole drama has been created for us viewers. We still think there's a twist in store on Joe Millionaire, though. There just has to be.
Why do people keep pitting Cornell against Harvard on a national level?
Let's be very clear about something, we are sick and tired of ECAC folks arguing amongst themselves about whether or not Cornell or Harvard gets more respect nationally. As painful as it may sound for many league fans, the fact of the matter is that neither team has done much of anything to merit respect on the national level — at least at the level some people are talking about. And before people start attacking us for that statement, let's take an honest look at the situation:
1) Harvard has not won a big nonconference game this season, let alone one against a national contender.
2) In close losses to higher-ranked teams (Northern Michigan, Maine, Boston University), the Crimson has yet to prove that it can avoid intimidation for a full 60 minutes.
3) Harvard has not won an NCAA Tournament game since 1994.
4) Cornell has won two NCAA Tournament games in the last 11 years.
5) Cornell's notable nonconference wins came against a mediocre Western Michigan team and a Boston University team that is very different (and a lot sharper) nowadays.
6) Both teams lost to Maine.
7) Both teams are plagued by terrible league losses.
As much as people hate to admit it, a strong Cornell and a strong Harvard are good for the ECAC. That statement is overplayed, but it's very true. The ECAC is struggling because it can't seem to pull together a corps of solid talent like Hockey East (which they are inevitably compared to by local media). Our feeling is that the Harvard-Cornell argument is useless until one or both proves itself on the national level.
Cornell should be number one in the men's Division I poll.
If that's a question, then the answer is "no". If that's a statement, then please re-read the previous question and answer. As an addendum, Cornell would have a much better shot at a number-one slot if the ECAC was stronger. There is no denying that Colorado College has a much stronger schedule and that is due in part to the strength of the WCHA.
Quote of the Week, No. 1
"In the name of glove!" — Colgate announcer in the webcast, during the latter stages of Colgate's upset victory over Cornell, and in response to a Steve Silverthorn save.
Quote of the Week, No. 2
Said Cornell head coach Mike Schafer regarding Colgate's defensive conduct during that same loss, "I told the refs that I'm sorry we didn't bring our saddles from Cornell because there was a lot of riding time out there tonight."
I'm sick and tired of hearing all about Cornell and Harvard. What about the other teams? You guys don't seem to care about them at all. What about Yale?
Well, sometimes you're right. We are guilty of talking about Cornell and Harvard a lot, but then again, they are the ones making the waves. That being said, there's also a lot to be said about the other 10 teams in the league.
As for Yale, about the emergence of Josh Gartner? He didn't start the season as the goaltender between the nets, but he certainly has taken over after the Mariucci Classic. In a league rife with goaltenders, Gartner and Mayotte are two great goalies that this league can look at for three more years. You know the names Higgins and Wax, but did you ever think Gartner would be drawing this kind of attention? Not many people did.
Who is the most interesting character on television these days?
For one of us, it's Wesley Windham-Pryce on Angel. In a span of four years, his character has gone from a wimpy, nerdy bookworm to a rogue hunter with clashes of personal demons and wars — which was so brilliantly pointed out on the current season of Angel in episode six, "Spin The Bottle", where via a spell, Wesley becomes the old Wesley. A great character played wonderfully by Alexis Denisof.
Just what is the fuss about the Big Red Freakout? What in the world is the Big Red Freakout?
We thought that we would end this week's edition with a history lesson. Rensselaer's Big Red Freakout.
There's a lot of traditions on college campuses; this is one of them. Joe Bertagna mentioned it in his latest installment here at USCHO, and we'll go over it for everyone as this year's edition comes on Saturday as RPI hosts Brown.
On February 25, 1978, all Engineer fans were encouraged to wear red, bring noisemakers, enjoy free skating after the game and participate in a banner contest. Thus began the tradition of Big Red Freakout.
The school also gave out a gift to all in attendance. That first year it was a hat. The Engineers beat UNH, 6-5, in overtime that night and the next year, it happened again, with another Engineer victory. It became an annual tradition with gifts ranging from pom-poms to cowbells to horns.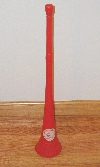 The Big Red Freakout forever changed NCAA history in 1987. Against Brown, the Engineer fans were given a horn (Pictured on the right). The horns and previously-gifted noisemakers that were also brought proved too much for Brown head coach Herb Hammond.
During the offseason, the NCAA passed a rule, which would become Rule 6-29-b, which reads: "Spectators are not permitted to use artificial noisemakers, air horns, or electronic amplifiers while the game is in progress."
So, since 1987, the Freakout gift has not been a noisemaker, but the spirit lives on.
For more information on the Big Red Freakout, start here.
Incidentally, RPI has not lost a Freakout game since 1990. They are 8-0-4 since the loss to St. Lawrence that year. And the Engineers are 5-0 against Brown in the Freakout.
What's the biggest game on the schedule this weekend?
In terms of name recognition, it has to be Cornell-Dartmouth at Lynah this weekend. Dartmouth gave Cornell its first ECAC loss at Thompson and has the rep of giant-killer. This should be a great one.
But the game that's of big interest here is Vermont-Colgate. These two teams, along with St. Lawrence, are tied for the eighth spot in the league standings. That, coincidentally, is the last home-ice playoff spot in the first round.
There's the old adage that in order to get further ahead, you have to beat the teams you're tied with and above in the standings. It holds true with this game, whose winner gets a leg up by moving two points ahead of the other. Of course neither team can control what St. Lawrence does, but the winner of this game gains big. The same can go for Saturday's Clarkson-Yale matchup.
Have fun this weekend, folks, everyone's even after this weekend, with only three weeks left to go…