When you think "CCHA," what is the first school that comes to mind?
Michigan and Michigan State have been the two premier powers in the league for quite some time, but while those teams have traditionally had the most success in the league, this year isn't turning out quite the same way.
In the preseason poll, Michigan was tabbed at number one, followed by Michigan State. The pollsters are probably scratching their heads right now when they look at the standings.
Who expected Ferris State to be so good this year? The pollsters didn't. Other teams didn't.
Few did.
Ferris State, a team predicted to finish in ninth place, leads the pack, as much a surprise to observers and fans of the CCHA as it is to Bulldog head coach Bob Daniels.
"I really can't say I expected us to lead the league this year," Daniels said. "When the goals came up, the league title was not on the list. We talked about home ice in the playoffs, but the league title was not even thought of."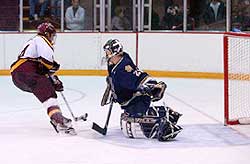 The highest that Ferris State has ever finished in the CCHA standings is third, over a decade ago. Back then, Craig Lisko and rookie of the year Pat Mazzoli were dominant goaltenders. They still today hold school records in almost every category. Forward John dePourcq was an excellent playmaker with 15 goals and 48 assists, still eighth in scoring in school history. John Gruden and Dave Karpa were key defensemen.
Today, FSU supporters can echo the names of those players with new stars.
Mike Brown is already cementing himself as a premier goaltender, and is just a sophomore. Forward Chris Kunitz is a Hobey Baker candidate, getting recognition for his playmaking skills. On the blue line, Troy Milam and Simon Mangos head the defensive corps.
"It is the most talented group I have had as a head coach," Daniels said. "My second year as an assistant in 1990-1991 finished third in the league; it was a very talented team, and probably the best I have seen before this one."
But the success of the Bulldogs this year is a mix of chemistry and talent. "There are two things," Daniels said. "We have never had the depth of players. If you look at our teams in the past, we have always had good players. Andy Roach, Paul Lowden, just to name a few. However, we never had a true depth of great talent."
The school's recent investment in the program doesn't hurt, either.
"All the money Ferris State spent on the campus improvements really made the difference to bringing in more and better players," Daniels said. "The new hockey facilities, football field, library, and recreational facility, for example. They all point to a university that is dedicated to improving and excelling.
"It goes even further than that. The morale of the student body is huge. Students in the past were not proud to be Ferris students. Today, these students stand up with pride and are happy to be where they are at, and stand behind their team and university."
The talk last year centered around the first Hobey Baker candidate in school history, Rob Collins. This year, it goes to his linemate, Kunitz. After having success in his last three years, this year Kunitz is asserting himself as an elite player with 26 goals and 31 assists through 30 games.
"Goal-scoring, I figured Chris would rack up," Daniels said. "What surprises me is all his assists. He had a sophomore slump with only 16 goals and 13 assists, but his junior and freshman years were excellent. He was a big time goal-scorer in juniors and he is doing the same thing now."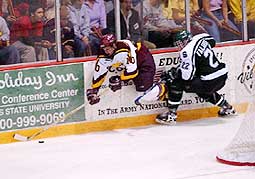 Kunitz attributes his success to his linemates, not to mention the rest of the team. Jeff Legue and Derek Nesbitt, who have been with Kunitz since the first game of the season, have blossomed along with the Hobey Baker candidate.
"Everyone has benefited from playing with each other," Daniels said. "Chris is the straw that stirs the drink. He has been the dominant scorer with three or four different centermen in his career here. Legue and Nesbitt go along great with Kunitz and compliment each other very well."
While Nesbitt and Legue have been in the shadow of Kunitz, they are not overlooked on the ice. Legue has 42 points through 30 games, which surpasses even Collins' total in his senior year, when he was nominated for the Hobey. Nesbitt is scoring over a point per game as well.
With all that in mind, does Kunitz stand a better chance at the Hobey than Collins did a year ago? The key may lie in FSU's improved performance as a team.
"Yes," Daniels said. "We haven't been quite as deep in the past. The team is doing better this year than last. If your team is not at the top of your league, it is hard for the player to win a Hobey.
"The second thing is Rob had a lot of points, but a lot were from assists. Chris is a true goal-scorer."
With dreams of a CCHA title on the line, none of the players are thinking much about next year, and Daniels is optimistic.
"How is the team going to perform one, two, three years from now?" Daniels asked rhetorically. "I can say we do have a pretty good level of talent coming back next year. Graduation is going to take its toll, no doubt about it. If you think about it, graduation takes its toll on every team. I like the group that is returning.
"Can we sustain this level? I don't know, but we will find out next year."
Until then, it is going to be a wild ride in the CCHA. Hold on tight.