Regular-season champion Ferris State put five players on the 2002-03 CCHA all-conference teams, while Michigan State enjoyed three first-team picks as the Bulldogs and Spartans dominated the league's selections.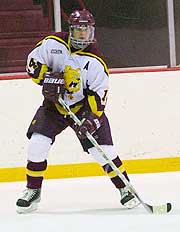 The troika of Spartans marked the third time the Spartans have placed at least three players on the All-CCHA first team. The Bulldogs had two players chosen first-team for the second straight year.
Also on the first team, Ohio State makes its first apperance since the 1998-99 season with R.J. Umberger. Umberger and FSU's Chris Kunitz — who were second and first, respectively, in CCHA scoring this season — were the only unanimous picks.
The CCHA All-Conference Teams are listed below:
First Team
F Chris Kunitz, Sr., Ferris State
F R.J. Umberger, Jr., Ohio State
F Jim Slater, So., Michigan State
D Brad Fast, Sr., Michigan State
D John-Michael Liles, Sr., Michigan State
G Mike Brown, So., Ferris State
Second Team
F Jeff Legue, So., Ferris State
F Mike Kompon, Jr., Miami
F Jeff Tambellini, Fr., Michigan
D Troy Milam, Sr., Ferris State
D Simon Mangos, Jr., Ferris State
G Mike Betz, Jr., Ohio State
Honorable Mention (next six highest point totals, regardless of position): Chris Gobert, Sr., F, Northern Michigan; Derek Nesbitt, So., F, Ferris State; Dave Cousineau, Sr., D, Western Michigan; Greg Zanon, Sr., D, Nebraska-Omaha; Dana Lattery, Jr., F, Western Michigan; Mike Stutzel, Sr., F, Northern Michigan; Al Montoya, Fr., G, Michigan.
The teams were selected by a vote of the league's head coaches and are based on performance in league games. Coaches were not allowed to vote for their own players.