Big players score in big games. Everyone knows that. This time of year, it's the natural goal-scorer who dipsy-doodles around the other team's big defenseman to wrist the game-winner top-shelf. The Gatorade bottle falls to the ice. His team advances to the next round. Poetry with puck.
But what about the not-so-big players? (Or at least the not-so-big scorers.) Guys like the fourth-line winger who scored once in the last four months, or the stay-at-home senior defenseman who had three career goals (all last season). What are they doing this time of year?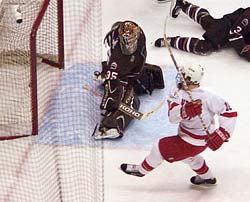 On Friday night, they were winning the game for Cornell.
"I said to our guys that it was very fitting our warriors were able to get the goals," said Cornell coach Mike Schafer after watching Greg Hornby (the fourth-line wing) and Travis Bell (the stay-at-homer) score in his team's 2-0 win over Brown in the ECAC semifinals at Pepsi Arena on Friday afternoon. "Travis scored the game-winner last year at St. Lawrence, so when he scores, they're big ones.
"It's very rewarding, because depth has been one of the most important factors for us this year. It didn't surprise the team at all to have Greg and Travis scoring. We've been getting contributions from them all year long."
Their work against the Bears was especially important because of the way Brown goaltender Yann Danis frustrated the Big Red's top line of Matt Moulson, Stephen Baby and Ryan Vesce. That trio has combined for 99 points this season. They combined for zero on Friday.
On top of that, the Cornell power play, which came in as the nation's 10th-best, was 0-for-8.
"Danis was just tremendous against our power play — glove saves, everything," Schafer said. "He played a superb hockey game. But we kept coming, and kept putting pressure on him. That was a great goal by Hornby to break the ice."
The ice was broken, so to speak, at exactly 17:54 of the second. Only 20 seconds removed from the penalty kill, Hornby swept down the left wing and hammered home a pass from Cam Abbott on a 2-on-1.
It was Hornby's second goal since Dec. 1 — but also his second in the last three games. For a guy who is a crowd favorite — and a defenseman's nightmare — for his propensity for crushing hits, and a player that seems to give a spark to his team every time he's on the ice, it was a fitting reward.
"Our role hasn't changed at all this season," Hornby said. "My role, with Chris [Abbott] and Cam, is to go out there with a little bit of energy, hit some guys, and create chances. We create chances because we play hard."
"You saw the kind of energy that Chris, Cam and Greg have," Schafer said. "To come back after a penalty kill with a goal like that shows you that they play with an awful lot of energy.
"There was a lot of relief after that goal. And we kept going after that."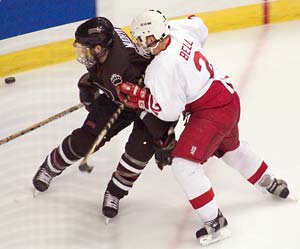 With Dryden Deux (David LeNeveu) working on his ninth shutout of the year — one short of Ryan Miller's NCAA record set two years ago — it looked like one more Cornell goal was all it needed to sew it up for sure.
It came at 11:02 of the final frame, when — moments after Mike Knoepfli's wrister from the left circle caromed off the pipes — Bell got possession at the blue line and skipped a low shot past a collection of legs and sticks to beat Danis five-hole.
The last time Bell raised his hands in post-goal triumph was March 9, 2002, during Game 1 of last season's first-round series with Yale.
Getting goals from unlikely sources, though, is nothing new for Cornell. During its 3-0 win over Rensselaer in last year's ECAC semifinals, defenseman Charlie Cook, then a freshman, scored his only two goals of the year.
"It's great to see Travis step up like that and score a goal," Cook said after the game. "He took a great shot and got it through.
"It's tough, especially when you get in a rink like this. With these boards, you get bounces all over the place, and you have to get everyone to help out."
That happened for the Big Red on Friday afternoon, and its reward is a trip to the ECAC championship game for the third straight season.
Asked after the game if he would root for Harvard in the other semifinal, so his team could have a chance to avenge the Crimson's 4-3, double-overtime win in last season's title game, Schafer said, "I don't care if we play Florida State tomorrow."
"Our goal wasn't to play Harvard in the championship game, it was to get to the championship game," Schafer said. "It's a faceless opponent. It doesn't make a difference who we play. We just wanted to get back here."