Oswego State goaltender Tyson Gajda carried a towel into his team's news conference after Saturday night's NCAA Division III championship game. His coach was the one who needed it to wipe away tears.
George Roll faced the media with red eyes minutes after the Lakers' 2-1 loss to Norwich. The loss likely marked the end of his seven-year stay in Oswego, and that may have been weighing on him.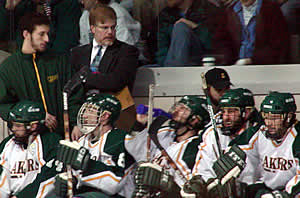 Roll has been rumored to be the top candidate to be named Clarkson's next coach. Clarkson has called a news conference for 1:30 p.m. Monday at the Cheel Campus Center to identify its choice to succeed Mark Morris, who was fired in November.
Roll, a former Clarkson assistant, choked up a number of times in front of the cameras after Saturday night's loss. He buried his face into the towel after a question about the high quality of the title game, but it was clear tears had been building the whole time.
"It was, uh … the guys played their hearts out," Roll said softly. "That's all I can say. Sorry."
Roll's Lakers took a 1-0 lead into the third period before Norwich goals 71 seconds apart put the Cadets ahead for good.
He was faced with questions about the Clarkson job after it was reported he was about to be named the Golden Knights' coach before last Saturday's quarterfinal victory over Wentworth.
At that time, he confirmed discussions with Clarkson but said nothing had been finalized.
When asked Saturday to comment on reports he was bound for Potsdam, he said in a voice barely above a whisper, "Not at this time."
WPTZ-TV of Plattsburgh, N.Y., reported Saturday night that Roll would be named the Clarkson coach at Monday's news conference.
If Roll leaves Oswego, at which he's also the interim athletics director, Lakers assistant coach Ed Gosek is considered a top candidate to replace him behind the bench. Gosek has been an assistant at Oswego for 13 seasons.