Entering the NCAA D-III Men's Ice Hockey Championship weekend this year has been a little surreal. As some of the USCHO D-III staff — Chris Lerch, Ed Trefzger, and I — made preparations to cover the events, we kept an eye on world events and watched Operation Iraqi Freedom begin.
Questions began to nag at the back of our minds. Should we be here while our country is involved in a war?
Early last week, the NCAA considered moving or postponing each of the playoffs in the various sports that are under way. Discussions were held with representatives from each of the four participants in the D-III men's ice hockey playoffs, and also with local law enforcement officials.
"We did the exact same thing [for men's ice hockey] that all championships were doing," said Chris Schneider, NCAA Associate Director of Championships. "We talked about contingency plans for hosting. We talked about what they normally do on campus, for the security, and worked with the local authorities. We talked about their procedures for protests and how they were handled."
After discussions with all four schools, it was decided to continue with plans to hold the championship on the campus of Norwich University.
The USCHO staff arrived at the hotel in Montepelier late Thursday night, and then headed towards the campus of Norwich in nearby Northfield mid-day on Friday. We turned our car off of Route 12 and were immediately met with a checkpoint manned by cadet MPs on the campus of Norwich. This was the first of three checkpoints that we passed through before reaching the rink, each time having our names checked against a prepublished access list.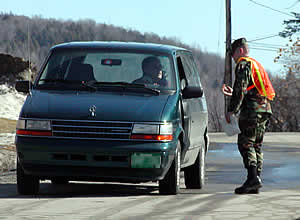 "We're kind of spread out this week," said Cadet James Urso manning the second checkpoint. "We are trying to do crowd control. There are a lot of activities on campus this weekend, besides the hockey games, including the Vermont National Guard drill."
Looming on a hill overlooking Norwich's Kreitzberg Arena is a large, new armory built to support the local tank battalion of the Vermont National Guard that was a buzz of activity.
As we entered the rink, that nagging in the back of our minds continued. The "Shock and Awe" operation in Iraq, long built up by the media, had started as we proceeded towards the rink. Would it be more appropriate to be home, watching the news unfold, supporting our troops?
The atmosphere of Kreitzberg Arena grew as the fans arrived, but that nagging feeling in the back of the mind just wouldn't go away.
"I think we shouldn't allow things going on in the world today to stop us," said Middlebury fan Gordon Nailor. "They hurt us on September 11th and we haven't recovered fully. This is a way to keep our way of life up and going. I feel sorry for the boys overseas, but they are the ones making this possible."
Those feelings were repeated by most fans throughout the arena; feelings of patriotism, feelings of supporting the troops. But also a feeling that those back at home must continue with the events of life, as a way of defying those who would wish to take that lifestyle from us, but also as a way to support the troops by keeping life as normal as possible.
"I think [these games] are good for morale," said Oswego fan Hercules Master III. "It tells the terrorists that we keep things going no matter what. The security here hasn't been bad, in fact I am glad to see it. The guys checking the bags weren't intrusive. It was done the right way. Everyone coming here knew what would be checked, and knew what to expect, so it all went very smoothly."
"I think it helps to keep things in a normal frame of mind for people," said Cadet Michael Gonyo.
Prior to each game this weekend, a statement from NCAA President Dr. Myles Brand is read in support of the troops. Immediately following a brief moment of silence, the National Anthem is sung, as is traditional at the start of athletic contests, but perhaps there is a little more feeling and emotion this year. Perhaps it is okay after all to play these games, to crown a new champion, and to continue to enjoy the kinds of activities cherished by our society, and won by the brave soldiers of present and past.