Between now and the Frozen Four semifinal between New Hampshire and Cornell, you're bound to hear some casual speculation of how the Wildcats' explosive offense will fare against the Big Red's tough neutral-zone trap.
However, there are just two problems with such conjecture. First, Cornell doesn't trap.
The Big Red is an aggressive forechecking team that can punish teams with physical play. Likewise, the Northeast Regional champion Wildcats certainly have several very good offensive players — most notably senior linemates Lanny Gare (22-29-51 in 40 games) and Colin Hemingway (22-25-47 in 38 games) — but team defense and goaltending are clearly the biggest strengths of this year's edition of Durham's finest.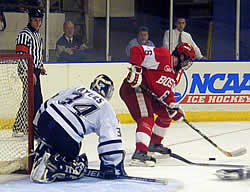 When many national fans think of the Wildcats, they recall the overwhelming firepower of recent years. Offensive stalwarts Eric Nickulas, Eric Boguniecki, Derek Bekar, Mark Mowers, Hobey Baker winner Jason Krog, and Darren Haydar earned national recognition for their point production — Krog and Haydar notched well over 200 points apiece in their collegiate careers. In particular, Boguniecki and Krog have been making their mark for the first time in the NHL this season.
Gradually, though, this perception of UNH may be changing under Dick Umile, thanks to the play of two-time Hobey Baker finalist Ty Conklin and current netminder Michael Ayers. These two certainly helped the Wildcats graduate from being a strong team to a tournament-tested winner. Now they have won two Hockey East championships in a row and will appear in their fourth Frozen Four in the last six seasons after a drought dating back to 1982. The team hasn't had a losing season since 1995-96; archrival Maine is the only Hockey East team which has matched that feat over that span.
After seeing his team shut out in three consecutive games — adding up to a whopping 194 minutes-plus — by his northern neighbors, Boston University coach Jack Parker can be counted as a true believer in the team's ability to shut down an offense.
"I think what impressed me most was their overall team defense," Parker said after his team bowed to the Wildcats in the Northeast Regional Final. "They've got the first two lines that can put pressure on you and put the puck in the net; they've got a good power play.
"But in general what's gotten them here is how hard they play defensively, how they kill penalties, what great goaltending they get," added Parker. "That's not a typical UNH team. I think it's more in the way that Dick wants them to play as well. You see a Dick Umile imprint on that … What surprises me is that we just couldn't get to them as much as we'd like to on the rebounds-they do such a great job. That's the sign of a real good team: confident in their own zone."
Ayers made 62 saves on 64 shots in the Northeast Regional and earned the Regional MVP Award. He shrugged it off, acknowledging that he didn't have to make too many tough saves thanks to his teammates. This was not false modesty, but Ayers has shown he can make both ordinary and spectacular saves as the situation requires.
Playing in a highly competitive league also has helped the team hone its defensive approach.
"Obviously we played real well down the stretch," Umile said. "I think Hockey East gets you ready for games like this, and that started with Lowell in the quarterfinal round in our league, and obviously UMass and BU back-to-back basically. Our team just really came together at the end of the season — even with a couple of injuries. It's a real good group. We're looking ahead this year and hopefully we'll play well in our first game out in the Frozen Four."
"Obviously we're hoping to make our trip there a little better than it was last time," Ayers said, referring to the 7-2 thumping that his team took at the hands of an emotionally-charged Maine squad in St. Paul last April.
Don't look for a similar result against Cornell. The Big Red feature the top defense in the nation, while UNH is right up there at No. 3 in goals against average. If defense wins championships, the winner of this game has an excellent opportunity to win the final as well.
With senior leadership, scoring punch, and-above all-team defense and excellent goaltending, the Wildcats have a legitimate chance to wave their first national championship banner. After having a Hobey Baker winner, getting the Hockey East championship monkey off their backs over the last two years, and becoming a Frozen Four regular — all under Dick Umile's stewardship — winning it all is the last summit to climb in the Granite State.
You can guarantee that they would rather not have to feel defensive about that.