The funny thing about college sports is that one year's experienced leadership turns into the next year's youth movement.
Minnesota built its national championship team last season around a senior defenseman, a senior forward and a senior goaltender. The Gophers' run to the Frozen Four this season is being driven by a freshman forward, only one senior on defense and two sophomore goaltenders.
"There's been games we've had 13, 14 freshmen and sophomores in our lineup, and no more than two seniors — and right now just one senior in our lineup," Minnesota coach Don Lucia said. "We are a very young hockey team.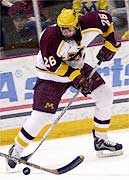 "I looked back to our lines at the end of last year to what they are today. I think we only have four forwards out of our top nine that are playing right now. And only six out of 12, so we do have a lot of changeover in who's playing for us right now from last year."
But Minnesota is winning with its youth, and that statement could be made for a long time. Only one senior (defenseman Matt DeMarchi) was in the lineup at last weekend's West Regional. Eight of the 12 forwards were either sophomores or freshmen.
That begs the question: How long can this Minnesota team stay among the elite of college hockey?
"They've got the right mix for a dynasty run," said former Minnesota coach Doug Woog, who's a color commentator on the Gophers' television broadcasts. "They really are kind of scary. Can you imagine adding another offensive line to an already explosive team?"
Said freshman Thomas Vanek, who leads the Gophers with 58 points, "All four teams [at the Frozen Four] have a pretty good shot at this year, but I think we look good for the future."
The underclassmen have helped to diminish the impact of losing Hobey Baker Award winner Jordan Leopold, top scorer Johnny Pohl and often-maligned goaltender Adam Hauser — all seniors — from last year's team.
A trio of juniors — captain Grant Potulny, Matt Koalska and Troy Riddle — may be the heart and soul of the Gophers' offense, but Vanek has put up points more often than anyone else.
He's exceeded the high expectations that were heaped upon him coming out of the USHL and topped even North Dakota's Zach Parise to earn WCHA rookie of the year honors.
He was the West Regional MVP after scoring twice in the final against Ferris State. But the play many were talking about afterward was the one that didn't go in. Driving to the net off the right wing, Vanek couldn't get Ferris State goalie Mike Brown out of position to take a shot, so he decided to go at things the hard way.
Instead of shooting, he got Brown to go to his knees on a shot fake, then went around the goalie by turning toward the back boards. He tried to sneak the puck into the net behind Brown's back, but it just missed going off the far post and in.
Lucia mentioned how he had seen a play like that while watching another regional game on TV, and that he commented that only NHL star Peter Forsberg would have been able to make it work.
"Then Thomas almost did the exact same thing," Lucia said. "It takes a special player to have the poise to go around the goaltender and try to reach back and try to make that play. I'll tell you what: Ninety-nine out of 100 players would have blown it right into the goaltender."
Vanek, who also scored the overtime winner in the WCHA semifinal against Minnesota State-Mankato, is one of five freshmen in the Gophers' lineup. Gino Guyer had five assists in the regional semifinals. Andy Sertich, Tyler Hirsch and defenseman Chris Harrington have been everyday players.
"I don't think a lot of them had any jitters," said defenseman Keith Ballard, himself only a sophomore. "You saw their performances this weekend: Thomas had a bunch of great goals this weekend; Gino had five assists. Judging by their performances, I don't really think they had any jitters coming into this weekend."
Vanek said: "The freshmen, we were maybe a little nervous, but we know this team did it last year. So we're just riding the bus and just playing well."
As they mature, however, the Gophers look primed to continue making runs like this. Woog said he doesn't anticipate any of the defenseman will leave school for the pros, and the goaltending could improve with the addition of recruit Kellen Briggs. Without many players to replace in the lineup, there'll be plenty of competition for spots next season.
You'll pardon the Gophers for not thinking about next season right now. They've got a little thing called the Frozen Four to worry about.
And a second straight national championship would be one way to start that "dynasty run."