Thirty-five seconds into UNH's 3-0 victory over Boston University in last Saturday night's Northeast Regional final, a sudden gasp consumed Wildcat nation.
UNH's leading scorer, team sparkplug and all-around leader Lanny Gare went down injured. There weren't seven minutes played in the first period when the dreaded news hit the media room at the Worcester Centrum Centre: Gare had suffered a dislocated shoulder and would miss the rest of the game.
Fortunately for the Wildcats, they went on to win and advance to the Frozen Four for the fourth time in six years. But before the celebration could be enjoyed, thoughts immediately turned to Gare.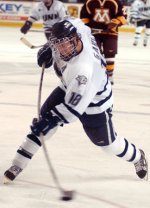 "It's a tough loss to lose Lanny," said forward Preston Callander, who replaced Gare for the remainder of the victory and set up the winning goal. "He's a great leader for us. He's been putting numbers up for us all year and I just wanted to step up and help the team when I could."
Now, though, as the attention for UNH turns to Buffalo, N.Y., and its next opponent, Cornell, the question of Gare's health still hangs in the balance. According to head coach Dick Umile, Gare remains questionable for Thursday's national semifinal, and as each day passes, "questionable" turns to "doubtful."
"There's a possibility he can play," said Umile, who hopes to guide the Wildcats into the national championship game for only the second time — the first a 3-2 overtime loss to Maine in 1999. "It doesn't look great but there's a good possibility that [the dislocated shoulder] might settle down."
The position is a difficult one, to say the least, since ironically the team is only in its current position because of Gare's hard work leading into this successful UNH season.
Entering the season, most would've staked their money on Colin Hemingway to be the force behind UNH's success. Last year, Hemingway finished second in scoring on the Wildcats, behind only All-American Darren Haydar. Gare was a full 26 points off Hemingway's pace, and though a returning factor, was not looked at for impact like Hemingway.
But a couple of mini-slumps for Hemingway left UNH searching for more offense, and Gare was Johnny-on-the-spot to fill the hole.
"Lanny made a commitment over the summertime to work off-ice," said Umile. "He led the team in points [this year] and is our best centerman. He's an important player on the ice and off the ice."
"You're not going to replace Lanny Gare," said UNH's Pat Foley. "There's just no replacement on our team for him.
"The biggest thing that we have going for us is that we play as a team. So when someone goes down, there's going to be someone in our lineup to fill the spot. He's not going to be Lanny Gare, but he's going to fill that role."
The question, of course, is who. Callander did yeoman's work last Saturday night and is the most likely candidate to be called upon at noon on Thursday.
"Preston did a great job of that [Saturday]," said Foley. "That's why we won as a team and that's what's been the key to our season. We've had guys step into our lineup at different times of the year and contribute."
Umile echoed Foley's praise.
"I don't think Preston gives himself enough credit," said Umile. "He's a real talented player for us with an awful lot of skill. There are guys who might play on the third line or fourth line for us. So when you get an injury to a player like a Lanny Gare or a Colin Hemingway, a player like Preston Callander can take their place.
"He's comfortable and confident there. That's not taking anything away from Lanny — his leadership cannot be replaced."
Still, Umile is honest enough to admit, regardless of contributions of players like Callander, replacing Gare is a task no one Wildcat can accomplish.
"He's a real key player and he's meant a lot to the program," said Umile. "We know that he's one of our most skilled players, so as he's getting older he's getting more comfortable. He's doing a lot for us.
"He's a very humble kid and that's a good thing but he's very valuable to the team."
Last Saturday was the first proof that it would require a team effort to successfully replace Gare and lead the Wildcats to a national championship.
"The guys gave a little extra effort for us to make up for the fact that Lanny wasn't with us," said Umile. "We have no real superstars. This is one of the best teams and it starts from net out and takes every single one of our players."
Still, there's no denying that the one player missing is one you'd like to have back.