Humanitarian Award winner Sam Paolini learned about helping people at a young age.
When Sam's parents, Sam and Diane, got married, his father wanted his children to be involved in athletics. Growing up in Rochester, N.Y., Sam and his older brother Tom played youth hockey, a sport their father played, coached, and loved.
"The hockey community — it's a big family," said Paolini, Cornell's leading scorer this season. "You learn that once you start skating at an early age. People giving teammates rides to practices, just little things like that. It's such a small community that everyone knows everyone, and they're not afraid to lend a helping hand whenever you're in need, or give you a call if something's going wrong. The support I've had through friends in hockey has been incredible."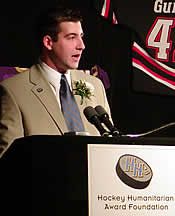 When Sam was 14, his aunt Carol had a kidney transplant. Paolini's mother started him, his brother, and his sister Marisa volunteering for the Kidney Foundation. "They had a touch-a-thon at a local mall, and that kind of started it."
That began nearly a decade of community service and volunteer activities.
As a prep school student at Choate Rosemary Hall in [nl]Connecticut, Paolini was exposed to a program called "Special Population Skate," in which members of the hockey team skated with mentally and physically handicapped people each week. Paolini approached the Ithaca Youth Bureau to start the program there, with members of the Big Red.
"The Ithaca community just treats us so well and they put us on a pedestal," Paolini explained. "They're always supportive and they're always giving to the team. I definitely wanted to give something back."
Paolini has worked as a volunteer coach for the Ithaca Youth Hockey Association, visited a local elementary school to talk to the students about the importance of school — the "School is Cool" program — and spoke at a local high school's annual "Difference Day."
But perhaps Paolini's biggest contribution was this season's "Power Play for Prevention." Both his mother and grandmother have had breast cancer. That inspired him to approach the Ithaca Breast Cancer Alliance and local bank Tompkins Trust to pledge $100 for each power-play goal scored by Cornell this season. With additional pledges from the community, that amount has nearly tripled. Cornell's 37 power-play goals have netted nearly $10,000 for the program.
Paolini was generous in sharing credit for the award, the eighth presented by the Hockey Humanitarian Foundation.
"If you're familiar with my family, you know they're at everything — every event and every game — and they support everything that I do," said Paolini, accepting the award. "I'm very lucky and I'm fortunate to have a family like that that helped me so much and to tell me to do the right things in life."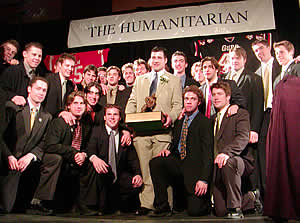 He thanked his Big Red teammates for helping out with the volunteer activities he organized. "They were really the backbone of a lot of the programs I did. They were always the first ones to volunteer and I could always count on those guys to be there if I needed them, whether it was to skate or talking to schools."
Wanting to have his teammates share in the credit, Paolini invited them on stage for a photo. "I know it's a cliche, and a lot of people say it, but I look at this award as a team award. I couldn't have done it without my coaches and my teammates," he said.
Paolini's parents were moved by the ceremony.
"It was just breathtaking," said Diane Paolini. "I was just so excited to have Sam a part of the Humanitarian Award. He's worked hard, and the boys have been behind him 100 percent. They've just been so supportive of him and the organizations he's started — it's overwhelming."
"I felt unbelievable. I obviously cried," said Sam Paolini Sr.
Although honored by the award, the Cornell senior said he felt that perhaps it wasn't necessary for something people should do anyway. "[But] seeing an athlete do good things inspires people to live their lives and maybe volunteer a little more," explained Paolini. "I think recognizing people for these things is good because it makes other people aware. It brings the programs we've done things for out in the open as well."
Sam Paolini Sr. says his son may have already inspired a future Humanitarian award winner. He recalled the recent awards dinner at the Ithaca Breast Cancer Alliance at which Sam was presented a glass puck inscribed with the words, "Power Play for Prevention, Sam Paolini, IBCA's Hockey Hero."
"They had a squirt hockey team there," said the elder Paolini. "And I was thinking as Sam was talking in front of those guys and they were watching him, that Sam might have an effect on these boys."
Paolini wants to continue his volunteer works after college, perhaps with Big Brothers/Big Sisters, and he also wants to continue playing hockey. "I've played the game for too long and I love the game too much to stop playing," he said.