Dave LeNeveu didn't win a national championship, and he didn't win the Hobey Baker Award, but the name of the Cornell goaltender is, at least for now, indelibly etched in the record books nonetheless.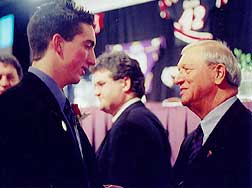 Despite allowing three goals for just the third time this season in Thursday's 3-2 national semifinal loss to New Hampshire, LeNeveu finished the season with a 1.20 goals against average. That mark shattered the previous single-season NCAA record of 1.27, held for 45 years by then-North Dakota goalie, and current CHA commissioner, Bob Peters.
Friday, following the Hobey Baker Award ceremony, Peters and LeNeveu met each other for the first time. LeNeveu, wide-eyed and showing reverance, appeared honored to meet the man who held the record for so long, and Peters returned the favor.
"I was grateful to have had [the record] for 45 years," said Peters.
Peters noted there was already a small connection between the pair; his son, another former goalie, works for the Phoenix Coyotes, who drafted LeNeveu in the second round last season.
"It's amazing too, because they look so much alike," Peters said. "[LeNeveu] is a wonderful young man."
Of course, today's game is much different than it was 45 years ago, and that is no more apparent than in the goaltending. Goalies are bigger and more athletic, the equipment is bigger, lighter and better, and defense is more emphasized in the modern game.
"These days, goalies are such better athletes," Peters said. "They're better trained, the coaching is better. Major strides have been made in methodology and teaching goaltending.
These days, goaltenders are expected to handle the puck well, too. That, in turn, often makes them like a third defenseman, which further hampers offense.
"We didn't roam behind the net at all," said Peters. "It's amazing to see them more involved in the play nowadays.
"But the training and physical conditioning is so much better. There's personal trainers, and coaches are much more up to date on things."
Peters may not hold the record anymore, but a 45-year reign as record holder will remain something special.