Mike Gilligan announced his intention last Friday to step down as coach at Vermont after 19 seasons, one win shy of the school record. His decision came amid a number of changes in Burlington, with a new school president in place, and a new athletic director, Bob Corran, set to officially begin June 16.
Gilligan has often spoken about a desire to retire from college coaching over the next few years, but his decision came a bit earlier than many expected. He leaves just as the program has been promised upgrades in facilities and budget from the new administration, something Gilligan says is imperative for the program to keep up.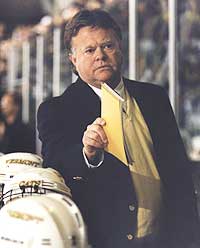 Vermont enjoyed its ups and downs under Gilligan, highlighted by three NCAA tournament appearances, including a magical run to the Frozen Four in 1996, led by three All-Americans, Martin St. Louis, Eric Perrin and Tim Thomas. After defeating Lake Superior State to get to the Frozen Four, Vermont lost 3-2 in overtime to Colorado College on a controversial goal, set up after it was knocked out of the air with a hand.
A few seasons later, the program was beset by a hazing scandal, which forced the cancellation of the entire second half of the 1999-2000 season. There were lawsuits, and ultimately a settlement, but not without a lot of angst. The Catamounts had a three-win season in 2001-2002.
But Gilligan stuck around through it, and managed to maintain his reputation as a first-class gentleman of college hockey, and now is proud of having left the program on solid footing for the new regime. The club rebounded with a decent performance this season (13-20-3), and left a number of exciting players for the next coach. And there's no shortage of quality candidates for the position.
Corran also has Catamounts fans excited. Coming from Minnesota-Duluth, he has a strong hockey background, and has vowed to provide the hockey program with more resources, including increased coaches salaries, to help it keep up with its neighbors and rivals.
Gilligan, meanwhile, will remain in place as the school's golf coach, head up fundraising for the hockey program, and lead the charge for a new building to replace venerable Gutterson Fieldhouse. The incoming president made overtures about building a new 9,000-seat facility on the UVM campus that could also house an AHL team.
* * *
AW: When we spoke during the season, I asked your thoughts on retiring and you said you had some commitments still to fulfill with players, and thought you might stick around a little longer. Did something change your mind?
Mike Gilligan: It's been something I've been working on for a few years. I didn't know when the package deal they offered me was going to be able to be met, and they met it. It was appealing enough.
I've always wanted to stay at the university and help the program any way I could, and I didn't want to walk completely away from it. I wanted to have a better year than the year before — which was awful. So I felt like the guys and the staff felt pretty good about where we were at, and how the returning players looked and how the incoming players looked. So it seemed to me to kind of come together. And then the administration, by my request, put together a pretty nice deal.
I think I can help them, and they can help me get closer to age 59 …
AW: Why at this time, and not wait a little longer?
MG: I never really thought about it during the season. I really did some serious thinking right at the end of it. The back-to-back losses at Harvard [in the ECAC playoffs second round] might've made me think more about it. But there was a lot of times during the season — a lot of the season I felt like things were going great, and felt like coaching another five years.
But years and years ago, I always felt like 55 would be a good time to get out and do some other things; maybe pro scouting — I love travelling and like looking at players. But when they said to me that they really think I'd be important in contacting ex-players … We've commited ourselves to a $2 million hockey endowment that I want to help fulfill.
We've also made some pretty broad statements about a larger facility on campus, and they want to involve me in both of those. I'm also going to have a little bit of a hand in Bob selecting the talent pool for the new staff.
AW: Inevitably, because of the timing, there's going to be people speculating that you were forced out by the new administration. Is that the case?
MG: Not at all. [Corran] was fabulous. He was happy with whatever decision I made. He made me feel even better about staying around and helping.
Money has been our biggest concern at UVM for a hundred years. … If we're going to keep this ship floating the way we want to, my most important mission would be to help raise money for the program.
— Mike Gilligan
AW: There are three or four fairly obvious candidates for your job. Bill Beaney [head coach nearby D-III Middlebury], Mike McShane [head coach at nearby D-III Norwich], Roger Grillo [head coach at Brown and former UVM assistant] and [current assistant] Damian DiGuilian. Has any preference been stated, or do you have a preference?
MG: No. I just care that we get a solid young man and a proven coach, and all of those guys — I have great respect for all of those names that you mention.
AW: Any chance of coaching again?
MG: No way. Maybe I'd like to get involved at the pro level, maybe doing some pro scouting if it's for the right people. But right now, my biggest cocnern is to replace me and start this fundraising effort and to make sure the program is on a level keel until the new guy gets here.
AW: In regards to the new facility, is your job to focus on what's do-able, and not necessarily this 9,000-seat idea that's been floated?
MG: Part of my efforts would be put into [determining] what the real size [of the arena] should be, when it should be, how many ice surfaces — the particulars. And maybe get around a little bit and see what's out there. But money has been our biggest concern at UVM for a hundred years, and that's what I've gotta do; I've gotta go out and make things do-able. If we're going to keep this ship floating the way we want to, my most important mission would be to help raise money for the program.
AW: Are you frustrated to have never had those kind of resources at your disposal before?
MG: They really feel like they're up for the challenge right now. Everything I hear from the president, right through the vice president, to the provost, to the new AD, it's all ahead full. I feel like I'm having something to do with it now.
AW: But you never had that opportunity as coach.
MG: Yeah, but I'm still going to take a lot of pride in seeing what may happen. I think we've done a nice job. We've had a couple real nice cycles of winning seasons here and a couple of down ones but we've had good times through the thick and thin. I just want to see us more competitive on a regular basis, and I think facilites and budgets and salaries are a huge part of that.
AW: What is it, specifically, you're referring to when talking about "resources?" How does that play out?
MG: It goes from me [having to] teach a work study guy to sharpen skates every September, to — you kinda hesitate to tell your assistants to get on the road every single weekend because you're not paying him as much as the other big teams. There's just little things that hurt. We've gotta really do some of the things that the BCs, BUs, CCs and those guys are doing, because we're trying to beat those guys.
AW: The teams you talk about are in Hockey East. Is Vermont better off in Hockey East?
MG: I think we're a better fit in our league right now. I really don't know if there's enough room at the University of Vermont to bring in 'C' students. I think we've still got to go for that "Ivy-ish-ness" and try to get that kid who's the Ivy candidate or the marginal Ivy candidate. I still think we can be good in our league, and I'd hate to lose the values that this place has had on the admissions policies.
AW: A lot of people think, with Vermont's proximity to Canada, and the ability to give scholarships, that, given the resources, the program is a sleeping giant.
MG: I think people are going to be surprised — unless we haven't done anything right — I think they're gonna be surprised to see that it's [really] tough to be in the final picture like a UNH every single year in the past five or six years. There's been some huge programs going for it, and that's with real responsive admissions and financial aid.
To see what [UNH coach Dick] Umile's done at UNH is phenomenal to me. That facility is part of the picture, but that staff's done a helluva job. We could be a sleeping giant, but I don't know. We might have to do all the things that those schools have done in order to do it.
AW: Is New Hampshire a model?
MG: I love the UNH model. I just think in terms of their fan involvement, their student involvement, their facility. It's just a great night of entertainment. I like what I see there.
AW: Can that be done within the ECAC?
MG: Just comparatively speaking with the type of admits they're going to make … you've just gotta do it that way with what we've been doing. I think the Middleburys of the world, and the Cornells, have done a fabulous job to stay competitive at their academic levels.
AW: What is your proudest moment, maybe something that's not so obvious?
MG: Just getting the job was probably the most fun. … And a couple other things. We're just seeing [Martin] St. Louis do what he did this year [scoring 30 goals for the Tampa Bay Lightning], and to see John [LeClair] and Aaron [Miller] play on the [2002 U.S.] Olympic team. For a school this size, it's very impressive to see that.
AW: I hate to rehash bad stuff, but with the hazing situation … I bring it up just in the sense that, did you think it would set you back as much as it did?
MG: We didn't lose one recruit or one player at the institution purely because of that, I didn't think. The public relations part of it hurt, whether it was development, whether it was just people out there that felt lousy that had played for us or had gone to UVM. We really had to bear down for a couple years. But, honestly, I think that part of it is gone and disappeared. …
I just wanted to make sure the five freshmen that were there at the time graduated, and they graduated yesterday and they're feeling great about themselves and what they've done here. I just think we just happened to go into a dip and we just made a couple of tough decisions with some recruits, and we didn't get a couple of kids we went after. But it really had nothing to do with that [hazing situation]. In fact, a lot of kids learned a lot from that, and they became men, and I give them a lot of credit.
AW: Any regrets about that situation?
MG: There's nothing we could've done any different.
AW: Do you still have nightmares about that hand pass?
MG: Aw geez (chuckles). Yeah, that was something. But in retrospect, that was a great year for us and a great ending. And it was tough to live with that bounce, but we got other bounces, I'm sure, before that. It was just a shame we couldn't get into the final.
Even if we had video, they wouldn't have gone to it then, because it would've been like an offsides play. Now, [under the current rule] we would've. But back then, we wouldn't have the way the rule book was written.
We'll get there again …
AW: I've said this before to you, but Martin St. Louis was my favorite player ever to watch. That whole team was a treat.
MG: Was he something? He looks like he's doing the same thing now. He just called this morning, he's a fabulous guy. … Those guys were fun. They made it look like the way college hockey should've been played.
AW: At the NCAAs in 1996, people out West still didn't really believe St. Louis and Perrin were as good as advertised. It took about 10 seconds of that game against Lake Superior to figure out they were wrong.
MG: [Then-LSSU coach] Jeff Jackson hasn't said hello to me since (laughs). [Off the opening draw] St. Louis did that drop pass to himself [and blasted a rocket just wide]. That kinda straightened him up a little bit.