The first day of the 2003 NHL Draft was filled with plenty of surprises, some pleasant and some not so pleasant.
Zach Parise's day was definitely falling into the latter category. Thought by many to be a solid top 10 selection, 16 picks went by the board without Parise hearing his name called.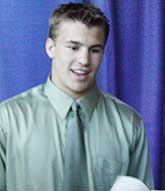 As the North Dakota forward was falling down the charts, a number of onlookers were startled. Pierre Maguire, commenting on TSN Canada's television coverage said it was "unconscionable" that he was falling that far. He blasted the Islanders, picked at No. 15, for not taking the son of 13-year NHL forward J.P. Parise, as teams apparently were scared off by his 5-foot-11 frame.
"His size won't make a difference," exclaimed Maguire.
Lo and behold, Parise had little reason to be upset. The New Jersey Devils, defending Stanley Cup champions and led by former Providence coach Lou Lamoriello, knew a steal when he saw it. The Devils general manager, known for his drafting acumen — and known for not discriminating against "smaller" players — traded up to No. 17 as fast as he could.
"We didn't even know we'd have a chance at him," said Lamoriello to TSN. "We didn't even have a name tag for him. So we're delighted."
It's hard to be upset about going to the New Jersey Devils.
"It's quite the feeling to hear your name out there," said Parise. "I was kind of surprised to see the Devils trade up and take me."
Parise admitted that nerves were beginning to set in with each and every minute that passed.
"It felt like eternity up there," Parise said. "Hours are going by and you're just waiting and waiting. When the time comes, though, it all ends so quick."
The Devils have a reputation for taking U.S. college players, and for not being turned off by smaller players.
"No, not with the size of his heart," Lamoriello said to TSN. "That's what we measure in this young man."
Parise scored 26-35–61 last season, and had eight points in seven games at the 2003 World Junior Championships. He believes he fits well into the Devils game plan, playing a similar game to pint-sized players like Brian Gionta and Scott Gomez.
"They have little guys and little guys are quick," said Parise. "So I'm hoping to step in there eventually."
Jim Connelly also contributed to this article.