Minnesota's Thomas Vanek did a lot more than win a championship last April in Buffalo. He also swayed the hometown scouts.
Vanek, who scored the game-winning goals in the national semifinal and championship games at Buffalo's HSBC Arena, became the first college player taken in the 2003 NHL Draft when the Buffalo Sabres selected him No. 5 on Saturday. It marks the second consecutive season that college hockey's first draftee was the number five overall pick — Boston University's Ryan Whitney was the fifth selection last year as Pittsburgh's first-round pick.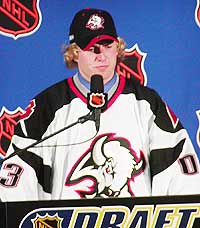 "This is just great," said Vanek, this year's tournament Most Outstanding Player. "I've won a championship there already so I'm real happy to be going back to Buffalo."
Vanek led a group of nine current or incoming college players taken in the first round, which broke the previous high of seven, set in 2000. Without including incoming college freshmen, there were seven first-rounders this year, which breaks the mark of six set, also set in 2000. In 2002, there was six college players taken in the first round, including five already in school.
According to many NHL scouts, this year's draft was one of the deepest ever in terms of talent, and college hockey led the way with 30 percent of the overall first round selections.
There were also a record eight Americans taken in the first round, surpassing the previous mark of seven set in 1986. Vanek and Michigan's Jeff Tambellini were the non-Americans taken among the nine college first-rounders, but the addition of Dustin Brown at No. 13 brought the figure to eight.
Vanek scored 31 goals and 31 assists in 45 games last season. He's the second consecutive Golden Gopher selected by Buffalo in the first round, following Keith Ballard last year. It's also the third time in four years that a star player will get a chance to play at the arena where he just won a national championship, following Lee Goren (2000 MOP for North Dakota) in [nl]Providence, and Brian Gionta (Boston College) for Albany.
Entering the draft, most believed that Vanek's stock had the highest value among U.S. collegians. That may have been why he was peculiarly relaxed.
"I slept really well [last night]," said Vanek. "I didn't really feel that nervous.
"There were some great players picked in front of me. That's the way the draft works. But I'm really happy that I'm in Buffalo."
Incoming Wisconsin freshman Ryan Suter was selected No. 7. Suter, a defenseman who played for current Wisconsin coach Mike Eaves in the Junior Development Program, is the nephew of long-time NHL defenseman Gary Suter, and son of 1980 U.S. Olympian Bob Suter. He also got the day's biggest ovation, being taken by the hometown Nashville Predators.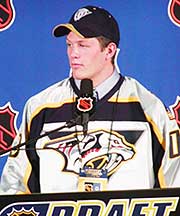 "That was something I've never heard before," said Suter of the explosive reaction. "The people of Nashville have been so nice to me all week, very hospitable. So I'm excited to be coming here."
North Dakota's Zach Parise, son of long-time NHLer J.P. Parise and considered by many scouts to be a top 10 pick, instead watched his stock fall quickly. That opened the door for Dartmouth's Hugh Jessiman, who passed him, heading to the New York Rangers at No. 12.
"I had met with the Rangers last week and had talked with Bob Crocker, the Ranger scout, a lot this year," said Jessiman, who grew up a Rangers fan. "I got more of a good vibe from them, so I wasn't really surprised [by the selection]."
Jessiman made history, becoming the highest-selected ECAC player since the split with Hockey East, taken No. 12 to the New York Rangers. He beats out Chris Higgins from Yale, who was taken No. 14 by Montreal in 2002 (Norm Lacombe of then-ECAC member New Hampshire was selected No. 10 in 1983). The 6-foot-5 Jessiman went 23-24–47 in 34 games for the Big Green last season.
Parise eventually went No. 17 to New Jersey (see separate story).
Parise was followed in the opening round by Colorado College defenseman Mark Stuart (No. 21 to Boston) and Ohio State's Ryan Kesler (No. 23 to Vancouver).
Stuart hopes to join a long line of famous defensemen in Boston, which includes names like Orr and Bourque.
"When they chose me my dad whispered 'Ray Bourque' in my ear," laughed Stuart. "Growing up watching Ray Bourque and Bobby Orr, it's just such an honor."
In a mild surprise, St. Sebastian's and Boston College incoming forward Brian Boyle jumped into the first round. Standing at a menacing 6-foot-6, Boyle was taken No. 26 by the Los Angeles Kings. Remaining at the podium with the 27th pick, Los Angeles selected another collegian in Michigan's Jeff Tambellini.
Before the round was ended, Ottawa completed college hockey's historic day, shocking many by selecting Patrick Eaves with the 29th pick in the opening round. Eaves was thought of as a possible mid-second rounder due to his size (5-foot-11) and his lack of games in his rookie year (missing 12 weeks with a neck injury).
The second round opened with another collegian, Michigan defenseman Danny Richmond, who was taken by Carolina.
Brown, from Ithaca, N.Y., who played on the 2003 U.S. World Junior team, was selected No. 13 by Los Angeles. He played major junior hockey this past season for Guelph of the OHL.
The first pick overall was Marc-Andre Fleury of Cape Breton (QMJHL), who was taken by Pittsburgh after the Penguins traded up to get him. He becomes the second goalie ever taken first overall, following Rick DiPietro in 2000.
The inevitable questions now follow of whether the highly-drafted players will leave college any time soon. Vanek and Suter will likely be the most pursued players, though Suter has never played a college game and likely would be left to mature for at least one year at the college level.
"I'm excited to head to Wisconsin," said Suter.
That statement was a reversal of what Suter had said a day early at the NHL Media Luncheon, when he suggested he was ready for the pros and could head right there.
"I've been working out with the [Badgers] and getting to know the players so I'm looking forward to it."
Vanek, on the other hand is less-than-committed to returning to Minnesota for his sophomore year.
"My dream has always been to play in the NHL, so I have to sit down and see exactly what's best for me as a player," said Vanek.
Still, he admitted that a return to Minnesota as well has attractive qualities.
"The whole team is coming back almost, and we really want the three-peat," he said. "I guess I have the whole summer to decide and that's good."
Each of the other picks indicated that they believe development is still necessary to make it to the professional level. Some wavered when asked about their future but others, like Eaves and Tambellini, made it clear that a return to college is in the cards.
"I'm definitely going back to BC," said Eaves. "There's no question about that in my mind."
Still, with an endangered Collective Bargaining Agreement looming in the NHL world, the thought that there will be early exits before summer's end is extremely legitimate.
For now, though, college hockey remains in the limelight after its historic Saturday.
NOTES: The seven players taken in 2000 were Rick DiPietro (Boston University, No. 1), Dany Heatley (Wisconsin, 2), Ron Hainsey (Mass.-Lowell, 13), Brooks Orpik (Boston College, 18), Krys Kolanos (BC, 19), David Hale (North Dakota-incoming, 22) and Jeff Taffe (Minnesota, 30). …
The seven Americans taken in the 1986 first round were Jimmy Carson (2), Dan Woodley (7), Brian Leetch (9), Scott Young (11), Craig Janney (13), George Pelawa (16) and Tom Fitzgerald (17).
Adam Wodon also contributed to this article.