Vermont's national search, which drew interest from across the country including a number of big names, has ended with the naming of Kevin Sneddon as just the program's third head coach in its Division I history.
He replaces Mike Gilligan, who retired after 19 seasons at the helm. Gilligan remains in the program as a fund raiser and consultant.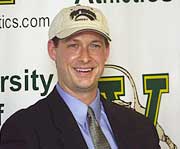 Sneddon, 33, head coach at Union since 1998, was a member of Harvard's 1989 national championship team as a freshman. He beat out candidates such as former Vermont and current Brown coach Roger Grillo; Brown alumnus, NHL veteran and former Atlanta Thrashers assistant coach Tim Bothwell; two-time defending national championship coach Jeff Jackson; and two-time Division III national championship coach Mike McShane, from nearby Norwich.
"[Sneddon] is an exceptional young man who has already accomplished a great deal in his career," said new Vermont athletic director Bob Corran. "We are confident he will provide vision, leadership and a strong sense of values to our men's hockey program."
Union is coming off its first-ever home-ice playoff berth in Division I, with a record of 14-18-4. In five seasons at Union, Sneddon was 50-99-18 overall.
After a short pro career, Sneddon was named an assistant at Union under Bruce Delventhal, and later under Stan Moore. He took over for Moore in 1998.
"I am extremely honored to accept this position and I welcome the opportunity of leading this program into a new era," Sneddon said. "Mike Gilligan has done a tremendous job of building and sustaining a strong foundation, and I hope to build upon the strong tradition of UVM Hockey.
"Aside from a fantastic community, a wonderful campus, and the strong academic reputation of UVM, the thing that impressed me most during the interview process was the quality of people at the university," Sneddon continued. "Everyone with whom I met shared a passion for the institution and offered an exciting vision of the future.
"I welcome this opportunity and fully embrace the challenges that lie ahead. The leadership of president Dan Fogel, director of athletics Bob Corran and his staff will guide us in our quest to take this program to new levels of success. It is going to take a full commitment from each of our student-athletes as well as an incredible work ethic from our coaching staff in order to establish, enhance, and maintain a strong culture of athletic and academic excellence at the University of Vermont."