Michigan, the two-time defending Mason Cup Champion as winner of the postseason tournament, was picked as the team to beat this season by CCHA coaches and media in the league's annual preseason polls.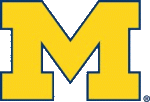 The Wolverines garnered 10 of a possible 12 first-place votes from the coaches and 70 of a possible 82 first-place votes from the media. They return 18 players and boast 10 NHL draft picks, including CCHA Rookie of the Year Jeff Tambellini. Tambellini was selected in the first round of the 2003 draft by Los Angeles.
Michigan looks to continue its drive to the top this season after three consecutive trips to the NCAA semifinals. In each of the last three seasons, the Wolverines were defeated in the semifinals by the eventual NCAA champion — Minnesota in 2002 and 2003, and Boston College in 2001.
Ferris State, the defending CCHA regular season champion, came in second in the coaches' poll and third in the media poll, receiving one and two first-place votes respectively. 2003 Division I Coach of the Year Bob Daniels returns 17 players, including All-CCHA First Team goaltender Mike Brown, All-CCHA Second Team member Jeff Legue and junior star forward Derek Nesbitt. The Bulldogs advanced to the finals of the NCAA Midwest Regional last year before falling to eventual Division I champion Minnesota.
The coaches tabbed Michigan State as a close third with the other first-place vote, while the media had the Spartans second with seven first-place votes. Leading the Spartans are junior forward Jim Slater, who was named to the All-CCHA First Team, and sophomore forward David Booth, a CCHA All-Rookie Team member. MSU fell in the quarterfinals of the CCHA tournament last year following a fourth place finish in league play.
2003 NCAA Tournament participant Ohio State came in fourth in both polls, with the media directing three votes for first the way of the Buckeyes on the strength of senior forward R.J. Umberger and senior goaltender Mike Betz. Betz was the CCHA Goaltender of the Year in 2003 and chosen to the All-CCHA Second Team, while Umberger was named All-CCHA First Team. The Buckeyes were defeated by Boston College in the NCAA East Regional Semifinal last year.
The coaches and media also agreed on the fifth through seventh spots, where Northern Michigan, Miami and Notre Dame were chosen.
Alaska-Fairbanks, Western Michigan, Bowling Green, Nebraska-Omaha and Lake Superior rounded out eighth through 12th in the coaches' poll. The media differed slightly, ranking WMU, UAF, UNO, and BGSU from No. 8 through No. 11 but also placing LSSU last.
The results contrasted with last season, when both polls were identical.