With Brown another up-an-coming program, Roger Grillo has done a fine job assembling talent for a run deep into the postseason. First things first, of course, and that's challenging for the top of the ECAC.
It may sound far-fetched considering the strength of Harvard, Cornell and Dartmouth, but the Bears have the great equalizer … the best goaltender in the league, senior Yann Danis.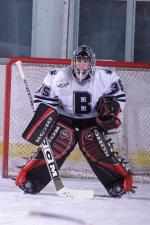 A preseason All-Conference selection by both the coaches and the media, Danis was a workhorse last season, appearing in 34 of the team's 35 games. A second team All-American and second team All-Conference pick in 2002-03, Danis compiled a .924 save percentage and 2.37 GAA, and was named ECAC Goalie of the Week five times. His league stats were bested only by LeNeveu and this season, all opinions point to him being even better.
The Bears should also be a better offensive team this year, which may ease the pressure on Danis. Six players, all of whom contributed in a significant way, are gone, including top defenseman Paul Esdale (17 assists, 26 points), defensive blueliner Owen Walter and forward Keith Kirley (17 assists, 21 points).
To fill the holes, however, Brown returns a solid nucleus that includes its leading scorer, senior Brent Robinson, who posted team highs in goals (15), assists (23) and points (38). Junior Les Haggett returns after a breakout season in which he registered 13 goals and 33 points. In addition, senior defenseman Scott Ford will be the leader of the blueline corps and will be expected to help elevate everyone's play.
As always, specialty teams will be key. Sixth in the league on the power play, the Bears will need a boost in production with the extra man while also making sure their second-best in the ECAC penalty killing unit remains as strong as ever.
They'll be tested right off the bat, with games at Harvard and Dartmouth to start the season in early November.