They looked unbeatable for most of the season, having lost only five times, while winning 30. They were 19-2-1 in the ECAC and a perfect 15-0-0 at home. They captured their second consecutive ECAC Regular Season title, the Tournament championship and made it to the Frozen Four. All in all, it was very successful season for Cornell, one in which they felt they had a legitimate chance at a national championship only to be eliminated by New Hampshire.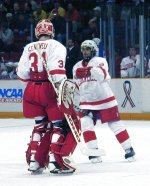 Both the coaches and media assume Cornell will take a step back this season, thanks to the loss of five major contributors. Even so, a No. 2 ranking in each preseason poll is nothing to be embarrassed about.
"It's great to be recognized as one of the top teams in the conference," said head coach Mike Schafer. "As a team we still have the same expectations as last year and that is to be at the top of the conference and advance in the NCAA tournament. It doesn't matter where you are picked, but if you don't expect to be better, or work harder to finish higher than that, you have a problem.
"Our guys are focused and they expect to be back at the top of the league and in the NCAAs again this year."
It's tough to argue with Schafer, given his track record, but the personnel losses suffered may be difficult to overcome. Gone are forwards Stephen Bâby and Sam Paolini, defensemen Mark McRae and Doug Murray and All-American netminder David LeNeveu.
Bâby was tops on last year's squad with 33 assists and second with 41 points. His mere presence on the ice opened up skating room for Ryan Vesce, who will have an even bigger bullseye on his jersey this season. Paolini, the gritty workhorse, takes with him 13 goals and 30 points. McRae and Murray, meanwhile, compiled 28 and 25 points, respectively, while playing some of the best defense in the country. In all, the quartet takes with it 35 goals and 124 points.
For years, Cornell was thought of as all defense, no scoring. While the Big Red did continue their stingy ways last season (1.31 goals against), they also managed to rack up nearly 3.8 goals per game. They had the second-best power play in the league (22.8 percent), with the league's best penalty killing unit (90.4 percent). Expect those numbers to be similar this season.
LeNeveu's decision to forego his final two seasons of eligibility will have a huge impact. However, Schafer has reloaded the team with the league's best rookie class, including netminder David McKee, who will be joined in goal by senior Todd Marr (1.76 GAA, .932 save percentage in 2002-03) and untested sophomore Louis Chabot.
Offensively, in addition to the returning Vesce, 6-4, 200 pound forward Byron Bitz is considered one of the best recruits in the country and should make an immediate impact. So too should 6-3, 205 pound Kevin McLeod and NHL draft pick Mark McCutcheon. On the blueline, watch out for NHL picks Ryan O'Byrne (6-5, 210) and Dan Glover (6-3, 200).
The Big Red may not finish first this season, but they will not miss by much.