Scott Paluch has a daunting task. The second-year Falcon head coach has to rebuild a program that once defined a league.
"This is an important year for Bowling Green hockey. We're celebrating a 20-year anniversary of our first national championship for the CCHA. We know we have to bring that flavor back to the ice. We want to get ourselves back to being a factor in the CCHA, both in the league and on a national level."
It would be easy to dismiss such comments as oversimplified, grand, or just plain unlikely in the immediate future — if you didn't know Scott Paluch. Paluch played for BGSU from 1984-1987, in the afterglow of that national championship. As Jerry York's associate head coach, Paluch helped Boston College to four consecutive Frozen Four appearances and tasted the thrill of a national championship himself when the Eagles captured the title in 2001.
In his first year at BGSU, Paluch wrote rules, cleaned house, and watched his Falcons come this close in 17 contests decided by one goal or less, including a 4-3 defeat in their last game of the year, a first-round playoff loss against Michigan.
If anyone can resurrect BGSU's winning ways, it's the enthusiastic Paluch. "We've had a great off-season. The players are excited. Last year our wins and losses weren't where we wanted to be or the tradition of our school puts us, but we have a lot of differences this year, starting with the type of work ethic we bring to the game every practice, every game."
On the offensive side, the Falcons will be led by returning captain D'Arcy McConvey, a player who has weathered the coaching transition well. McConvey was BGSU's leading scorer last year, a playmaker with a cool head and an eye for a passing lane.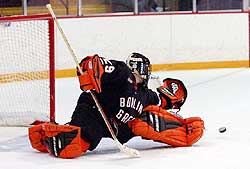 Another player on whom Paluch pins high hopes is senior defenseman Kevin Bieksa. "Kevin Bieksa had a great year offensively and with the same type of production this year he could become recognized as one of the top all-around defensemen in this league."
Jordan Sigalet will be the mainstay in goal, and he's solid, but last year the defense — including the overall team defense — too often made Sigalet look as though he was the only Falcon alive.
The Hook
There's no question that Paluch can coach, and you'd have to be either cynical or stupid not to take an interest in the rebuilding of a once-great hockey team.
Or a Michigan or Michigan State fan. Ten bucks says this coach threatens that status quo within five years.
The Line
Ryan Minnabarriet. Put someone with this kid, please. He's due.
The Sinker
Defense. Holy moly. They're all back, but is that a good thing? The Falcons allowed over four goals per game last season, nearly four per league contest, putting them dead last defensively. Incoming youngster Jonathan Sigalet, Jordan's younger brother, is expected to have an immediate and positive impact on the Falcon defense, but how much difference can one player make on a team that was outscored 143-94 overall last year?