Once again, Michigan tops the preseason coaches and media CCHA polls, and the Wolverines are right behind the defending national champion Minnesota Golden Gophers in the USCHO Men's Division I preseason poll.
Michigan's 2003-04 senior class has never seen a season end prior to the Frozen Four, and even though Ferris State sneaked up the league standings to take last year's regular-season title, the Wolverines dispatched with the Bulldogs quite handily to defend the league's Mason Cup.
There's no secret to Michigan's success. His name is Red Berenson.
"I think you've got to look at teams like Ferris, who finished first last year, and Michigan State, who probably had as good a record as anyone in the last ten games last year, and team like Miami who I think will be the most improved team and maybe the surprise team of the year," says Berenson, musing about this year's preseason picks.
"On the other hand, I think Michigan … we've earned the respect because of our consistency over the years. We've been in either first or second place every year in the last ten years, and so I think most teams like our recruits and they like our returning team, and they like what they saw last year in Montoya as a goalie, and our defense."
It would be easy for the quietly intense Berenson, entering his 20th season as Michigan head coach, to brag about the mighty machine he's built in Ann Arbor, but he's much too smart for that. "Anyone who knows our team knows that we're a pretty good team on paper. I can't tell you that we're better than anyone.
"If we play like we're capable of, we will be where we should be in the hunt."
Remember the Michigan teams of years past? Brendan Morrison, John Madden, Blake Sloan, Marty Turco. Names that dominated league play for years, a senior class of nine outstanding players that returned after winning a national championship, simply for their love of Michigan hockey and their respect for the commitment they made to their head coach.
Sure, you say, it was easy to win with players like those, players who are still skating in the NHL today. But this is a different kind of Michigan team, with fewer marquee players, shorter on finesse, long on tenacity.
"I really like our team," says Berenson, and he's not just talking about on the ice, either. "I don't know that we're a star-studded type team. We're building our talent pool again, but we're still going to rely on our balance and our depth. We're not going to be a one-man team, but I like the balance and the depth. I think we have better balance and depth this year than we've had in a long time."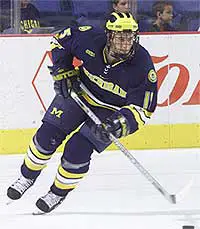 The Wolverines have seen stars depart early for the past several years, big guns and recognizable names like Comrie, Cammalleri, and Komisarek. The players who remained — Jed Ortmeyer, John Shouneyia, J.J. Swistak — were left to shape a team with their leadership as much as their ability to pass or check.
Whether it's penthouse or blue collar, Berenson says, the goals remain the same. "It's just how we get there. We're still trying to become a better team. We're trying to improve our skills, trying to be better offensively, still trying to maintain the level that the great Michigan teams have established.
"On the other hand, it's a challenge, obviously, for a team that may not be as talented, or may not be as experienced, but I really like this year's team. This year's team could be a really good team, but I am cautiously optimistic down deep. We're going to have a chance every night every game."
The Hook
If you're a close-minded, Michigan-hating type, then you're never going to pull for the Wolverines. But if you love college hockey, love the game, love good coaching, and enjoy watching a team come together as a team, then you'll love watching these Wolverines.
There's Al Montoya, the sensational goaltender who entering his sophomore season as an 18-year-old, may be the best in the country. There's Jeff Tambellini, who led the team last year in points as a freshman, en route to becoming the CCHA Rookie of the Year.
Those sophomores may be the only marquee players Michigan possesses. The success of this team is its balance and blue-collar work ethic. That's what the Michigan junior class is all about, and the new tradition that senior captain Andy Burnes will attempt to continue now that players like Ortmeyer, Shouneyia, and Swistak are gone.
The Line
Just one? This team has incredible offensive depth and balance. If one line is clicking, another one or two will be. If the offense isn't scoring, look for the defense to get into the act.
Any time Eric Nystrom and Dwight Helminen take the ice together, the potential for magic is strong. Add Andrew Ebbett to the mix, and the combo can be lethal for opponents.
The Sinker
"Who's going to replace that Jed Ortmeyer presence? That remains to be seen," says Berenson. Without strong team leadership, the Wolverines could never have maintained their level of excellence while making the transition from a high-profile, finesse team to a grinding, work-you-out-of-your-shorts team.
With Burnes as captain and Nystrom and Brandon Rogers as assistants, leadership issues would be surprising. The only thing that can hurt the Wolverines this season is the injury bug. Barring that and given their work ethic, their fate is in their own hands.