Ohio State is one of two teams — Alaska-Fairbanks being the other — that returns this year loaded with upperclassmen. Nine seniors will return, and eight of them will play in nearly every game. It's a position that head coach John Markell relishes.
"You want them to lead both on and off the ice. I think they're ready to assume those roles, the annual passing of the torch.
"We also have other guys who can lead. J.B. Bittner was voted unanimously as our captain." Bittner is a sophomore. "Nate Guenin is just a sophomore, but he's a leader out there defensively." Guenin is an assistant captain.
"One of the things I think this team wants to do," says Markell, "is not rely on one or two guys in the senior class. They want to hold each other accountable for their play, and there's no reason why a freshman can't come up and challenge a senior, with respect."
In eight years under Markell, the Buckeyes have seen ups and downs, but all significant improvement over the way things used to be in the pre-Markell, pre-Schottenstein Center era. Markell took OSU to the Frozen Four in 1997-98, to the NCAA tournament the following year, then watched his team go through some growing pains until the success of last season, which brought a third-place conference finish and another trip to the NCAA tournament.
This year, OSU is poised for a repeat performance. "We feel as a team, the key is to be a team," says Markell, whose players are "very, very determined."
In the offseason, the Buckeyes lost two key offensive players to early departure, and one was "a big hit," says Markell. Ryan Kessler left OSU after a solid 31-point rookie season.
R.J. Umberger, the streaky junior forward, was expected to leave, and so he did. "Let's hope he didn't leave us just to sit," says Markell. As of the writing of this preview, Umberger, whose rights are owned by Vancouver, had not yet signed a professional contract. "I hope he's in the National Hockey League, and I hope Kessler is in the National Hockey League."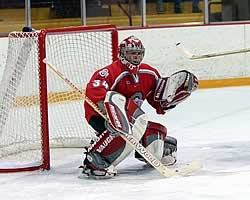 Umberger's and Kessler's departure leaves room for other players to emerge and make names for themselves in Value City Arena and the CCHA.
"We're going to be looking at some other guys, Dave Steckel, Scotty May, Paul Caponigri, guys that can step it up and step out of their [Kessler's and Umberger's] shadows," says Markell.
Then there's sophomore Dan Knapp, lost to injury midseason after showing real promise with 18 points in 17 games.
Defensively, the Buckeyes lost Scott Titus, Eric Skaug, and Pete Broccoli, but Thomas Welsh will be back from an injury, Guenin is good on the blueline, and rookie Matt Waddell is expected to be the real thing.
And if Mike Betz plays every game like it's a playoff contest, he's darned near unbeatable in net. If he can't do it, Markell says that Dave Caruso (1.56 GAA, .938 SV% in eight games) is ready.
The Hook
Are the Buckeyes more than the sum of Umberger and Kessler? How hard is that to believe? Offense was not OSU's strength last season; defense and goaltending — and superb penalty killing — carried OSU through 2002-03.
This year it will be interesting to see who emerges from the shadows of the big names, in a city where big names seem to matter more than anything else. Columbus is an unforgiving, band-wagon town, one that does not take well to the underdog (the first few seasons of Blue Jacket hockey not withstanding), and this is a team full of role players.
If the Buckeyes somehow get the better of clustermates Michigan and Michigan State, they'll do more than put themselves in good shape to challenge for the regular-season title. They'll also make the local evening news.
The Line
Paul Caponigri, Dave Steckel, Dan Knapp.
And watch the combination of freshman Andrew Schembri, listed at 5'6″ — maybe in his skates and guards — and junior J.B. Bittner.
The Sinker
Three things may stand in the way of OSU's success this season. One is their cluster. The Buckeyes join the Spartans, Wolverines, and RedHawks in a cluster that includes all three Big Ten CCHA teams, plus those guys down the road who so often have OSU's number.
The second is all in the Buckeyes' heads. OSU has a great senior class, but also said goodbye to excellent leadership when Scott Titus, Eric Skaug, and Miguel Lafleche played their last games as seniors last year. This is a team that needs to believe in itself, play as a team, and work together for common goals.
The third bugaboo is offense. Umberger and Kessler are gone, along with their 37 goals. The Buckeyes can't afford to take an offensive hit this season, having totaled only 129 goals in 43 games last season.