"They must be brothers."
Perusing through the 2003-04 University of New Hampshire yearbook, one might immediately jump to that conclusion. A quick glance shows that line mates No. 8 and No. 10 seem to be cut from the same cloth. No. 8, the "older brother" if you will, stands at 5 feet, 7 inches, 170 pounds; No. 10, a twin-like 5-9, also weighs in at 170.
Heck, they're even both from the same hometown of Reading, Mass.
"Oh yeah — those two are definitely brothers."
But it's when you watch them on the ice — one floating a perfect, tape-to-tape cross-ice pass to the other — that you see the chemistry between them that can seemingly only come from brotherly instinct.
Shocking, then, when one finds out that No. 8 and No. 10 — senior Steve Saviano and junior Sean Collins, respectively — are not only not brothers, but that they're as different in their respective styles of play as they are in their last names.
"I scored a few more goals in high school than in college, but he [Collins] scored a lot of goals in high school," says Saviano, who despite his diminutive size, drives something on the order of a mid-'80s Oldsmobile '88 on campus.
"Steve can score too. People forget about that," says Collins. "But he always seems to find me. The puck was always on my stick in high school."
Steve Saviano and Sean Collins grew up about a mile from each other in Reading, a town of about 23,000, a half-hour north of Boston. "Sean lives on Collins Ave, named after his grandfather," Saviano says proudly of his former Reading Rocket teammate and current mate on New Hampshire's top line.
From the time the two were tots, hockey chemistry blossomed.
"We started playing pee wees and midgets together at around age 12," says Saviano. "Collins is more of a scorer; I set him up a lot. We compliment each other very well. I'm always looking for him, and he's always finishing."
Says Collins of their early days together, "I had heard a lot about him. Ever since we met in squirts, we had a bond as friends, and we've had it ever since."
Which meant lots of street hockey.
"That's all you do in Reading," laughs Saviano. "We were lucky to have about four places to play."
And right from the start, their talents and unmistakable ability to work together as one led to success on the ice.
Saviano and Collins played on the same line at Reading High School for three years in the late '90s. During that time, the two led Reading to three Middlesex League championships and three appearances in the Massachusetts Super Eight Tournament.
"The deepest we ever went [in the Super Eight] was in 97-98, I believe. We got third place," says Saviano. "Kevin Truelson [former UNH defenseman who graduated this past May] played for Archbishop Williams and beat us with two top-shelf goals. He never let me live that down."
Saviano pauses.
"I'm kind of glad he's gone now," he chuckles.
When asked about a memory that particularly sticks out during their high school playing days, Collins lets out a heavy sigh.
"Oh man — there were so many," he says. "Steve's junior year comes to mind. It was the first round of the Super Eight. We're playing Matignon, and it's 2-2 in OT. The place was jammed; there were no more seats at Walter Brown [Arena], and fans were standing in the aisles. Stevie took it the length of the ice and put it top shelf to win it. All of our fans came right over the glass and onto the ice."
Reading High School coach Peter Doherty certainly hasn't forgotten.
"Both were great, great players in high school," says Doherty, entering his 26th year behind the bench for the Rockets.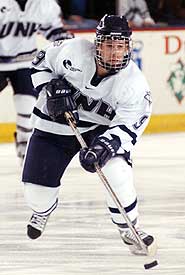 "As soon as you put them together, they clicked — it was like magic. Together they were unbelievable. You should have seen them in practice. They just know where each other is going to be, all of the time."
Saviano made the team as a freshman. And it was through sheer will at that.
"His work habits were fantastic. He worked so hard because he wanted to be a player. He made himself a player," says Doherty.
Saviano was captain one of the three years they played together, Collins the next year.
"Steve's senior year, he broke the league scoring record, which had previously been held by Wakefield High's Mike Souza. The following year, Sean broke Steve's record," says Doherty, whose son, Mark, was a captain for UNH in the 1980s.
That's pretty good company. Souza himself would go on to have a stellar career at UNH also, particularly his junior year, when he was on a line with a senior named Jason Krog, who would go on to win the Hobey Baker Award, and a freshman named Darren Haydar.
Doherty has his own favorite memory of when the two played for him.
"We're playing Catholic Memorial, which is normally the top team in Massachusetts year in and year out. We needed a win to get into the top eight, and we're losing. Well, Sean took over that game. He owned the puck. He scored two or three goals, and we ended up winning the game, 4-2. He was like a one-man show.
"The opposing coach said later 'The only difference in the game was that they had Collins, and we didn't,'" said Doherty.
For their high school careers, Saviano recorded 70 goals, and his 148 assists ranks him No. 1 in school history. Collins bagged 129 goals and 141 assists for an astounding 270 points, good for No. 1 on the school list in goals and No. 2 in assists behind Saviano.
Both Saviano and Collins have had collegiate careers that have, well, mirrored their days in high school.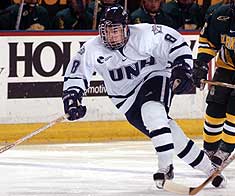 Entering his senior year at UNH, Saviano is still the "assist guy," with 23 goals and 45 helpers. His team-high 30 assists last year led a potent Wildcat scoring attack. Collins is still the "goal scorer," with 42 goals and 33 assists so far for his career.
"They're two great kids. Sean's a proven goals corer. Steve has done a lot for this program," says New Hampshire coach Dick Umile.
"I think he [Saviano] can be a potential All-American this year."
Both come from strong family backgrounds. When Boston College star Patrick Eaves was at St. Elizabeth's Hospital in Boston due to a hockey-related injury, Sean's mother, an X-Ray Technician there, brought Eaves a box of chocolates and a UNH hat while he was being treated.
A box of chocolates and a UNH hat for a member of the hated Eagles?
"She's whacked. She's out there," laughs Collins.
To get an idea of what each player has meant to New Hampshire's success over the past few years, one need not look any further than last year.
In leading the Wildcats to their second consecutive Hockey East Tournament Championship, Saviano was named to the All-Tournament Team as the leading scorer with two goals and five assists. Collins scored a pair of goals in the Wildcats' sweep of Massachusetts-Lowell in the quarterfinals. In the NCAA Regionals, Collins scored a goal in wins against St. Cloud State and Boston University.
But it was at last year's Frozen Four that both players showed the country how special they are.
In New Hampshire's second consecutive trip to the Frozen Four, Saviano shined in the Wildcats' 3-2 victory over then-No. 1 Cornell, scoring two goals, and in the process beating the Big Red's all-everything goaltender, Dave LeNeveu. It was the first multiple-goal game of his collegiate career. For his part, Collins chipped in with an assist.
And in the Wildcats' discouraging 5-1 loss to Minnesota in the National Championship game, Collins scored the lone goal for UNH.
Saviano Sighs.
"We learned a lot … again," he says of last year's close-but-no-cigar performance. "It's going to be tough to get back to the Frozen Four this year, but we're ready for that challenge."
Indeed, the Wildcats lost their entire first line to graduation entering the 2003-04 season. But that doesn't seem to matter to Saviano and Collins, who just continue to go out and rack up points.
Regardless of where the Wildcats end up at the end of the season, it will mark a very strange occurrence for the two players: the end of their playing days together.
So after you graduate from UNH this spring and move on, what's it going to be like?
"We'll stay in touch," says Saviano. "I'll see him at Thanksgiving and Christmas. We still only live a mile away from each other.
"We're better off having played with each other. I'm sure Sean feels the same way."
Reading Rockets and New Hampshire Wildcats fans most surely agree.