Before Concordia University of Montreal lost 7-1 to North Dakota in an exhibition game in October, Stingers head coach Kevin Figsby knew little about the Fighting Sioux.
After the game, he was well versed on "that line with 7."
It was no coincidence that number 7 — junior right wing Brandon Bochenski — stood out. Playing on the top Sioux line with sophomore center Zach Parise and freshman left wing Brady Murray, Bochenski had a hat trick and set up a goal by Parise.
"That's an NHL line," Figsby declared.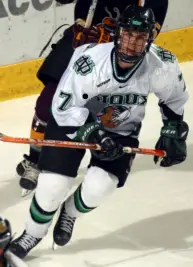 Although Bochenski didn't come to UND with the hoopla that surrounded Parise, son of former NHL great J.P. Parise, or Murray, son of Los Angeles Kings head coach Andy Murray, he was recruited as a goalscorer.
"I came in being probably the go-to guy, but not like I was going to save the team or something," Bochenski said of his first season at UND. "I've always kind of been a sleeper. I got my points, got my job done and went on with my business. My playing style's not flashy or too fancy."
As a senior in high school, the Blaine, Minn., native scored 32 goals in 28 games to help his team capture the 2000 state championship. From there, he went to the Lincoln Stars of the USHL, where he led the league with 47 goals in 55 games and was the USHL rookie of the year.
Since joining the Sioux for the 2001-2002 season, Bochenski has done nothing but enhance his reputation.
As a freshman, he had 17 goals, 15 assists and was named WCHA rookie of the year. During his sophomore season, he scored 35 goals — second in the nation — and was sixth in overall scoring with 62 points. This season, he leads the Sioux in scoring with 10 goals and 10 assists in 11 games and is on pace for another 60-point season.
Sioux head coach Dean Blais calls Bochenski "a natural goalscorer." At 6-2, 195 pounds, the eighth-round draft pick of the Ottawa Senators is strong on the puck, has great agility, soft hands, and possesses a shot that's quick, hard and accurate.
"I went to a rookie camp this summer in Ottawa and they did the testing for skating speed and skating agility," Bochenski said. "Among their prospects, I was in the top one or two guys in agility and I was in the top five for speed. I think I dispelled some of their thoughts about my skating, but I guess just making it look more appealing is my biggest challenge."
If those physical attributes aren't enough to make a goalie sweat, consider the intangibles. Bochenski has supreme confidence in his ability to score, believing that he can get a goal when nobody else can.
"I'm just going to keep coming and coming and coming," he says. "A goalie can stop me eight or nine times, but that ninth or tenth time, it's going to go in. I think it's just a mindset."
There's also the thought process that goes into figuring out how to beat a hot goalie. For example, in UND's 2-1 loss to St. Cloud State Nov. 14, Huskies goalie Adam Coole stopped 32 of 33 Sioux shots. The one that beat him was Bochenski's laser-like blast from the left circle.
"I'd tried to beat him high, stick-side a few times and he'd been kind of cheating and getting up there every time," Bochenski said. "I just dropped my shot down a little and it went under his arm and in.
"It's just feeling a goalie out," he explained. "Usually, you don't have that many chances, but when you do, it's definitely a dangerous weapon."
Bochenski has the uncanny ability to anticipate the puck and put himself in position to score.
"Sometimes, I'll work really hard and get chances that I won't score on," he said. "Other times, it will seem like I'm not really working all that hard and, all of a sudden, the puck will pop out and it's an easy tap-in.
"Some players will go through a season and not score a single goal like that, and I'll get 15 of those," he said. "A natural goalscorer is in the right place at the right time a lot."
It also helps to have a flair for scoring in unusual ways, and from anywhere on the ice. Bochenski has scored from behind the net by deflecting shots off a goalie's pads. He's had pucks bounce in off his stick, gloves, skates and pads when he wasn't even trying to score.
"I've had some really bizarre ones," Bochenski admitted.
Perhaps his strangest goal happened while playing in the USHL.
"I was behind the net and clearing the puck in the last seconds of the game," he said. "I fired it off the glass and it went all the way down and into the net. It was an empty-net goal."
This season, Bochenski joined the Fighting Sioux Century Club after scoring his 100th point, and is now 51st on UND's all-time scoring list with 114 points. At his current pace, he could become one of the top scorers in school history. He plans to return to UND for his senior season.
"There's no rush," he said. "I'm in a great place and I'm physically growing every year. I'm getting better every year. I'm at the facility that has the team and the coaching staff that allows players to develop rather quickly and continue to develop for four years."
That's good news for the Sioux, but not for opposing goalies.