Unless you scour the USCHO agate pages daily, or, perhaps, are are from Oxford, Ohio, knowing what team is leading the CCHA and what player leads the NCAA in scoring may be a mystery.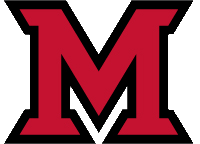 A week ago, it was Ohio State on a roll, jumping as high as No. 6 in the national rankings. Miami, improving steadily, came into town to begin a home-and-home series, three points behind the Buckeyes and looking to make a statement of its own.
When the weekend was over and the dust was settled, Miami had two wins. And its captain, Derek Edwardson, scored the game winner in Friday's 2-1 road win, and the clinching goal in a 4-2 home victory to complete the sweep. That, his 26th point, put Edwardson — not on the national radar screen coming into the season — in front of the national scoring race, where he still stands.
"We had two weeks to build up for it, and we knew it could come down for first place," said Edwardson of that pivotal weekend. "We always have tough battles against those guys, so we knew it would be a fun one, and that we could turn some heads if we got a couple wins."
Consider the heads turned.
Sustaining it, of course, is a different story, and Miami doesn't have another league game until Jan. 9. Not another home league game until Jan. 23.
But while Edwardson's performance this season may seem a surprise to many, it hasn't been to their coach.
"This is not a surprise to people who know our team," said Miami head coach Enrico Blasi. "Derek has been a leader since he stepped on campus. His work ethic, his demeanor, his attitude towards everything, whether it be on the ice or off the ice. He's a 3.8 student in exercise science — he's an all-around leader. It's real nice to see him get some recognition here — especially with what happened last year."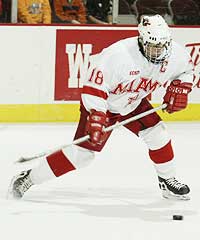 Last year at this time, Edwardson was also playing well. Not leading the nation in scoring, but leading his team, 24 points in 21 games. That is, until he tore up his left knee. Right away, Edwardson knew that season was over for him. That's because, he had the same feeling once before — in juniors, when he blew out the other knee.
"I fell the same way, and it was the same pain, so it was in the back of my mind when I did it 'Here we go again,'" said Edwardson.
"It was good and bad. It was bad in the fact that the first time I had to go through it, I was naive. But it was good in that this time, I knew what I had to do."
Edwardson says he still faces soreness now and then, but is otherwise fine.
"The one thing about Derek that we knew is … he would come back in great shape," said Blasi. "That wasn't an issue. The knee is strong, he's been unbelievable in the weight room. The second he got off his crutches in January, he worked his butt off. You always worry if he's going to lose something, but we don't think he has."
It was the same reason why Blasi had no qualms recruiting Edwardson four years ago following the other knee operation. In fact, Edwardson was one of Blasi's first recruits.
"They had been talking to me for a year or two before it got serious, and that had a lot to do with my decision, that they had faith in me and notice me before," said Edwardson. "My visit came after the Buck Bowl [a USHL tournament] that year, and I had a really good tournament and all the schools started coming. And I came on my visit here, I had seen it before, and they made an offer and that's what I wanted to do.
"I talked to a couple Ivy schools, early, after my first year of juniors. But since they don't give scholarships, my parents weren't ready to dish out that kind of money. Especially when there was a scholarship available."
Edwardson, a 5-foot-9 native of Illinois, spent his first two years at Miami, gradually improving and getting acclimated. While he was improving, so was Blasi, still one of the nation's youngest head coaches.
"He has a great snap shot, and he's got great hands. He kills penalties, blocks shots, wins faceoffs, this kid does it all."
— Miami coach Enrico Blasi
"The first two years as a young guy, eager to get going, you feel like you can change the world," said Blasi, who played at Miami under George Gwozdecky, then followed him to Denver. He was an assistant at Denver for five seasons while Mark Mazzoleni led Miami, until Mazzoleni's departure for Harvard opened the door for Blasi to come home again.
"There is a process, and we feel as a staff we've matured a great deal," Blasi said. "And our team has matured in that time, and we feel comfortable with what we're doing right now."
That maturation is evident in the team's three seniors, Edwardson, Mike Kompon and Greg Hogeboom — which also happens to be the team's three leading scorers. But when it was time to choose a captain, the guys chose Edwardson, even though he didn't finish last season.
"I'm not really a vocal kind of guy in the locker room and on the ice," said Edwardson. "It meant a lot to me that the guys and coaching staff still had faith in me after missing most of last year to still give me the 'C.' I try to lead by example and do what I do, not change anything."
The sense coming into this season was that Miami had the pieces in place to make a nice run, even if they still are, by many standards, a young team. If anything, there was only a question in goal, where two freshmen would be getting the nod — Steve Hartley and Brandon Crawford-West.
But after alternating early, Crawford-West has emerged. He earned his first win over Michigan in his first start, which was also the team's first win, coming in the third game of the season. And he was between the pipes for both wins over Ohio State. Crawford-West stands at 8-1-1 with a 2.37 goals against average.
Meanwhile, Edwardson has been the leader of a line that includes two more freshmen, Matt Christie (11-5–16) and Marty Guerin (5-9–14).
"They're probably the most mature freshmen as far as hockey players that I've seen since I've been here," said Edwardson of his linemates. "Matt Christie is a real good natural goal scorer, it seems like everything he shoots goes in. He's always in the right spot. And they're both really smart, especially Marty — he'll always find me if I'm open."
Said Blasi, "They've got good chemistry. They just play hard, all three of them are strong, all three of them can skate, and they all have a good imagination with the puck.
"Derek passes the puck well, sees the ice, can score goals — he has a great snap shot, and he's got great hands. He kills penalties, blocks shots, wins faceoffs, this kid does it all."
The special teams have been a big part of Miami's success this season as well, with Edwardson among the leaders there too. He has three power-play goals and Christie has five, as Miami is hitting on a stellar 25.2 percent, fourth in the nation behind Mercyhurst, Brown and Minnesota. The penalty kill is a solid 83.5 percent, and Edwardson has two shorthanded goals.
Despite the climb to first place, this season did not start out so peachy. Despite an early blowout win over Michigan (Blasi's first in his five-year head coaching career), the RedHawks had major setbacks against St. Lawrence and Air Force, the latter of which was a 2-0 shutout loss.
"[I was] worried in the fact that I thought we were playing well and just not getting the results," said Blasi, as his team started 1-4-1. "We've seen that happen before, and it was a matter of our leaders making sure we kept working hard in practice.
"I thought Derek and the other captains did a nice job of keeping the team together and focused, and it was our job as coaches to make sure we did the things in practice that allowed us to get better."
The Air Force game came at the Nye Frontier Classic in Alaska, and included a 4-4 tie with Massachusetts-Lowell.
"We just had a bad weekend all around. We try to forget about that. We learned our lesson," Edwardson said. "We struggled most of our games at the beginning of the year, and hopefully we learned the lessons we needed and it won't happen again."
Things began to turn around when the leaders stepped forward. This was time for one of Edwardson's rare fiery speeches.
"There's been a couple times [I do that], if we need a wake-up call," said Edwardson. "But we've got other guys to do that, and they know they're the guys I look to to do that.
"Kompon's got an 'A.' He's a real emotional guy, and is usually the one to get people going."
While things are far, far from certain, all of this means Miami is in the mix in the CCHA, something that hasn't always been possible to say. Last year, Ferris State won the regular season, but it's been 11 years since neither Michigan or Michigan State won the regular-season or tournament championship.
"Our league has been a lot more open the last few years," said Blasi. "A lot of it has to do with teams in our league doing their part to compete against some of the big boys. The recruiting has gotten a lot better, and everyone seems to be upgrading their facilities … and really the parity all over college hockey is there."
The respect for Miami is starting to come, but Blasi understands it won't return for good until the RedHawks make some noise in the CCHA tournament and get back to the NCAAs, something they did once each under Gwozdecky (1993) and Mazzoleni (1997). But with this year's good first half, and a new 3,200-seat arena breaking ground in the spring, things are clearly looking up.
"I like the direction our program is headed in," said Blasi. "[The arena] will be a really good tool for recruiting.
"We have a pretty good school academically. … We have a beautiful campus — it's probably one of the prettiest campuses in all of college hockey.
"It's nice to get the recognition, but the real one is at the end of the year when it all shakes down. So we're really not worried about national ranings. Our goal is to do the best we can in our league."
Said Edwardson, "We still probably won't get the respect we deserve, so it won't take much to knock us back down. So we have to keep that in mind.
"But ever since my freshman year, we knew this year could be the big one, and it's looking that way so far."