Former Denver all-American and NHL defenseman Keith Magnuson was killed Monday on a highway outside of Toronto in a three-car accident. Driving the car was former Toronto Maple Leafs captain Rob Ramage, who was charged Tuesday with with impaired driving causing death.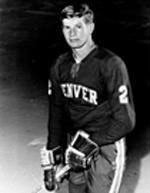 Ramage and Magnuson were returning from a funeral in Bolton, Ontario, for former NHL player Keith McCreary, who died last week after battling cancer.
Magnuson, 56, played 11 seasons in the NHL (1969-80), all with the Chicago Blackhawks, before becoming the team's head coach for two years (1980-82). He led the University of Denver to back-to-back national championships in 1968 and 1969.
In 2002, Magnuson was named one of the WCHA's Top 50 Players in 50 Years, and took part in 50th anniversary activities at the league's Final Five in St. Paul, Minn. WCHA Commissioner Bruce McLeod recalled Magnuson's address at that event. "[H]e spoke passionately for about 15 minutes on what attending and playing college hockey had meant to both him and his development as a person. It literally gave me goose bumps.
"This is a tremendously sad day for all of us," said McLeod. "We were all very, very proud to call Keith a WCHA alum and he was one of the most outspoken proponents of college hockey we've ever had."
Denver coach George Gwozdecky said, "It is a very sad day for Pioneer hockey. Keith was one of the greatest players ever at the University of Denver. Since graduation, Keith stayed very involved with the University and the hockey program. Keith was always willing to speak with players, fans and alumni about his passion for hockey. He definitely was Mr. Pioneer."
Ramage's injuries were reported to be non-life threatening.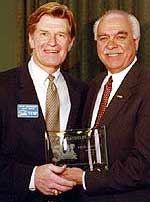 Magnuson scored 16 goals, 59 assists and 75 points in 96 collegiate games for Denver from 1966-69. He was the WCHA Most Valuable Player in 1967-68, and a two-time, first-team all-American in 1968 and 1969. Magnuson was also a three-time all-WCHA First-Team honoree in 1967, 1968 and 1969, and was the WCHA Co-Sophomore (Rookie) of the Year in 1966-67.
In 1997, in conjunction with the 50th Anniversary Issue of The Hockey News, Magnuson was named the WCHA's All-Time Best Defenseman and to the All-Time All-WCHA First Team. Later that same year, Magnuson was named to the American Hockey Coaches' Association All-Time West Team and to the NCAA Championship's 21-member 50th Anniversary Team.
Magnuson, a member of the Blackhawks' 75th anniversary all-star team, had 14 goals, 125 assists and 1,442 penalty minutes in 589 NHL games.
Magnuson's son Kevin played four years at Michigan (1996-2000) and was a member of the Wolverines' 1998 national championship team. He is currently in graduate school at Denver.
He is the second well-known college hockey figure to suffer a fatal auto accident this year, following the death of legendary Minnesota coach Herb Brooks this past summer.
Funeral arrangements for Magnuson were not immediately known.