Dunkin' Donuts Coffee Pot
Dunkin' Donuts Arena, Providence, R.I., Dec. 27-28
St. Cloud State vs. Harvard, 5 ET Saturday
Providence vs. Clarkson, 8 ET Saturday
Consolation, 5 ET Sunday
Championship, 8 ET CT Sunday
Television: Sunday's games on local Providence cable, Cox-3.
Clarkson (6-6-3)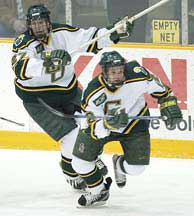 Players to Watch: LW Mac Faulkner, Jr. (7-11–18); RW Chris Blight, Jr. (9-7–16); D Matt Nickerson, Fr. (3-6–9).
Noteable: Clarkson is coming off a pair of nonleague home losses to New Hampshire and Massachusetts-Lowell. … The Golden Knights are coached by George Roll, who led Oswego State to the Division III title game last season. He was a one-time Clarkson assistant. … The Golden Knights are looking for their first in-season tournament title since 1995. … Clarkson holds a 7-3 margin over the Friars in the past 10 meetings, including a 4-0 shutout win last season. … Whistled for the most penalties in the ECAC overall, Clarkson is averaging 22.3 minutes in penalties a game
Harvard (6-6-1)
Players to Watch: F Tyler Kolarik, Sr. (4-9–13); C Tom Cavanagh, Jr. (8-3–11); G Dov Grumet-Morris, Jr. (5-5-1, 1.82, .933).
Noteable: Listed as the favorite to win the ECAC title in 2003-04, Harvard has gotten off to a sluggish start in its effort to live up to its lofty preseason billing. Loaded with 12 NHL draft picks, the Crimson own a 6-6-1 overall mark and are tied for fifth in the ECAC at 4-5-1. Guided by fifth-year head coach Mark Mazzoleni, Harvard dropped its second game of the season to Ivy foe Princeton, falling to the Tigers, 2-1, in their last game before the tournament, on Dec. 16 in New Jersey. … The Crimson have won just once, a 5-3 victory over Massachusetts in Cambridge on Dec. 13, in their last four games. … Harvard has had trouble scoring, getting shut out by Cornell for just the second time in the program's history (the other time, by Ken Dryden), and by Clarkson for the first time ever. … Freshman defenseman Dylan Reese was chosen to participate in the World Junior Championships, but is injured, and will not play.
Providence (6-5-3)
Players to Watch: LW Terry Gajda, Soph. (7-7–14); LW Peter Zingoni, Sr. (7-7–14).
Noteable: Providence has had the longest layoff of any team playing in the holiday tournaments, idle since a tie with Brown in the Mayor's Cup game on Nov. 25. … The Friars are coming in with a four-game winless streak (0-3-1). Their last win was Nov. 14 vs. New Hampshire. They started the season 4-0. … This is the first year for the tournament, which will be played in the arena formerly known as the Providence Civic Center, home to the AHL's Providence Bruins, and numerous past NCAA championships.
No. 10 St. Cloud State (10-6-2)
Players to Watch: F Mike Doyle, Jr. (6-7–13); G Adam Coole, Jr. (7-2-1, 2.09, .927).
Noteable: After a torrid start, the Huskies have lost three straight, including two at home to Denver on Dec. 5-6. … St. Cloud State will be meeting Harvard for the first time in each program's history. The Huskies' recent news release notes, "Though the Crimson and Huskies have never played in hockey, SCSU's faculty trails Harvard's about 40-0 in Nobel prizes." … Leading scorer Mike Doyle missed the team's last two games with what was termed a "charley horse" but it expected to return for this tournament. … St. Cloud assistant Brad Wilner is a former Providence assistant. … The Huskies lead the WCHA without a player in the league's Top 15 in scoring. Of course, Adam Coole leads the league in save percentage (.927).
Quoteable
Providence coach Paul Pooley: "Obviously we're very excited about the tournament. Dunkin' Donuts has stepped up to be obviously a major sponsor, so we're able get some quality teams. … Any team could win, and it's obviously one of the best tournaments competition-wise out there. … It's our first year, so we don't know what to expect from people locally. We're getting it out there on the radio; Cox [Cable] is running promotions. We're doing a lot of legwork with minor hockey and youth clinics to promote it, so we're excited about the future, we're excited about this year, and we do have a great four teams."
Clarkson coach George Roll: "The effort has been there pretty much throughout the first half. Our record is not where we want it to be, but on the other hand we have competed pretty hard against some quality opponents. It is getting to be redundant, but when we play with discipline and stay out of the box we are a pretty good hockey team. It seems when we are not playing up to our capabilities, we are taking the undisciplined route and that takes us out of our game."
Analysis: Both Providence and Harvard are desperate to turn their seasons around, moreso the Crimson, who were ranked No. 6 in the nation when the year started. … Meanwhile, St. Cloud also is coming off a losing streak, while Clarkson, with perhaps the least to lose, would love to see a definitive sign that the program is back on the right course. St. Cloud remains the favorite, despite Providence's hometown advantage, but the Pot is up for grabs.