They line up across the goal line for the player introductions.
"Starting in goal for the Cardinals, a freshman from Wolfeboro, [nl]New Hampshire, number 31, Justin Simmons … "
Fellow goalie Ryne Ess taps Simmons on the pads, prompting Simmons to skate out to the blue line amidst a thunderous ovation from the St. Mary's University faithful.
It's an experience every college hockey player cherishes — to hear those cheers, to feel that rush of adrenaline as hordes of people stand and cheer as your name is announced.
The feeling is indescribable.
It's also impossible for Simmons.
He's deaf.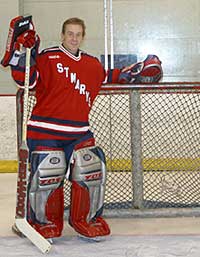 "It's not as complicated as people might think," said Simmons, who has been deaf since the age of 18 months, when spinal meningitis cost him his hearing. "What most people have a hard time understanding is that, other than the fact that I can't hear, I'm just like everyone else."
On the ice, however, he's no ordinary Joe — not by a long shot.
Simmons grew up playing youth hockey in his hometown of Wolfeboro, N.H., switching between goalie and forward until the age of 12, when he decided it was time to stick to one or the other. Thanks to some fancy new equipment purchased by his father, Simmons chose goalie.
"My dad has had a big influence on my hockey career," said Simmons, noting that his father was his coach — and interpreter — all the way up to high school. "He was always there for me, every day in practice, signing for me so that I could understand what was going on."
An all-state selection and the team's MVP as a senior at Kingswood High School, Simmons also played junior hockey for the Exeter Junior Seawolves and the Boston Junior Bulldogs.
Unlike many of his current SMU teammates, however, Simmons didn't make the step from junior hockey to the collegiate level — he made one more stop in between.
The Olympics.
Simmons was one of three goalies on the U.S. Deaf National Olympic Team roster, helping the team win a bronze medal during the 2003 Games in Sweden.
"Justin is a special kid," said Jeff Sauer, former coach of the NCAA Division I Wisconsin Badgers and the current U.S. Deaf National coach. "We're excited about the opportunity to have Justin back for the 2007 Olympics in Salt Lake City. He's proven to be not only an outstanding goalie, but also an outstanding individual."
"I was playing for the [nl]New Hampshire Select team (as a 15-year-old). One of the University of New Hampshire assistant coaches saw me play, made a call to the people at the American Hearing Impaired Hockey Association (AHIHA) and told them they wanted me for the next Olympic team," explained Simmons, who spent four straight summers training at the USA Hockey training facilities in Colorado Springs, Colo., in preparation for the Olympic Games. "It was an awesome experience."
Playing for the U.S. national team, however, was slightly different than what Simmons would encounter when he arrived on the St. Mary's campus. After all, while playing for the U.S. team, Simmons was playing on an equal playing field — all the competitors were hearing-impaired.
At St. Mary's, he's the only one.
To which Simmons just shrugged his shoulders and said, "Big deal."
"I have been deaf my whole life — it's something I have had to deal with since I was very, very young, so it's really not that big of a deal," said Simmons, who has no trouble speaking clearly and reads lips to converse with teammates, friends and instructors. "There are some minor adjustments (e.g., in hearing-impaired hockey games, there are lights around the rink when the whistle blows to let the players know there is a stoppage of play), but nothing too drastic. It is probably a bigger adjustment for everyone else — they've never played with a deaf goalie before.
"I went to (mainstream) public elementary and middle schools, so (St. Mary's) really isn't any different than any of the other schools I've attended."
It may not be much of an adjustment for Simmons, but it is for those around him.
"Justin is a great kid — he works hard every day and always has such a positive attitude," said SMU coach Don Olson. "I think Justin has been a great asset to our team this season — both on the ice and off. On the ice, he has made a solid contribution as a freshman goaltender (tying high-powered Lake Forest 5-5 in his collegiate opener, then picking up his first win with a 6-5 win over UW-Stout). Off the ice, he has fit in nicely with the rest of the team — he's just one of the guys."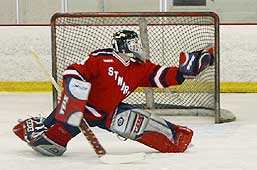 "People need to realize that I am no different — I just can't hear," said Simmons. "My teammates here have been great, they are always asking me questions about things — like how do I wake up in the morning if I can't hear the alarm clock? Or how do I take notes in class if I have to watch the instructor (or the interpreter) to read their lips?"
Just how does Simmons get up in the morning? He has a device that goes from his alarm clock to his bed. When the alarm goes off, it vibrates the bed. As for in the classroom, Simmons' classmates help out by allowing him to borrow their class notes.
"I can't take my own notes, because I can't look down to write," said Simmons, explaining that in order for him to read lips, or understand the interpreter's signing, he needs to see them, and looking down to write defeats that purpose. "Being able to see people's faces is very important for me. People don't need to speak any different than they normally do, they don't need to talk slower — or louder. They just need to be themselves."
Which is exactly what Simmons does — be himself.
And his teammates and friends are quickly learning that there's another side to Simmons, a comedic side.
"I was talking to Justin the other day and I couldn't quite understand what he was saying, so I kept saying, 'What? What?'" explained fellow goalie Curtis Nosal. "And Justin finally looks at me and says, 'What's your problem — are you deaf?' "
"I am very comfortable with (being deaf)," explained Simmons, who joked at a team Christmas party, after getting a DVD as a present — "This is no good to me, it doesn't have captions!"
"It's one of those things, you can either sit back and feel sorry for yourself, or you can get on with your life and not let it affect you."
Simmons chose the latter.
"Every one of the kids who attend our (training camp) is a special individual — Justin included," said Sauer, who expects Simmons to be one of his top two goalies at the 2007 Olympics. "Being deaf, or hearing impaired, does not have to be a handicap. They may not be able to hear like other people, but they can also do things that another person, with all of their senses, cannot."
Olson agreed.
"Justin's not about to use his deafness as an excuse or a crutch," Olson said. "The world is filled with individuals who have overcome disabilities to achieve great things — I think having Justin as a teammate has helped the rest of the team understand and appreciate that that much more."
"Never underestimate anybody," Simmons philosophized. "I've always believed that if you work as hard as you can, you can accomplish anything."
And he's walking testimony to that.
Donny Nadeau is sports information director for St. Mary's University.