"In an era of ever-increasing ego display, when so many of today's athletes are sending the wrong message to our children and when success often seems measured solely by dollar signs and contract signings, it is time to call attention to individuals who embody all that is, and can be, right with sport."
With those words, The Hockey Humanitarian Foundation sets forth in its mission to honor the work and accomplishments of exemplary individuals in men's and women's collegiate hockey. It does so with the organization's annual Hockey Humanitarian Award.
Last week, the Foundation announced the 14 nominees for the 2004 award and included in that list were two members of ECAC Division I men's hockey programs: Clarkson's Trevor Edwards and Harvard's Rob Fried.
Edwards and Fried are the first individuals ever to be nominated from their respective schools. (The Golden Knights received recognition as a team for their community service during the January 1998 ice storm that ravaged the North Country.)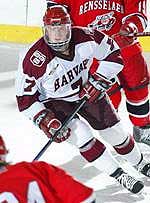 "It is a nice honor," says Edwards, "but it's not why you do the things you do. It is nice for someone else to notice the time and hard work that goes into it. I guess it means you're making an impact."
"The nomination is exciting," adds Fried, "especially with the quality of the other candidates."
According to its mission statement, the Foundation's desire is "to acknowledge the accomplishments of personal character, scholarship, and the giving of oneself off the ice to the larger community as well. The Humanitarian Award is meant to be seen as a true measure of a person's worth, not just as an athlete, but as someone who embodies those values that merit our recognition."
Enter Edwards and Fried.
The seniors are leaders on their respective teams who have taken extra steps to be more than just student-athletes. They are examples of the kind of commitment to humanity that we all wish existed in more abundance.
At the end of last season, Edwards joined forces with teammate Jean Desrochers to start "Knights for Kids," a charity organization to benefit the youth of the North Country of New York. "Knights for Kids" serves as the focal point for all charitable work undertaken by members of the Clarkson hockey program.
"We wanted to get the guys more involved with the community," says Edwards. "Not through the coaches or boosters, but directly."
To that end, "Power Play Goals for Kids" emerged as the lead fundraising project for the 2003-04 season. All proceeds raised through this new project go to Camp Ta-Kum-Ta, a week-long, volunteer-based residential camp for children ages 7-17 battling the effects of cancer.
Located in Colchester, Vt., Camp Ta-Kum-Ta provides an environment that promotes individual confidence and self-esteem, while assisting children in gaining a positive outlook on their situation. The camp gives children enduring similar challenges an opportunity to meet one another, as well as provides motivation and inspiration to continue fighting through their illness. One third of its participants come from Northern New York.
Through "Power Play Goals for Kids," donations can be made in two ways, as a pledge on a per-power-play-goal basis or as a one-time donation. Pledge forms can be found at the foundation's web site. However, as Edwards points out, support has come in a variety of ways.
"People are creative," he explains, "and I'm flexible. We have some that sponsor individual player points, shorthanded goals and per win. If someone wants to support us, we're not going to say 'no.'
"Thus far, we've raised $7,200 in just power-play goals. It's a lot of fun for the team. You see guys score goals and they come back to the bench talking about how much money they just raised for the kids.
"It is inspirational for us to be a part of the community and a lot of people in town are really starting to see the players and the program in a different light."
When contacted, Edwards had just finished sending a letter to all 70 participants of the camp, personally inviting them to attend any home game in the second half of this season. The invitation included a tour of the Clarkson hockey facilities, as well as an opportunity to meet the players and receive autographs and sticks.
"Knights for Kids," however, is just part of Edwards' service. He is active with area schools and recruits teammates and members of the women's team to join him. Among his efforts, Edwards has organized ball hockey clinics and worked with minor hockey programs to get beginners excited about the sport and encourage them to remain active as they grow older. Edwards tutors grade school students in Ogdensburg, N.Y. and frequently speaks to students about compassion and lending a hand to others.
In other work, Edwards is chairman of the Upstate Collegiate Athletic Association's NCAA Student-Athlete Advisory Committee (SAAC) and president of Clarkson's SAAC. In those roles, he serves as the liaison between Athletic Directors and student bodies in the UCAA. He helps to ensure that the student voice is strong and tackles issues such as fundraising events, NCAA legislation and making sure that all the member schools follow the Division III philosophy.
What's Edwards' motivation to be so active?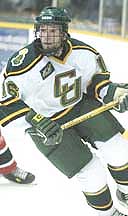 "My mom and dad just brought us up that way," he says. "If someone needed help carrying their groceries, you just did it. I've always been this way. I grew up in an area [Carleton Place, Ont.] where that's how it was. It's the same area that [repeat nominee] Rachel Barrie [of St. Lawrence] grew up.
"It's a similar community to the North Country so I felt at home right away when I came to Clarkson. The area embraced me. I live here all summer."
And the area is better for it.
Another region benefiting from the great work of a student leader is the Greater Boston area, which is where Fried and countless volunteers have been working their magic.
Last summer, the Harvard assistant captain developed a free nine-week hockey clinic for Boston-area youth ages 10 and under. The "Crimson City Hockey Clinic" was for under-privileged kids from South Boston, Quincy, Dorchester and Hyde Park who wouldn't have been able to afford to attend a hockey camp otherwise. The sessions were held on Friday evenings in three groups of 30 at the Quincy Youth Arena.
"We received a grant from the Harvard Club of Boston," explains Fried, "and alumni and other community members made donations. Our total budget was about $4,000."
What the modest Fried plays down, however, is that he was the driving force behind the formation of the clinic. He took the lead in developing the idea, contacting community partners and clinic instructors, and raising the necessary funds to make it an overwhelming success.
"I never thought about myself," he says, "I knew it was the right thing to do."
Others, however, are thinking of Fried.
In his letter of reference to the Humanitarian Foundation, Harvard law professor William P. Alford made his feelings clear.
"The [clinic] seemed to me to represent college athletics at its best," he wrote, "showing athletes in their best light as leaders, teachers, people who accomplish their goals through hard work and team work."
Alford continued, "As someone who has taught law school for 25 years and who has had his share of impressive students (some of whom have gone on to high public office, judicial positions, and partnerships in major law firms here and abroad), I can say with full confidence that Rob has truly rare leadership qualities and even rarer humanitarian convictions.
"But most importantly, it required heart, compassion, and the desire to make a positive difference in the lives of people less fortunate."
Fried, who is also a member of Harvard's lacrosse team, was motivated to start the clinic for a variety of reasons.
"I wanted to increase the exposure of Harvard hockey to the community," he says. "Plus, I grew up going to hockey camps in New England so I know the expense of them. They are usually more than $300 not including equipment, which is also expensive. Equipment for goalies can be $1,000.
"I also know how important role models are to kids, especially at that age, when they are most impressionable, that's why I chose this age group. It puts things in your mind that you never forget. If you can reach just one kid, you can make an impression. We wanted them to know that you don't need money to be successful."
To tackle the equipment issue, Fried solicited teammates and members of the women's team to rummage through their parents' basements to find old equipment. Fried then took the used items from his fellow Crimson and traded it in at a local Play It Again Sports — a chain of sporting goods stores that buys, sells and trades new and used sports equipment — for equipment that was appropriate for the young clinic participants.
"They made sure we had full equipment for what we needed," Fried says about the Quincy store.
The kids' equipment was then offered to the participants at a substantially reduced price — $5 for skates and $2 for shin pads, for example.
In an effort to ensure that the youngsters who participated were indeed from under-privileged families, Fried worked with area youth coaches to essentially "hand-pick" the kids who would benefit from the clinic.
Instructors included 11 current players and alumni, as well as Chad Kolarik — the Michigan-bound forward whose older brother, Tyler, is a senior on the Crimson.
"So many people volunteered and donated their time and efforts," says a still-excited Fried. "It really brought out the best in people. The kids put smiles on everyone's faces and the volunteers just kept coming out.
"The families were very grateful to us that the camps happened. Some of them are now interested in bringing kids to our home games."
With his last semester in front of him, Fried is now looking to extend the legacy of the clinic.
"We're trying to keep it going for next summer," he says. "We are trying to have the clinic be given tax-exempt status so that it can receive grants, business and government support.
"I want to pass it down to others, maybe to [teammate] Rob Flynn. He's a junior and was a big volunteer, so he knows what's going on with the clinic."
The list of Humanitarian Award finalists will be announced January 15.