Six days after winning a gold medal with Team USA at the World Junior Championships in Helsinki, Finland, North Dakota's "golden boys" were still basking in the glow.
The Sunday after a tough two-game series with Alaska-Anchorage, the trio of Fighting Sioux forwards — Zach Parise, 19, Brady Murray, 19, and Drew Stafford, 18 — spent more than three hours signing autographs and posing for pictures in the lobby of Ralph Engelstad Arena.
The event was supposed to last two hours, but hundreds showed up and jammed into the arena's spacious lobby. At one point, someone suggested locking the doors so that the event could end near its scheduled time.
But Parise objected, saying that he didn't want anyone turned away. Murray and Stafford agreed, and so the doors were left open. Wearing their red, white and blue Team USA jerseys, the three players signed and posed until the sun began to set and the very last fan left the arena.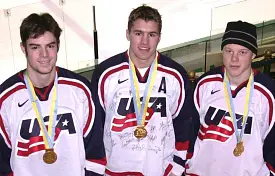 After wolfing down some cookies and brownies left by a well-wisher, they took time to visit about the World Junior tournament and their experiences.
Murray created a stir before the team left for Finland when he decided to play for Team USA rather than his native Canada. His decision didn't sit well with the Canadian media and some of the country's hockey fans.
"I'm a U.S. hockey player," Murray said. "I consider myself a U.S. hockey player. I've played most of my minor hockey in the States.
"I was given the opportunity to play in the tournament by the U.S. I took my chance and I'm happy with my decision," he said. "But the Canadians just don't understand because hockey's so sacred in Canada. They think I turned my back on Canada, but truth is, that didn't happen."
In Finland, they found the cities clean, the people — many of whom spoke English — friendly and the hockey fans polite and reserved by American standards.
"There's not much sunlight there so it's kind of hard," Parise said. "You wake up, go to the rink and there's no sunlight. You come back and the sun's already gone. We really didn't see much sun the whole time we were there. I think there were only two days it wasn't cloudy out. It was kind of depressing, but it was nice."
When it came to molding a team comprised of players from throughout the country, head coach Mike Eaves — who coaches the WCHA's Wisconsin Badgers — had an advantage with Team USA.
"The majority of the team won the under-18 world championship together," Stafford said. "It was a little different than Canada where a lot of those guys were from different places and hadn't been too successful together. This team had won before."
Parise agreed, adding, "You step into this and everyone has a role to play and everyone recognized their role. Everyone on the team would go through a wall for Coach Eaves. He really brought us together and did a great job of getting everyone to interact. I think that really helped us win the tournament. We had a great group of guys on and off the ice."
Going into the Jan. 5 gold medal game with Canada, conventional wisdom in the U.S. said that the Americans were favored to win because they had an older, more experienced team. But over in Finland, that's not what the American players heard.
"There's so much Canadian media over there that they try put it into your head that Canada's the best team in the tournament," Murray said. "As a team, I think we felt that we were the underdog. That's what we were hearing over there. We liked our position. We were happy to be put in as the underdog."
"We really didn't need anybody to say that we were the favorites," Stafford said. "We had such a good team that with our chemistry and our preparation, we knew what we needed to accomplish."
When Canada led 3-1 after two periods, Parise felt the stronger schedule the Americans played began to pay off.
"We knew how to battle through adversity because of our tough games with Finland, Russia and Sweden," he explained. "The Canadians pretty much walked through their opponents and didn't really get tested too much. And it showed in the championship game.
"When we started to score goals and made a push, they sat back on their heels," he said. "We wouldn't let down and the Canadians didn't expect that. I don't think they expected us to play as hard as we did in the third period."
Sports history will likely record that Team USA won on a fluke goal. With the game tied 3-3 in the third period, Canadian goalie Marc-Andre Fleury scored on himself by bouncing a clearing attempt off his own defenseman and into the net.
"I don't care how that puck went in," Parise said.
It counted, and the 4-3 final score enabled the Americans to claim the nation's first gold medal in 28 years of World Junior competition.
"The puck went in. That's all that matters," said Stafford. "It's one of those things where sometimes you get bounces on your side and sometimes you don't. We were lucky enough that the hockey gods were looking down on us and it went in."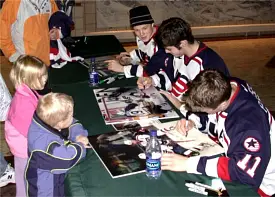 "It was one of those weird games — not too much flow," Parise said "You could just tell that there was kind of an eerie feeling in the rink. It was weird atmosphere. A goal going in like that, it didn't surprise me at all. It was that kind of day."
When it was over, the team made the most of its final hours before splitting up.
"We celebrated our last day in Finland together as a family," Stafford said. "We all stuck together. That was one of the main things. We pretty much became a family. We had our fans there, too, so it was a great way to end it."
Back in the States, some of Parise's postgame comments created controversy. He was quoted as saying that the win in Finland was as big as the 1980 Miracle On Ice when the U.S. won the Olympic gold medal in ice hockey.
"That was blown way out of proportion," Parise stated.
He said a reporter asked him if winning the gold at the World Junior Championships was similar to the U.S. winning the gold in the 1980 Olympics.
"I said that for a group like us, this is probably going to be one of the highest points of our lives," Parise explained. "I said, 'Now we know how they felt back then.' All of a sudden, people were saying, 'Oh, he's comparing this to the 1980 Olympics.' I'm not. I'm just saying we know how those players felt. I'm not drawing any parallels."
Murray called the return trip from Helsinki to Grand Forks "a nightmare." The trio rushed to make connecting flights in New York and Minneapolis that they missed. They finally made it back to Grand Forks two days after their championship victory in Finland.
Four days later, Parise said, "We're still on Finnish time, so I've been up all night the last couple nights. But as far as the first couple of days, I was just so excited that we won, it was like pure adrenaline. There was nothing like it in the world."
"When we got back, it was right before practice," Murray said. "We were full of energy and we actually wanted to go on the ice and skate. Then I think about three hours later, we just died, all of us."
On Feb. 6-7, North Dakota plays a series at Wisconsin that could determine whether one of the schools wins the WCHA title. Parise, Murray and Stafford will face Eaves, along with World Junior teammates Jeff Likens and Ryan Suter.
"Obviously, we're very friendly with the Wisconsin players and the coaches," Stafford said. "But once the puck drops, it's just another team with different jersey."
With a sly smile, Murray added, "It's going to be a fun series. I can't wait. We know their system."