Boston College senior forward and captain Ben Eaves is expected to be out four to six weeks with a fractured left kneecap.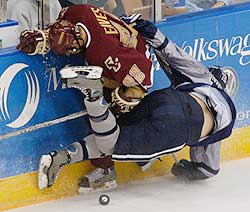 Eaves suffered the injury in BC's 4-0 win over Merrimack on Jan. 9. He has not played in the Eagles' three games since, all wins.
BC is ranked second nationally with an overall record of 17-3-3. The Eagles are in first place in Hockey East at 10-1-2.
This season, Eaves leads the Eagles with six goals and 20 assists for 26 points in 19 games. He is tied for third nationally in assists.
As a junior, Eaves was named as Hockey East Co-Player of the Year along with New Hampshire goaltender Mike Ayers. He was also a finalist for the Hobey Baker Award and named First Team All-America. Eaves finished with 18 goals and 39 assists for 57 points in 36 games, leading the Eagles to the final of the NCAA East Regional.
Over his career, Eaves has 50 goals and 111 assists for 161 points in 118 games. He is currently 17th on the Eagles' all-time scoring list and tied for fifth in assists.
BC visits Northeastern Friday night at 7:00 p.m. The Huskies defeated the Eagles, 3-0, in their last meeting on Jan. 3, a week before Eaves' injury.