Bill Stewart, who has spent the last 28 years on the ice as an ECAC hockey official, refereed his last game on Tuesday, February 10 at Bowdoin in an emotional family outing.
For years, Stewart has been driving through snow storms and racing from his day job, to officiate men's college hockey games. He has even gotten a flat tire or two throughout the years, but has always managed to be at the rink on time.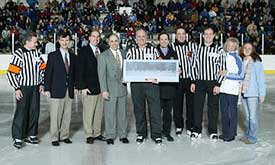 Ah, the life of a hockey official.
Stewart first got his start in 1974 when he worked the Bridgewater State vs. New Haven hockey game in Brockton, Mass.
"I filled in for my father in his last ECAC assignment after 26 years." said Stewart. "He thought that I could do it. I had been officiating high school junior varsity games as well as officiating senior league games. My father came to watch me during one of those junior varsity games and declared me ready. Here I am some 502 games later."
In addition to his officiating, Stewart has also been on the bench as a coach. He coached the Tufts Hockey Club Team from 1977-81, Curry from 1981-87 and Massachusetts-Boston from 1987-90.
Stewart has been a probation officer at Dorchester District Court for 28 years and runs the "Youthful Offender" Unit. He is also developing a TV series based in a Boston Court where the lead character is a probation officer.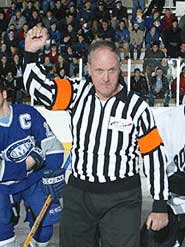 "This whole experience is more about the people involved than the scores of the games," said Stewart. "I tell the captains in the pre-game, 'When you put people in jail for years, minutes in a penalty box does not mean that much,' and that is the truth."
He fondly remembers back to a Harvard-Yale freshman hockey game.
"It was 1978. A Harvard defenseman checked a Yale player into the boards," he recalled like it was yesterday. "The Yale player's stick snapped in half and impaled the Harvard player. The stick went right through his thigh. I grabbed his hands so he couldn't pull it out. The trainer came out and took over and then I helped his father over the glass at Watson Arena."
It was the worst injury in a game that Stewart had ever seen. He would remember it forever and in 1997, 19 years later, he was reminded of that horrible scene out on the ice.
"My wife, Dolores had a biopsy in 1997 because of a 'spot' they saw during a routine physical. When we went into the doctor's office for the result, I saw some family photos on the wall and asked the physician about them because one of the boys in the photo looked familiar." Stewart recalled.
"It was fate that I was brought back to that day on the ice. In that photo on the wall, was the Harvard player who got injured so badly on the ice. It was the doctor's son, and the physician was the father that I helped over the boards to be with this son."
Soon after that day, the doctor performed the radical mastectomy on his wife. Stewart recalled talking to the physician prior to the surgery about what a small world it was. And, he mentioned that if the doctor could take care of his wife, they would call it even.
"She has been cancer free ever since." Stewart smiled.
He and Dolores are the proud parents of two children. Will is 22 and at Hobart College and Bonnie Jeanne is 20 and attending UMass-Boston. Dolores is a former flight attendant with Eastern Airlines and now is a critical care nurse at Massachusetts General Hospital.
"Coaches and officials have a large amount of respect for Billy Stewart," said ECAC Commissioner, Phil Buttafuoco. "We thank him for his dedication and for his several years on the ice. We also admire him as he works day in and day out for the young adults in Dorchester. His love for the sport of hockey and his love for his job in the District Court is tremendous."
Stewart will remain with the ECAC as a football official and will continue to work on the gridiron for Divisions II and III. He worked Division I games for four years in his career.
"That last game up at Bowdoin (versus Colby) had special meaning to me, as well," said Chip McDonald, who officiated the game with Stewart. "Bill is my uncle and it meant a lot to me to be able to be there with my mentor and see him finish his career with such class.
"It was an emotional and exciting night. The game was played in a great college atmosphere between two great teams. I had the privilege of working my first Division I college game (Harvard vs. RPI) with Uncle Bill, and the ECAC was kind enough to allow me to be on the ice with him for his last college game.
"Uncle Bill has earned the respect of the people in the hockey community both as an official and as a coach. When he walks into a rink people go out of their way to come over to talk him. He always has a good story to tell and people respect his opinions. He has taught me to walk into a rink with your head held high and to walk out of rink the same way."
On the way up to Bowdoin that Tuesday afternoon, it was just another day. No snowstorm, no racing out of work. This time, like other times, it was a flat tire.
"We were worried that he might not be at the pre-game," said McDonald. "But, he made it. He always has made it."
"It has been a great ride," said Stewart. "Now I will teach from experience because I am too old to lead by example."