March 7, 2004. Thanksgiving Day for Joe Exter and family.
"Actually, every day is Thanksgiving for us now," says the former Merrimack College goaltender, whose near-fatal on-ice accident last March gripped the entire sports world. "I think we'd be missing the boat if it wasn't."
One year ago today, Exter lay motionless on the ice at Conte Forum clinging to life after a frightening high-speed collision with Boston College player Patrick Eaves. The force of impact flung the helmet off the Cranston, R.I., native, whose head violently struck the ice, leaving him in a coma with a fractured skull and severe hemorrhaging of the brain.
Now, 12 months later, the professional backup goalie for the Wheeling (W. Va.) Nailers finds himself celebrating life as well as his deep faith in the one he believes saved his.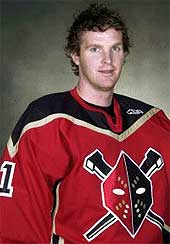 "God has a plan for us, and without God I wouldn't have been able to get through this," Exter says. "Just the support system that I had and the lessons that so many people around me have learned about the power of prayer, that in itself has been great. Without my faith, there is no way I would have been able to get through it.
"People always say that everything happens for a reason, and I have a job to find that reason."
Right now, his job is as a minor-league goaltender in the Pittsburgh Penguins organization. Exter has been in West Virginia since late December after his remarkable seven-month rehabilitation program culminated with him agreeing to a contract with the National Hockey League franchise on Christmas Eve.
Life as a professional, however, has been a challenge for the former Merrimack captain. It took time for him to convince his new employers that playing him was worth the risk. Then it took more time to persuade his head coach he was worth starting. Last week, he failed to convince that coach he was worthy of staying in the game for an overtime shootout.
Still today, with his mother Donna paying him a special visit, Exter is a grateful man.
"It's more than just another day," says Exter, who owns a 3-1-0 record with a 2.37 goals-against average with the Nailers.
"It's a definitely a day just to think about all that's happened in the past year and just the story itself. The only one who could have planned a story like this is God. He's put me in a position that I don't think anybody thought I was going to be a year from that day."
. . .
Donna Exter finds herself a mother torn today. She's thrilled her son is back playing hockey. She also dreads it.
Still, she longed to be at WesBanco Arena tonight to watch her son likely start against the Johnstown Chiefs on the anniversary of his accident.
"It's a long way from home, but maybe I needed to be here more than he needed me," says Donna from Exter's duplex apartment.
"You look at that tape [of the accident] like a lot of people have and you think, 'What possible good could come out of that?' I have trouble finding the negative things that have come out of it."
— Joe Exter
"I don't know why I feel weepy, but I do … and I shouldn't," she adds, her voice cracking as she begins to tear up. "Everything's wonderful right now. We're so blessed to be here in Wheeling, W. Va."
A true matriarch during the crisis last March, Donna Exter still finds it difficult to accept Joe's determination to realize his dream of playing professional hockey after all that's happened. So much so that Friday's Nailers game in Johnston, Pa., was just the second time she has even seen him in skates since the injury.
"I'm nervous and have very mixed feelings about it all," Donna confesses. "The easy thing would be to say, 'Oh, Joe, this is so wonderful. Just don't do that hockey stuff anymore and stay here.' But that would be too easy and it wouldn't be him.
"But I know he's given it a lot of thought and prayer that this is what he wants to do, and I have confidence in his judgment. You look at your passion in life, your purpose, and that is it for him. So you give him your blessing and you pray."
Joe Exter admits that most difficult part of the rehabilitation process — most of which took place at Merrimack College — was convincing the people closest to him that playing hockey again was the best medicine of all.
"In the beginning, I'm sitting there saying I want to do this, this is something I have a passion for, and everybody was thinking I'm crazy," he says. "I was being questioned a lot if this is really what I wanted to do. I knew for sure it was. I had to give it a shot because I didn't want to look back with any regrets.
"But on this long journey, there wasn't always a light at the end of the tunnel. You never knew how long it was going to go, and I started comparing it to a marathon. There were highs and lows. Even when I got down here [to West Virginia], it didn't go smoothly."
After weeks of trying to convincing Wheeling head coach Pat Bingham he was in game shape, Exter finally cracked the lineup for mop-up duty in late January. He later earned his first professional start and victory Feb. 7 — 11 months to the day after the accident — with a 20-save performance in a 4-3 overtime win at Cincinnati.
But last week, in a 2-2 overtime situation, Exter was removed from the tiebreaking shootout because the coach was wary of his inexperience. Wheeling won the game, but Exter was at a loss.
"I was upset and felt I should have been in there," says Exter, who made 32 saves that night. "But the other coach put it the best when he said, 'I think Joe Exter's been through a lot worse in his life than being taken out of a shootout.'
"It's a business, though, and obviously I'm blessed to be doing it. It's going to test you the whole time, though, whether it's on the ice or off. What you make out of that adversity is going to determine where you're going to end up."
. . .
Today's anniversary is another milestone for Exter in a year filled with them.
From being discharged from Spaulding Rehabilitation Center in less than a week, to receiving his diploma with the rest of the Merrimack College senior class, to returning to the ice for the first time last May at Hockeytown USA in Saugus, Exter has been defying the odds, not to mention the people who set them.
"Remarkable? I think it's miraculous," says Tim Grinnell, Merrimack assistant athletic trainer, who volunteered to coordinate Exter's rehab program.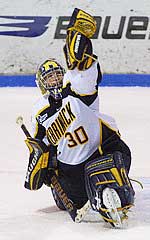 "When we were first thinking what was Joe going to be doing a year from now, it was not playing hockey, even though he was in the background saying, 'I'm going to be playing hockey.' In the back of my head, I was saying, 'Wow, I can't even imagine thinking about playing hockey if this happened to me.'"
Grinnell worked in concert with Dr. Heechin Chae at Spaulding in bringing Exter along slowly — or so they thought.
"The first time I visited him the rehab facility," Grinnell recalls, "he was up asking his doctors, 'What to I need to do?' They gave him a list of six or seven things and he did them all that day. Then he says, 'OK, can I leave now?'
"Then he started doing that type of thing with me. We set goals for him on what he had to do. As far as rehab, he worked on getting his neck stronger and his shoulders stronger and working on his flexibility and balance. And I was like, 'Oh my God, this kid is progressing every single day.' I've never seen anybody have that desire."
Though pleased by the progress, Grinnell, who assisted Merrimack traveling team physician Gregg Christie with the life-saving intubation measures on the ice within minutes of the collision, still had his doubts. That was until last summer when he witnessed Exter stepping in front of live shots for the first time.
"It really didn't click with me until I saw him taking live shots, coming out and challenging players shooting at him. I couldn't believe he was coming out of the net and being just as aggressive as he was before he was injured. That was absolutely amazing from my perspective because I was a little gun-shy just watching him do it," Grinnell says, chuckling.
Merrimack players Marco Rosa and Brent Gough worked out Exter early mornings before class last fall, helping their former captain rediscover the skills that earned him second team All-Hockey East honors last season. Head coach Chris Serino several times invited his former team leader to join the Warriors during practice while Exter prepared to audition for visiting NHL scouts.
"I've thanked [Rosa and Gough] 100 times for going out there, but sometimes the words 'thank you' don't accurately describe how you feel," Exter says.
"I've talked to kids who have gone to big-time schools, the Michigans of the world and BUs. When they leave there, they might have won something, but they don't leave there with the feeling that I have. At Merrimack, they care about you more than just as a player, more than just somebody that can get you a victory. Coach Serino cares about you as a person, and you can't beat that in life."
. . .
So many people, several of whom he will never meet, have come into Joe Exter's life this past year. His parents are still filling boxes at their Cranston home with well-wishers' cards and letters from around the world.
However, none have meant so much than his parents, Donna and Mark, older brother David and girlfriend Erin Van Bruggen. The couple are planning an engagement this summer.
"She's been my rock," Exter says.
Even though he will never get the opportunity to properly thank the masses of people who make up what he calls his "support system," Exter is convinced continuing his playing career is the next best thing.
"People ask if it makes me feel uncomfortable, the hassle about being approached about the injury every day. Absolutely not," Exter insists. "Some people in life hope to have an impact on just one person. I think I've been given a pretty good opportunity to have that impact on many.
"You look at that tape [of the accident] like a lot of people have and you think, 'What possible good could come out of that?' I have trouble finding the negative things that have come out of it. It's amazing how many good things have come out of that incident."
---
Update: Since this article was originally published, Joe Exter has recorded back-to-back shutouts on consecutive nights, March 9-10. His shutout streak is at 139:42, and he has a 6-1-0 record with a 1.81 GAA and .939 save percentage.
This article originally was published in the March 7, 2004 edition of the Eagle-Tribune. It has been re-published with permission.