Miami's surge back toward the top of the CCHA standings was rewarded Wednesday, when forward Derek Edwardson was named CCHA Player of the Year, while Enrico Blasi was named Coach of the Year. The winners were named during a ceremony at the CCHA banquet at Fox Theatre in Detroit.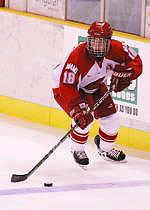 Edwardson, who returned from a knee injury that limited him to 21 games last year, led the CCHA in scoring this season with 35 points. His three shorthanded goals were tied for the league lead.
Blasi, who played at Miami from 1990-94, is in his fifth season as head coach of the RedHawks. After going 21-17-3 a year ago, Blasi led Miami to a second-place finish, one point out of first, and is 22-12-4 heading into the CCHA Super 6.
Among the other accolades, Michigan forward T.J. Hensick was named the Rookie of the Year and Michigan State freshman defenseman A.J. Thelan was the best offensive defenseman. Hensick led the conference in assists and was second in points (34) in becoming the third straight Spartan to win the award (following twice by John-Michael Liles). His five power-play goals were good for third.
Ohio State senior Doug Andress was named the Best Defensive Defenseman, becoming the first Buckeye to be so honored since the award was implemented in 1990. Andress leads an Ohio State defense that is allowing 2.5 goals a game this season and has stopped 84.8 percent of its opponents' power-play chances. He ranks second for the Buckeyes with a plus-16 rating and leads the Buckeye defensemen in scoring with a career-best 26 points.
The Wolverines' Dwight Helminen garnered Best Defensive Forward accolades, Neil Komadoski of Notre Dame was the Mike and Marian Ilitch Humanitarian Award winner, and Alaska Fairbanks' Aaron Voros was the Terry Flanagan Memorial Award recipient as comebacke player of the year.