Ask goalies Jake Brandt and Jordan Parise about their role in North Dakota winning the WCHA regular-season title and they'll talk about defensemen clearing pucks, forwards backchecking and everybody blocking shots.
"I just give credit to the entire team," Parise says. "I don't think that me and Jake can take any more credit than anybody else."
However, Fighting Sioux coach Dean Blais is more charitable in doling out accolades to the two UND goaltenders who have split time in the nets this season.
"For six or seven of our wins, the difference in winning the WCHA this year has been Jordan and Jake," he says. "Our goaltenders won some big games for us. You count on them to do that."
At the start of this season, the consensus around the league was that UND would be strong at forward and solid at defense. Goaltending, however, was a question mark.
"That's something that we goalies in the last couple years weren't providing the team with — big saves when we needed them," Brandt says. "It's an emotional letdown to the team when that doesn't happen. Bad things just seem to follow. This year, both Jordan and I have tried to make big saves at big times to help keep us in the game."
After winning the WCHA title in 2001 and playing for the national championship, the Sioux fell to sixth place in the league in 2002 — Brandt's freshman year. UND moved up to fourth place last year, but ended the season in a slump and made a quick exit from the playoffs. UND's goalies bore the brunt of the criticism.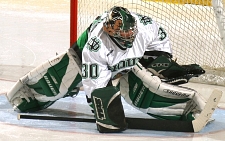 "It's a huge part of the game, and that's the thing," Brandt says. "When a goalie plays bad, everyone notices it. When you play this position, you're either a hero or a zero."
This season, Blais says the return of consistent goaltending has been key a part of UND's success, playing a major role in the Sioux winning their fifth MacNaughton Cup in eight years.
"Last year we seemed to get 'out-goalied.' The goalies on the other team were beating us," he says. "That hasn't been the case this year. Our goaltenders have beaten the other teams' goaltenders, and that's why we've been number-one pretty much the whole year. It's because of Jordan and Jake."
Going into the WCHA Final Five, the statistics bear him out. Brandt has a .857 league winning percentage (1st), a 2.18 goals against average (3rd) and a .913 save percentage (3rd). Parise has a .679 winning percentage (3rd) 2.14 goals against average (2nd) and a .910 save percentage (5th).
Of four goalies on UND's roster last season, Brandt is the only one still on the team. Blais brought in two freshman goalies. One was Parise, who played at Waterloo in the USHL and is the older brother of sophomore center Zach Parise. The other was Nate Ziegelmann, a Grand Forks Red River High School graduate who played for the USHL Lincoln Stars.
"Zach had a lot to do with me coming here," Parise says of his decision to attend UND. "I didn't know about the other schools. The coaches there were saying that I couldn't play over their goalies or I was going to go in as a third-stringer. That's the reason I came here. It was the best opportunity for me."
Parise got the chance to show what he could do the first game of the season. It was the home opener, the U.S. Hockey Hall of Fame Game, in the 11,400-seat Ralph Engelstad Arena against Minnesota-Duluth, a team UND hadn't beaten the previous season.
"I was extremely nervous playing my first game — the first game of the season — in front of that crowd," Parise says. "I know a lot of people were planning on pointing fingers at me, saying, 'He can't play if he loses.'"
Parise backstopped the Sioux to victory and immediately established himself in the lineup.
"With Jordan being a freshman, we weren't really counting on him playing a lot," Blais says. "But he came in and won his first game 3-2 over Duluth. Right away, that kind of surprised everyone. A freshman came in who was good in juniors and had good credentials, but we weren't expecting him to do the things that he did."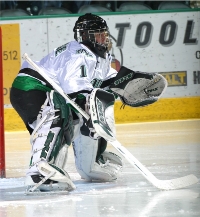 Because Parise played so well, Blais was able to rotate him with Brandt throughout the season. To date, Brandt has compiled a 16-3-0 record and a .842 win percentage that leads the nation. Parise has a 12-3-3 record and is fourth in the nation with a .750 win percentage.
"You can count of both of them to play well," the coach says. "I think there's a real good competition between them."
Brandt said the rotation and competition for playing time has helped both goalies improve and stay sharp.
"If Jordan went out there and played really well, that meant I had to play really well or vice versa," he says. "That helps both of us out."
Brandt is carving a niche for himself as one of the top goalies to play at UND. In a program that's produced such goaltenders as Karl Goehring, Ed Belfour, Darren Jensen and Jon Casey, that's saying something.
In three seasons, he's compiled a 31-11-4 record. If he never played another game for UND, his current stats would make him second in goals against average (2.45), third in winning percentage (.717), third in save percentage (.902) and fifth in shutouts (4).
"Experience is everything," Brandt says. "When I was a freshman, I think maybe that my emotions sometimes got the best of me. I'd get a little too excited or do things that I shouldn't. Now I'm learning to just take things as they come."
Some of the best advice he's received on playing the position came from Goehring, who holds nearly every Sioux goaltending record and helped UND win three WCHA titles and a national championship between 1998 and 2001.
"I talked with Karl over the summer," Brandt said. "He told me, 'No matter what happens, you just have to know that you can do it. Just be patient. Don't get too riled up. Stay focused. Don't get mad.' He's amazing. He's great to work with."
Brandt put that advice to use Feb. 27-28 when the Sioux played at Duluth. The Bulldogs not only had a two-point lead on UND in the WCHA standings, but also the nation's top offense, top power play and a 14-game unbeaten streak.
Brandt started both games and the Sioux swept UMD, winning 4-1 and 2-1. UND grabbed the league championship and hasn't looked back. With Brandt in net, UND has won eight straight games. During the streak, his goals against average is 1.63 and his save percentage is .930.
"You count on Zach Parise to make plays — being one of the best players in the world at his age — and Brandon Bochenski to put up between 20 and 30 goals," Blais says.
"But in goal, it's concentration, focus, reflexes and everything else. Our goaltenders are the first ones out on the ice every day," he notes. "Both Jordan and Jake work hard. Both are very coachable. Both are very focused and want to win."
Heading into the playoffs with two goalies who've performed well during the regular season, Blais has options unavailable to other coaches. Who will be the go-to guy down the stretch?
"Obviously, this time of year, I want to play every game, and I'm sure Jordan does, too," Brandt says. "It's crunch time. It's playoffs. It's a new part of the season. It's do or die now. I want to be the one in net. This time of year, both of us want to play."
Parise also wants to start, but he can live with whatever the coaching staff decides.
"Just let the coaches do their job. They've done a hell of a job so far," he says. "If they want to play Jake, then great. If they want to play me, that's great, too. That's their decision. That's what they do."