There's no doubt that both Notre Dame and Ohio State will be prepared for tonight's Super Six semifinal game, but one Buckeye defenseman and the captain of the Fighting Irish will have insight into their respective opponents that even their coaches might envy.
After all, they met in kindergarten.
"I didn't really know him that well [then]," says OSU blueliner Reed Whiting. "He came to my kindergarten birthday party."
"He lived less than a mile from my house," says Irish forward Aaron Gill.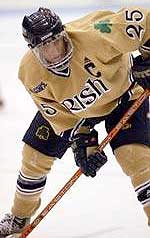 The two grew up in the same neighborhood in Rochester, Minn., where they went to the same schools, played together on the same football and hockey teams. And they're not alone. One Rochester neighborhood is responsible for producing no fewer than 21 Division I men's ice hockey players. One pair of coaches steered most them from PeeWee through Junior A and into college.
One of those coaches is Kirk Gill, Aaron's dad. The other is Todd Lampman, father of former Nebraska-Omaha players Josh and Bryce Lampman.
"We never had captains growing up," says Aaron, whose younger brother, Tony, also plays for Notre Dame. Another brother, Adam, also plays hockey. "They expected everyone to be leaders. There was a good core group of good players, so they never thought of one single guy as a leader. It really taught us how to be good team players. That's what's helped us become the players we are today."
"We never had team issues," says Whiting. "There was just no question about selfishness. No problems with coaches, guys being a team, parents never had problems — I'm talking none. We were always a team."
The team-building began with football, not hockey. "His [Aaron's] dad was our football coach in third grade. That's when we really got to know each other. Aaron was a really good hockey player from day one, and I was always a house league kind of guy."
Whiting credits an unusual daily routine with the Gill brothers for improving his skills. "Aaron, Tony, Adam, and I would rollerblade to school with a stick and a ball, puck handling the whole way."
Whiting made the travel team — along with Aaron Gill and former Colorado College player Michael Stuart — in fifth grade. All the Stuarts, including current CC captain Colin and his brother Mark, were coached by Kirk Gill and Todd Lampman. The list of players influenced by Gill and Lampman include current Lake State goaltender Jeff Jakitis, Findlay's Nate Markus, three other current CC players — John Brunkhorst, Andy Canzanello, and Scott Thauwald — and a slew of former collegians who have gone onto the pro game, including Bryce Lampman (N.Y. Rangers), Mike Stuart (St. Louis), and B.J. Abel (Philadelphia).
And many of these guys played together while growing up. "In Bantams, it was B.J., Mike, Aaron and I," says Whiting. "That was the VFW Rochester Bantam A. Both years we were in bantams, we went to state championships and lost both years. Kirk and Todd coached that."
"Aaron, B.J., Bryce, Nate, and I all played together for the Rochester Mustangs (USHL)," says Whiting. "I played one year, and that was Bryce's and Nate's first year. Aaron and B.J. played the year before, and B.J. started the year before that. Mike played two years before I got there and left for Colorado College."
Aaron says that his father and Todd Lampman "always taught us to work hard," and that growing up with so many players who ended up playing a high level of organized hockey was a distinct advantage.
"We're all pretty talented kids … but we enjoyed and pushed each other and that really helped us. We all trained together. It was great going back [for summer vacation]. Summer hockey was always as good as it could be."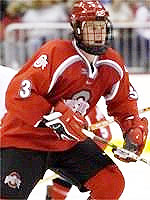 The camaraderie between the Gills, Stuarts, and Whitings extends beyond ice hockey. The three families are close, says both Aaron and Reed.
"Mrs. Stuart works for my dad, and she and my mom are best friends," says Whiting, whose father owns Jim Whiting's Nursery in Rochester. "Colin and Micheal and Marky all worked for my dad. B.J. worked for my dad two years back."
The quality of coaching and the closeness of the families has produced players who are hard working and who make the most of their talents and opportunities, according to their respective coaches.
"Aaron is a coach's dream," says Notre Dame head coach Dave Poulin. "He's everything you want in a player, a real leader in the locker room, a steadying influence."
OSU head coach John Markell says that he admires Whiting's "inner drive." "He walked on here and became a regular. If he keeps it simple, he's a very effective hockey player. He's certainly a big strong kid capable of playing in the corner, he's smart. If he plays within himself, he can play even better.
"He's a very coachable kid, a likeable kid."
The long-time friends admire each other as well. "He's always been a great friend to me," says Aaron Gill of Whiting. "He's a great kid. He's always working hard. He's always thinking about other people."
"He's a great guy," says Whiting, who adds that Aaron's younger brother, Tony, is "the hardest-working kid I've ever met, the toughest kid I've ever met."
And Gill and Whiting have stories about each other — many that can't be published, they said — that go back. Way back.
"When Reed's got his contacts out, he's got some pretty big glasses," says Gill. "Reed wasn't like the coolest kid in school. This was sixth grade. He had a crush on this girl and she started sitting next to him, and he started talking to her.
"That year he got his contacts. He told me, 'She might like me,' because he got the contacts. Well, she ended up having a party. 'I know I'm going to get invited,' he said. He wasn't, and he was crushed."
"I didn't get quite as suave as I wanted to be until the last couple of years," says Whiting in response. "It was a long process. I've had help, mentors. I was kind of this geeky-looking guy with big, long hair.
"I had a crush on his sister, Annika. She's a year older. She was a figure skater and we were all hockey players. It never worked out."
Whiting says that Gill had similar luck with the ladies growing up. "Aaron is kind of a shy guy. He was dating this girl, the hottest girl in fourth grade. I remember the day she dumped him. Riding on the bus on the way home, I teased him so bad that he got so mad that I thought I'd lost my best friend. I was freaking out."
Whiting says that Gill and he were "always" getting into fights. "We fought always. I'm much bigger than him, but he would always go."
The two go back and forth now in a slightly more mature manner. "My brother [Tony] didn't play on Sunday," says Gill, "and he says that Reed was calling him all the time. He was calling me about this game and I finally told him Monday to stop."
"I give it to him a lot more than he gives it to me," says Whiting. "Over the years, I've always been on the better teams … until this fall. He's only beaten me once in his life." That was on October 10, 2003, when Notre Dame beat Ohio State, 5-2, in Columbus.
"We know each other pretty well," says Gill. "We've always been pretty intense. If I see him [in pre-game warm-ups], I'll try to give him a mean look."
So what about this game? "Reed's pretty confident," says Gill. "He said, 'I might be ending your season.'
"I'm really excited. It's a great opportunity for our team to go up there. We have a lot left to prove. We've gone to the Joe and never really won there. It's a huge opportunity for us and our program."
And after the game? "We always shake hands," says Whiting.